Black History and Culture
Discover Albany's Black history, culture, and businesses year-round. Admire murals and public art projects by talented local Black artists and dine at Black-owned restaurants for unforgettable cuisine. Dive into the area's Black history for stories of resilience and hope, as well as for a deeper understanding about the lives of those that were enslaved.

Prominent historical figures from Albany's Black history include Underground Railroad activists Stephen & Harriet Myers, who welcomed freedom seekers to their home on Livingston Ave. Reverend Nathaniel Paul, the first African American minister in Albany, who was the founding pastor of what would become the First African Baptist Church. As well as Sgt. Henry Johnson, who fought heroically in the 369th Infantry Regiment called the Harlem Hellfighters, is one of Albany's greatest war heroes.

Start exploring Albany's Black history and cultural experiences today!
Discover My Albany: Trent Griffin-Braaf
Where to Dive into Albany's Black History
Explore Albany's Black History
New York's Relation to Juneteenth
Written by Paul Stewart, Independent Researcher and Co-founder Underground Railroad Education Center More
Women from History with Ties to 4 Historic Sites in Albany
March is Women's History Month! To celebrate, dive into the life and legacy of women who left their More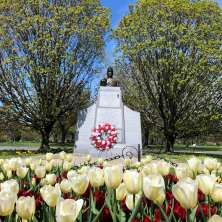 How to Celebrate Black History in Albany This Month & Beyond
February marks Black History Month in the United States. This year, let Black History Month serve as More
You might also be interested in: