Amazing Albany Facts
How much do you know about our historic city of Albany? We've compiled a number of fun facts and trivia to entertain and educate you on our historic destination, but there are many more worth discovering. We invite you to make a trip to Albany to explore our rich history!
People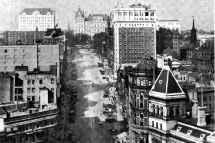 - Albany was named after the Duke of York's Scottish title, "Duke of Albany" in 1664 when the English took control of the area. Prior to being named Albany, the settlement was called Beverwyck ("beaver district") after the animal created a lucrative fur trade for the Dutch. Albany, however, remained Dutch in language and customs until the American Revolution.
- Santa Claus, and the first celebration of the feast of St. Nicholas in America, probably originated in Albany (imported from the Netherlands). The first mention of Santa Claus anywhere in America is in the Van Rensselaer papers in the State Education Department collection of historic manuscripts. There are records of Fort Orange and Beverwyck celebrating the arrival of St. Nicholas with his sleigh and reindeer and coming down the chimney to put presents in childrens' stockings, going back prior to the 1650s. (Source) Albany is not alone its historic contribution to the modern American interpretation of Santa Claus. "Account of a Visit from St. Nicolas" (known today as "The Night Before Christmas") was first published anonymously in the Troy Sentinel on December 23, 1823.
- Abraham Lincoln and John Wilkes Booth were in Albany at the same time in 1861, just after Lincoln was elected President. The Lincolns were visiting on their way to Washington, D.C., and Booth was performing at Albany's Gaiety Theatre on Green Street. (Source 1, Source 2) A historic marker stands at the Discover Albany Visitors Center marking Lincoln laying in state at the New York State Capitol following his assassination.
- General William Jenkins Worth, who Ft. Worth Texas is named after, lived on Broadway in Colonie. (Source)
- American statesman, Alexander Hamilton, was married in 1780 to Philip Schuyler's daughter, Elizabeth, at the Schuyler Mansion. More information about their life and his tragic death from a duel with Aaron Burr in July 1804, may be found in this brief biography of Elizabeth Schuyler.
- For a period of time, Herman Melville, author of such literary works as Moby Dick (1851), lived in the pink house just off North Pearl Street next to McGeary's. (Source)
- When Theodore Roosevelt was Governor, he exercised every morning by running up and down the Capitol's 77 front steps. It 's rumored that if newspaper reporters wanted an interview with Roosevelt, they would simply have to beat him to the top of the stairs.
- Four New York Governors were eventually elected President of the United States: Grover Cleveland, Theodore Roosevelt, Franklin D. Roosevelt, and Martin Van Buren. Four New York Governors also served as Vice President of the United States: Daniel D. Tompkins, Levi P. Morton, Theodore Roosevelt, and Nelson A. Rockefeller.
Places & Things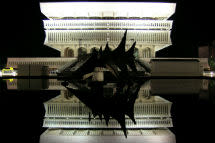 - Albany is the oldest continuous settlement in the original 13 English colonies; a fort was built here prior to 1614. Jamestown was settled in 1607 but abandoned in 1699. Today, Jamestown is a national park and archaeological site with no buildings. The Puritans didn't land in Massachusetts until 1620.
- Invented in Albany: Perforated toilet paper (source) and the first plastic compound for billiard balls, checkers, and dominoes (source).
- The very first passenger railroad in America was the Mohawk and Hudson River Railroad. It ran from the intersection of Albany's Western and Madison Avenues into downtown Schenectady. Erastus Corning was the President of the railroad and Stephen Van Rensselaer was the largest stockholder. (Source)
- Construction on the New York State Capitol building began in 1867 and took over 30 years to complete at a cost of more than $25 million. The New York State Capitol has 17 steps approaching its western entrance and 77 steps approaching its eastern entrance in honor of the year 1777, when New York replaced its colonial government with the current state government.
- The Empire State Plaza which sits on 98 acres with more than 900,000 cubic yards of concrete, and 232,00 tons of steel cost $1.7 billion to build. It interconnects eleven buildings including the Capitol and State Museum.
- The fable surrounding the origin of "a baker's dozen" places it's beginning to a bakery owned by Baas [Boss] Volckert Jan Pietersen Van Amsterdam in Albany. (Source)
- The oldest pulpit in America, which was carved in Holland in 1656 can be found at the Dutch First Reformed Church in Albany.
- The song Yankee Doodle was first penned at Crailo State Historic Site during the Revolutionary War. (Source)
- Washington Park was originally a cemetery, the State Street burial grounds. When Washington Park was designed, approximately 40,000 bodies had to be transferred to the Albany Rural Cemetery in the 1840's.