Albany Heritage Tourism

Albany was settled by the Dutch more than 400 years ago when Henry Hudson's ship, the Half Moon, first sailed up the river that now bears his name. Over the past four centuries, Albany has grown from a small Dutch settlement into New York State's Capital City in the heart of burgeoning Tech Valley.
Though Albany has undergone massive physical and social changes over its long history, our commitment to preserving and celebrating our heritage is stronger than ever. The sites and attractions listed below highlight aspects of Albany's rich historic and heritage resources.
To learn more about the City of Albany's Cultural Heritage and Tourism Partnership, view our Cultural Heritage and Tourism Results Report. 
Heritage Tourism Blog Posts
Women from History with Ties to 4 Historic Sites in Albany
March is Women's History Month! To celebrate, dive into the life and legacy of women who left their More
How to Celebrate Black History in Albany This Month & Beyond
February marks Black History Month in the United States. This year, let Black History Month serve as More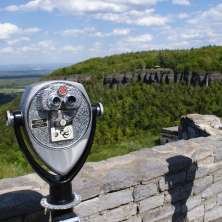 21 Instagrammable Spots in Albany County for 2021
From historic city streets, to panoramic landscapes, to lush green spaces, Albany County is filled More
Share your discoveries!
Post your adventures at Albany Heritage Tourism sites and tag @DiscoverAlbany for a chance to be
featured on our social media! #DiscoverAlbany