Virtual Lectures
Looking for a fun, engaging event for your group? Dive into Albany's rich 400 year-old history from the city's Dutch roots to historic haunts, from the comfort of home! Discover Albany offers virtual lectures that will fascinate senior groups, neighborhood associations, students, clubs and more. If you are interested in booking a virtual lecture, please email accvb@albany.org. 
Details: 
Pricing: $50 per lecture
($40 per lecture if you book more than one lecture for your organization)
Lectures typically run from 1 hour to 1.5 hours
Albany's Dutch
The Albany Dutch are more than just tulips and wooden shoes! Echoes of Albany's Dutch roots can be felt throughout the City, from our street names to our architectural gems. A Dutch Stroll is a guided walking tour within the original perimeter of Beverwyck. Learn how the tenacious Dutch adapted to the New World, formed relationships with the Native Americans and adjusted to English rule before the Revolution.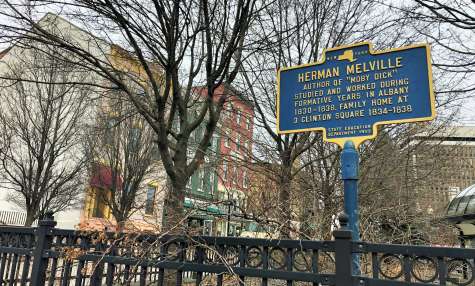 Backyard Literary Legends
Backyard Literary Legends
Many literary legends have called Albany home, including William Kennedy and Gregory Maguire. But what other literary luminaries wandered the Capital streets? Did Herman Melville find inspiration for 'Moby Dick' in his own backyard? What's the connection between Vladimir Nabokov and the Albany Pine Bush? This and more will be revealed!
Eerie Albany
A virtual storytelling event, not made for the faint of heart. Join us as we unearth the capital city's storied past. Who is the ghostly figure who lingers past closing time at the historic Olde English Pub? What mysteries lie within the beautiful homes that line Ten Broeck Triangle? Can you explain the shadowy figures who roam the Capitol halls at night? Uncover this and more - if you DARE!
Politics and Prohibition
This interactive lecture will dish out the juicy local gossip behind the secret speakeasies, the bootleggers who supplied them and the suspect politicians who perhaps had ulterior motives in keeping Albany a dry town. There may even be a dash of murder thrown into the mix.
Looking for more virtual lectures and tours offered by Albany County heritage sites and attractions? Contact us at accvb@albany.org for more information.
You might also be interested in: