Craft Beverage in Albany County
From Remsen Street in Cohoes, to the City of Albany's Warehouse District, to the Helderberg Hilltowns, the local craft beverage scene is booming. Albany County is home to Nine Pin Cider, New York's first farm cidery, and Royal Meadery, New York's first licensed farm meadery. Sip, savor, and swirl craft beverages in Insta-worthy converted warehouses, friendly taprooms tucked on historic main streets and scenic tasting rooms with stunning rural views. Plan your craft beverage adventure at Albany County's breweries, wineries, meaderies, distilleries, and cideries today!
Capital Craft Beverage Trail
The Capital Craft Beverage Trail is a "drinking tour" promoting over 50 craft & farm-based beverage producers in New York's Capital Region. All producers source local ingredients and create small-batch beverages. Take a tour, sample the product, and learn more about this homegrown industry. 
Explore the Craft Beverage Scene
Albany County Spring Weekend Getaway Itinerary
Itching for a weekend getaway or staycation this spring? Book a trip to Albany for must-see museums, More
Top Things to Do in Albany County When Visiting for a Wedding
Visiting Albany County this year to attend a wedding? We've got you covered with top things to do More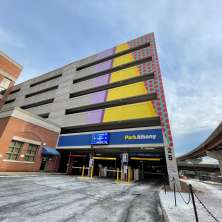 10 Attractions Within Walking Distance of ParkAlbany's Quackenbush Garage
Parking in downtown Albany is a breeze thanks to ParkAlbany! Their Quackenbush Garage is More