Hospitality Gives Back
Hospitality Gives Back is the corporate social responsibility initiative of Discover Albany. Our goal is to give back to our destination, vitalize our cherished attractions, and lend a helping hand to organizations within our community. By doing so, we intend to both preserve and enhance the travel and destination experience within Albany County.
Projects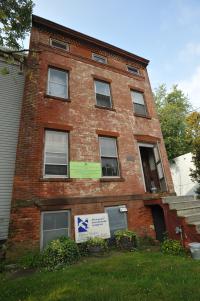 Cleanup Day at Underground Railroad History Project of the Capital Region
One April 28, 2017, 1-4pm, we joined to clean up the Stephen and Harriet Myers Residence, a stop on the Underground Railroad. A joint project of the Underground Railroad History Project of the Capital Region. We worked with hospitality partners and community members to spruce up this heritage site for tourists. Afterwards, we headed over to Nine Pin Cider for a Hospitality Happy Hour.
Cleanup Day at Historic Cherry Hill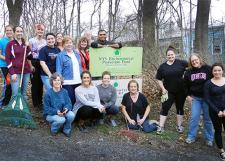 The first Hospitality Gives Back event took place in April 2016 at Historic Cherry Hill where volunteers prepared the grounds in anticipation of the Albany History Fair. Work included raking leaves and spreading mulch in flower beds.
Read the full press release here. 
Doubleday Field Cleanup at National Baseball Hall of Fame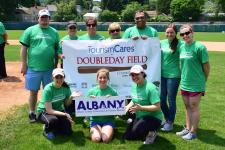 Members of the Albany Hospitality Community volunteered with Tourism Cares at Cooperstown's Doubleday Field in preparation for Hall of Fame Induction Weekend. Volunteers spent the day working on a number of different projects including painting, concrete repair, and the removal of invasive plant species on the field.
Read the full press release here. 
Contact Us 
If you would like to suggest an idea for a future project or have any questions related to the Hospitality Gives Back program, please contact the Partnership Department at info@albany.org or call 518-434-1217.
You might also be interested in: