Deb Goedeke
Albany County Film Commissioner
dgoedeke@albany.org
518-434-8191
FILM ALBANY MISSION STATEMENT:
Film Albany's mission is to diversify and enrich Albany County's economic development by welcoming and serving motion pictures, television, commercials, and all other forms of media production while promoting and serving the locations, products, services, businesses, and natural assets throughout our destination.  The Film Albany Commissioner acts as a critical link between Governmental agencies and private services to the film industry.  With a commitment to local employment, we strive to showcase the unique value and potential of Albany, NY, fostering a vibrant and thriving film industry in our region.
Please send me to your fabulous locations.  Your next shot is in our location gallery right here.  
Thank you to the Albany Capital Center and the Albany Convention Center Authority for being the presenting sponsors for our Film Albany Location Gallery.
What Sets Albany Apart from Other Cities?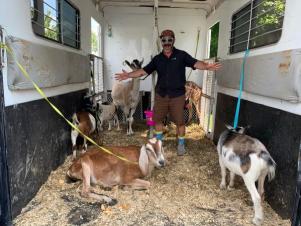 Please come and visit us.  Our goal is to showcase the unique charm and versatility of Albany, hoping to provide you with a glimpse of the incredible settings and resources our city has at its disposal.  From its historic landmarks and picturesque landscapes to the dynamic urban scenes, we believe that Albany's distinctive backdrop could enhance and enrich your storytelling.  At Film Albany, our mission is not only to bring impactful productions to our region but also to create a seamless experience for filmmakers like yourself.  We understand the importance of nurturing local talent and resources, and we are committed to supporting the community through meaningful employment opportunities, local partnerships and a vibrant film-friendly community!!  PS - That includes goats!
 

Albany is Affordable, and has the Perfect Location for Any Shot!
Given Albany's convenient location to surrounding cities such as New York City, Boston, and Montreal, as well as numerous settings, buildings, and streets that mimic Manhattan, Brooklyn, and Washington, D.C.  It's no wonder that HBO, Disney, Columbia Pictures, and indie filmmakers choose Albany. 
 
The Albany Film Commission remains very active in assisting feature and independent filmmakers who frequently express an interest in filming in this area.  We are your one-stop shop.  From that first call to our office, we can provide you with assistance in finding local crew, talent, equipment, services, vendors, and discounted sleeping rooms FREE OF CHARGE!  In addition, downtown Albany is home to several downtown Albany New York State Qualified Production Facilities.  We can also provide hotel buyout recommendations, near these facilities so your talent/crew will be kept safe and comfortable.   
 
Balancing the big city look with the small-town feel, Albany has the perfect location for any shot you may need.  Recent films and television shows include Disney/Marvel's The Punisher, Mother's Milk starring Hilary Swank, Moving Pictures Fourth Man Out (winner of several LGBT Film Festivals), HBO's Muhammad Ali's Greatest Fight, HBO's television series Succession, Gilded Age Season 2, White House Plumbers, Showtime Billions and Columbia Pictures SALT, The Other Guys and various independent projects.