Albany Tulip Festival
Mother's Day Weekend
Washington Park
Free and open to the public
Submerge yourself in a sea of more than 100,000 tulips at Albany's historic Washington Park this Mother's Day weekend for Albany's Annual Tulip Festival presented by Citizens Bank. Since Mayor Erastus Corning II read the first Tulip Festival Proclamation on May 14, 1949, the Mother's Day weekend celebration has grown into one of the Northeast's biggest and most beloved yearly events.
Historic events celebrating Albany's rich, Dutch heritage combined with multiple stages of acclaimed live music, craft vendors, a fine arts show, children's activities, and great food to make Tulip Festival a free, one-of-a-kind event for the whole family.
Parking & Shuttles
FREE CDTA shuttle runs continuously to Washington Park from the Eagle Street Parking Lot (at Eagle & Madison Ave) and the Elk Street Parking Lot (at Elk & Hawk Streets) throughout the festival. Shuttles will run every 20-25 minutes depending on traffic. Parking is free at these two lots.
Handicap parking is available at Albany Medical Center Parking Lot (at Robin & Morris Streets) for customer needing extra assistance or in a wheelchair. This free shuttle will drop passengers off at the Madison Avenue/New Scotland entrance to the park.
Fun in Full Bloom with #518TulipTracker
Explore Albany's Dutch Roots
Q&A: Discover Tulip Festival's Fascinating History & Dutch Roots
Q&A with Anja Adriaans, Founder & Executive Director FAN Friendship Albany NY-Nijmegen, and Maeve McEneny, Discover... More
Distinctly Dutch Buildings in the Capital Region
Learn about distinctly Dutch buildings in the Capital Region including 48 Hudson, Olde English Pub, Crailo State Historic Site, Van Schaick Mansion,... More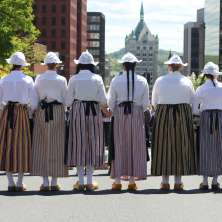 Going Dutch: Exploring Albany's Unique Dutch Past
Albany's Dutch roots make it distinct among early American cities. Learn what makes Albany unique, and how Dutch traditions helped inform the nation we live in today. More