Albany Tulip Festival
The City of Albany announced that the 2021 Tulip Festival will be virtual. 
The City of Albany's Virtual Tulip Festival will be held throughout the month of May. Tune in virtually for performances by local musicians in unique locations, tours of the tulip beds with the City of Albany gardeners, kid-friendly videos and more! Watch on Albany Events YouTube, Albany Events Facebook or Public Access Channel Albany 1302. The 2021 Albany Tulip Queen and Court and Capital Region Mother of the Year will be presented at a later date with their own celebrations.
Virtual Tulip Festival is presented by Citizens, Hilton Garden Inn Albany/SUNY Area, Recovery Sports Grill, Tri-City ValleyCats, Lamar Advertising Company, City of Albany Department of General Services, Lark Street Yoga, WEXT Radio, Albany.com and Discover Albany. 
#518TulipTracker
Beginning on April 13, track the tulips (and other flowers!) in the Capital Region with #518TulipTracker. Follow along on social media to celebrate the spirit of tulip season in Albany. Keep an eye open for Tulip Festival-themed blog posts on the Discover Albany Blog and tons of beautiful tulip photos.
#518TulipTracker is a collaboration between The City of Albany's Office of Cultural Affairs, Discover Albany, Citizens and The City of Albany Department of General Services. 
Discover Tulip Festival & #518TulipTracker
Q&A with 50th Anniversary Tulip Queen Katie O'Malley Maloney
Katie O'Malley Maloney, owner of Katie O' Weddings & Events, runs downtown Albany's newest wedding More
Explore 1950s Tulip Queen Fashion with the Albany Institute of History & Art
The Albany Tulip Queen is a treasured tradition that dates back to the first-ever Tulip Festival in More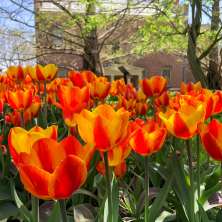 Admire #518TulipTracker Social Media Photos
The 2020 Albany Tulip Festival has been postponed. #DiscoverAlbany, the City of Albany and Citizens More
Explore Albany's Dutch Roots