Albany Tulip Festival
The City of Albany announced that the 2021 Tulip Festival will be virtual. 
The City of Albany's Virtual Tulip Festival will be held throughout the month of May. Tune in virtually for performances by local musicians in unique locations, tours of the tulip beds with the City of Albany gardeners, kid-friendly videos and more! Watch on Albany Events YouTube, Albany Events Facebook or Public Access Channel Albany 1302. The 2021 Albany Tulip Queen and Court and Capital Region Mother of the Year will be presented at a later date with their own celebrations.
Virtual Tulip Festival is presented by Citizens, Hilton Garden Inn Albany/SUNY Area, Recovery Sports Grill, Tri-City ValleyCats, Lamar Advertising Company, City of Albany Department of General Services, Lark Street Yoga, WEXT Radio, Albany.com and Discover Albany. 
#518TulipTracker Scavenger Hunt
The #518TulipTracker Scavenger Hunt featuring Tulip Festival (& Albany!) history is now available on the Discover Albany App. Solve 10 fill-in-the-blank clues by finding the missing word at landmarks, parks and heritage sites. Those who finish 7 of the 10 clues by May 31 will be entered to win a prize. Download the app to start the scavenger hunt! 


How To Play:
- Download the Discover Albany app
- Tap the "Fun Trails & Tours" link in the bottom navigation
- Create a login
- Visit each of the addresses and fill in the blanks in each clue
- Then simply "check-in" and type your answers in each box
#518TulipTracker is a collaboration between The City of Albany's Office of Cultural Affairs, Discover Albany, Citizens and The City of Albany Department of General Services. 
Discover Tulip Festival & #518TulipTracker
Enjoy Tulip Photos Shared with #518TulipTracker on Social Media
Tulip season is the best time of year in Albany! We hope that you enjoyed tracking the tulips, from More
Self-Guided Tulip & Garden Driving Tour
#518TulipTracker is a collaboration between The City of Albany's Office of Cultural Affairs, More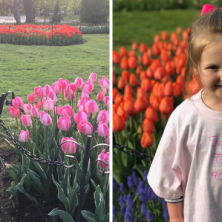 Q&A with 50th Anniversary Tulip Queen Katie O'Malley Maloney
Katie O'Malley Maloney, owner of Katie O' Weddings & Events, runs downtown Albany's newest wedding More
Explore Albany's Dutch Roots