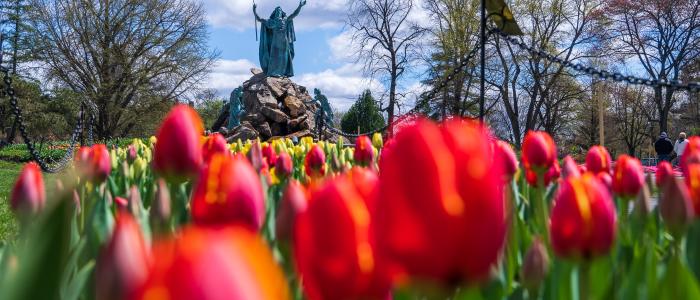 Descriptions provided by Jena Commerford
Every Spring, Albany blooms with a sea of tulips at destinations throughout the city. The tulips that sprout up in the Capital each year vary in beautiful color, shape, and size and each are completely unique. Though our City Gardener, Jena Commerford, attests that she hasn't set her eyes on a bad bloom yet, she does have favorite varieties that change from year to year. Read on to learn more about Jena's Top 5 tulip picks for the 75th Annual Tulip Festival. Make sure to keep your eyes out for each around the Moses area of Washington Park.
Don't forget to put in your vote for your top tulip pick as well! Tulip Fest organizers are asking everyone to vote for the People's Choice Winner for Spring 2023. Scroll down for a QR code to vote and more information!
Daydream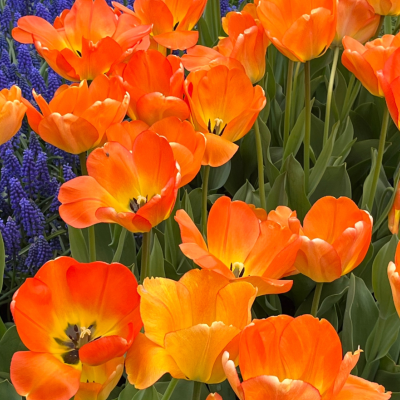 An early blooming variety. Its color shifts, starting out lemony yellow and matures to a glowing apricot orange. It has been a favorite for many years and most likely will continue. I enjoy the fact that it almost changes the design of a garden by "magically" changing colors. 
Rococo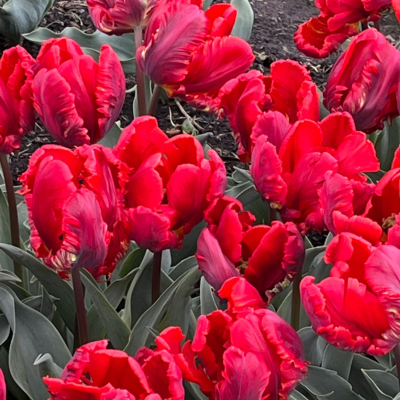 A late blooming variety. It is a rich red with green and purple through the petals. The red would make a perfect shade of lipstick. Red is not one of my favorite colors, but this one grabs your eyes and all attention on Rococo!
Akebono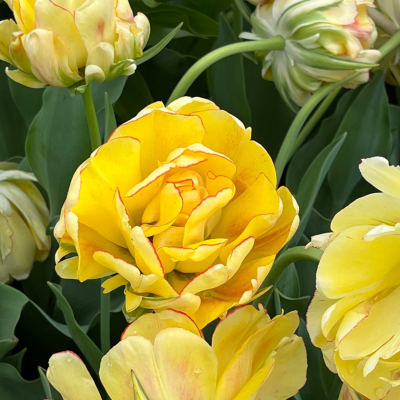 A tall, mid-late blooming variety. These are large pale yellow flower heads, with red and green slightly brushing the center of petals, almost as if their cheeks are blushing. There's a thin crisp edge of red on each petal. Fun fact: Akebono means dawn/daybreak in Japanese.
 Blushing Impression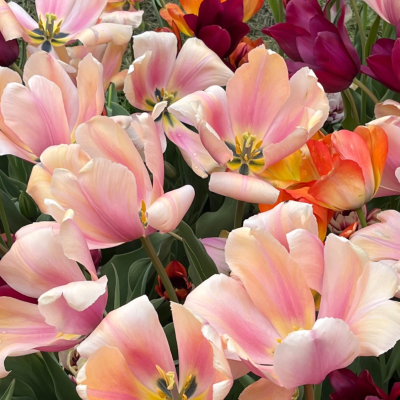 A mid blooming variety. The color of these are so romantic to me. Light peachy and yellow petals with pale pink-raspberry cheeks. The blooms themselves are huge. These would make a beautiful bouquet if you grew them in a cut garden at home.
Merlot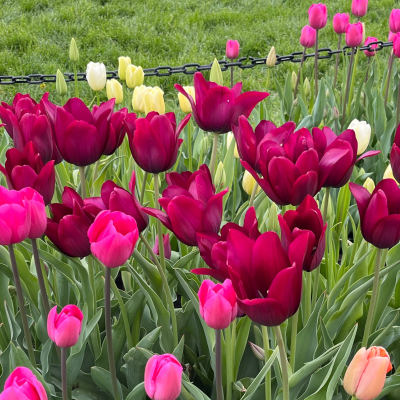 A mid-late blooming variety. This variety has rounded lily shaped petals. A true wine-red color, but with certain angles of the sun, there is a vibrant deep pink-purple color. I would say it definitely falls in the maroon family. Merlot is complimented well with Blushing Impression and shades of orange.
---
The Tulip Festival is May 13 and May 14 this year but be sure to take a trip or two in the weeks leading up to the festivities to see the blooms at their peak! Track the tulips and embark on a self-guided tulip driving tour, be sure to share your tulip photos on social media using the hashtag #518TulipTracker. Don't forget to participate in a round of Driving Tour Bingo for a chance to win an Albany themed prize!
For a guided tour with Albany's tulip expert, join Jena for one of her tulip tours! Dates range from May 4th to May 5th and May 10th to May 12th but Jena encourages people to join her this week due to the early tulip season this year.
"Nature will do as it pleases and luckily, I am not one to worry too much. I would suggest everyone gets out now to see all of the beautiful blooms," says Jena. "We can't control weather and temperatures, but we can get out and enjoy nature daily!"
Put in Your Pick for the People's Choice 2023
Directions: Hover your phones camera over the QR code and click the link that comes up. It will take you to a site that shows 10 tulips to choose from. The tulip with the most votes will get an entire garden bed dedicated to it next year. Last years winner was Orca. You can find it in a round bed near one of the four lamp post beds in the park.