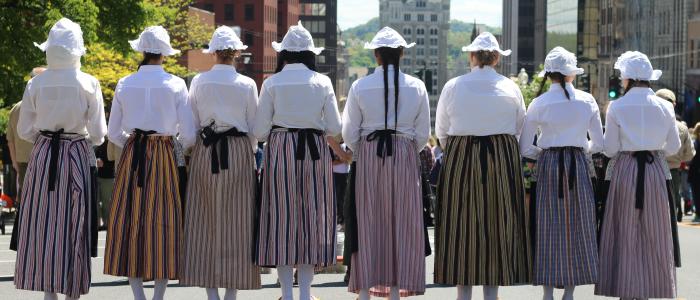 The annual Tulip Festival is Albany's signature celebration showcasing regional musicians, craft vendors, tulips (of course!) and community spirit. Did you know that the festival's history can be traced back to Albany's distinctly Dutch roots and relationship with its Sister-City? Dive into the history and origins of this landmark Albany event with Anja Adriaans, FAN Friendship Albany NY-Nijmegen Founder & Executive Director and Maeve McEneny-Johnson, Discover Albany Community Engagement Manager.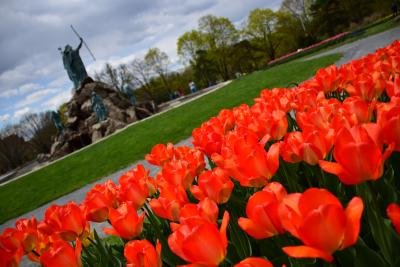 1. What are the origins of Albany's Tulip Festival?
Maeve: The Albany Tulip Festival celebrates the Sister-City relationship between the City of Albany and the Dutch City of Nijmegen. Nijmegen and Albany have many surface similarities. Both cities developed next to rivers and boast deep historic roots. Nijmegen in the Netherlands is over 2,000 years old and Albany still operates under the oldest City charter in the United States (1686). But it's during World War II that the sister-city relationship was forged.
Anja: Nijmegen was hard-hit in World War II. In May 1940, Nijmegen was the first Dutch city to fall into German hands. On 22 February 1944, Nijmegen suffered heavy damage and hundreds of fatalities in an unintentional but disastrous American air bombing raid on the inner city. Freedom came in September 1944 (Operation Market Garden), with the US paratroopers of the 82nd Airborne Division successfully capturing and retaining the Waal Bridge, and driving the German soldiers out of Nijmegen.
The soldiers of the 82nd Airborne had seen the suffering of Nijmegen. The attack weighed on Maj. General James Gavin, commander of the 82nd Airborne. Huge efforts were needed to rebuild the destroyed city after the war. In the fall of 1945, Mayor Erastus Corning II of Albany received a cablegram from Berlin, send by Sergeant. R.P. Higgins, a native of Albany representing his superior, Maj. General James Gavin suggesting that Albany, -New York State's Capital City with Dutch roots-  "adopted" the city of Nijmegen. Mayor Corning, who served in World War II himself embraced the request and set out to organize. In 1947 the citizenry of Albany sent tons of supplies and Albany and Nijmegen became sister-cities, building a spirit of friendship and understanding between their two communities in a post-war world.
Maeve: To show their gratitude for the relief effort, Queen Wilhelmina donated 2,000 tulip bulbs to Albany. Editor of the Knickerbocker News, Charlie Mooney, suggested the idea of creating an official annual "Tulip Festival" and the idea caught fire! It's an early example of a "post going viral" before social media was even a thought. The first Tulip Festival occurred in May of 1948, to celebrate our new Sister City relationship.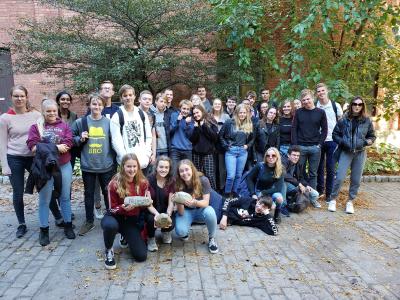 Nijmegen students visiting Albany
2. How has Albany's relationship with Nijmegen continued after World War II?
Anja: Some close friendships between citizens grew from this. People from Nijmegen sent thank-you notes and started writing back and forth. School children became pen pals and are friends, even after 70 years.
Maeve: This past fall, we welcomed high school students from Nijmegen who toured the city and shadowed other high school students in Albany.  Now, instead of traditional letter writing, students from Albany and Nijmegen stay connected through Snapchat and Instagram!
Anja : Yes, that was a promising moment in our shared history and we hope to be continuing on an exchange.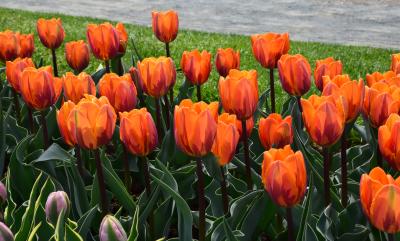 3. What is the story behind Albany's official tulip – the Orange Wonder?
Maeve: At the request of the first Tulip Committee, Queen Wilhelmina chose the Orange Wonder as the City of Albany's first official tulip and gifted bulbs to the City. These tulips were planted in Washington Park, but the Tulip Festival was not only isolated to the park. Thanks to Charlie Mooney, it was a City-Wide affair! Citizens were encouraged to plant their own bulbs in their yard. The City even offered gardening classes on proper planting techniques. Mrs. Corning was an avid gardener and a member of the Fort Orange gardening club.  I've always secretly suspected she was behind a lot of this city-wide Tulip Mania!
Anja: Queen Wilhelmina donated tulips to express gratitude to and connection to the Allied countries. It was a wonderful idea to choose the tulip for City of Albany's flower. Little it is known that Nijmegen's Mayor Hustinx was asked to endorse the plan.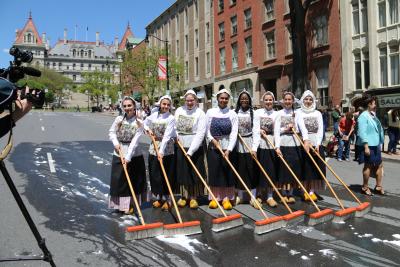 5. What is your favorite fun fact about the Albany Tulip Festival?
Anja: My favorite fact about the Albany Tulip Festival is the idea behind the Tulip Queen and her Court. I love it that it is not a beauty contest at all but it is about community service. It's so inspirational. These young women are true role models.
Maeve: The traditional street cleaning! Soapy water is dumped onto State Street and local students dressed in traditional Dutch costume scrub the streets. It's inspired by a Dutch tradition of cleaning streets before major festivals.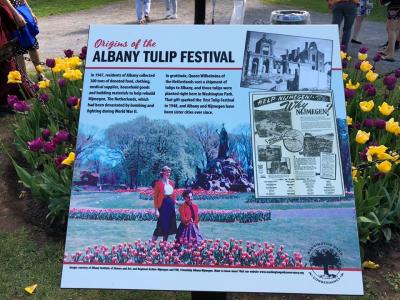 Photo courtesy of FAN Friendship Albany NY-Nijmegen
6. What is your favorite Tulip Festival memory?
Anja: Oh dear there are so many Tulip Festival memories! Maybe 2017, when Mayor Sheehan asked me to walk up with her in the street scrubbing and she talked about the shared history and friendship Albany-Nijmegen in her speech. (View the speech at this link courtesy of FAN.)  Maybe 2018, the exhibit "American Friendship from across the Ocean" opening in Albany's City Hall.  When Mayor Sheehan said: "The exhibit is a tribute to the historic bonds between our two cities that led to the Tulip Festival and continue to this day." (View photos & learn more about the exhibit at this link courtesy of FAN.)
Maeve: In 2018, a sign explaining the Sister-City relationship was installed in Washington Park by the Moses Statue, just in time for the Tulip Festival. We had talked about the sign with FAN for many years, and we were delighted that it was coming to fruition just in time for Tulip Festival. We arrived at the sign with FAN representatives from Nijmegen and Albany, dressed beautifully for Champagne in the Park, ready to toast. But, as is typical in Albany in mid-May, it poured rain! But we huddled together to take a fast selfie. It was a genuine, spontaneous, Sister-City moment.