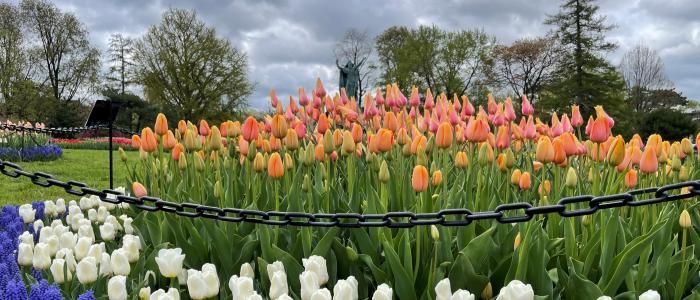 Albany's signature Spring celebration, the annual Albany Tulip Festival, is returning in-person to Washington Park on May 7 and 8! The two-day festival honors Albany's rich Dutch heritage (and tulips, of course!) along with showcasing regional musicians, local artisans and community spirit. To commemorate Tulip Festival's in-person return, scroll on to learn about the ways this landmark festival celebrates community spirit.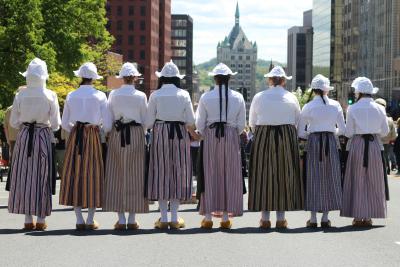 Sister-City Relationship with Nijmegen
Tulip Festival's history can be traced back to Albany's distinctly Dutch roots and relationship with Nijmegen, Albany's Dutch Sister-City! In 1947, Albany residents sent food, clothing, medical supplies and more to help rebuild Nijmegen following World War II. In gratitude, Queen Wilhelmina of the Netherlands sent a shipment of tulips to Albany that were planted in Washington Park. This gift led to the first-ever Tulip Festival, held in May 1948, to celebrate the new Sister-City relationship. 
Every year, Tulip Festival is officially kicked off with a touch of tradition honoring the city's Dutch roots. The City of Albany recreates a traditional Dutch ceremony of scrubbing the streets before a big celebration! This unique event features Mayor Kathy Sheehan's Tulip Festival opening proclamation along with a procession with the Dutch Settlers Society (in full traditional Dutch dress!) and the 2022 Tulip Queen finalists.
Learn more with this Q&A: Discover Tulip Festival's Fascinating History & Dutch Roots with Anja Adriaans, FAN Friendship Albany NY-Nijmegen Founder & Executive Director, and Maeve McEneny-Johnson, Discover Albany's Community Engagement Manager.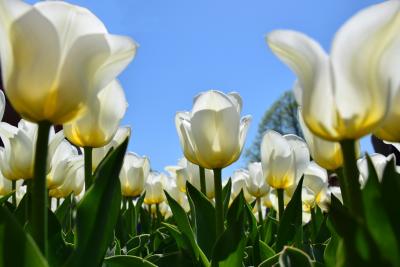 Albany Tulip Queen Coronation
The crowning of the Tulip Queen is an Albany tradition that dates back to the 1949 Tulip Festival. Each year, an Albany County resident between the ages of 18 to 24 who demonstrates leadership skills and community outreach goals is crowned the Albany Tulip Queen. The Tulip Queen serves as Albany's Ambassador for one full year of reign. She works as a team with her Court members on local literacy programs and community service projects throughout the City of Albany. 
Check out Explore 1950s Tulip Queen Fashion with the Albany Institute of History & Art blog post to learn more about the history of the Albany Tulip Queen.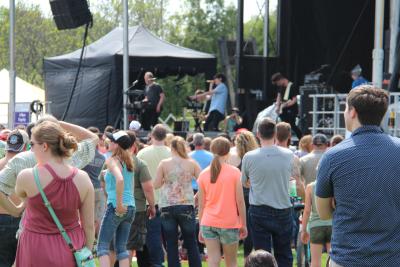 Local Musicians, Artisans & Vendors
Not only does Tulip Festival showcase the city's treasured tulips, but it also shines a spotlight on the region's talented artisans and musicians. Throughout the two-day festival, there are nearly one hundred artisans selling their handmade crafts to festival attendees. Booths are set up featuring area vendors, businesses and community organizations as well as a fine arts show. Tulip Festival boasts two stages of live entertainment with one stage dedicated to showcasing musicians from Upstate New York. Catch local musicians such as Hanzolo, E.R.I.E., Bad Mothers, and Canella playing on the Local 518 Stage throughout Tulip Festival.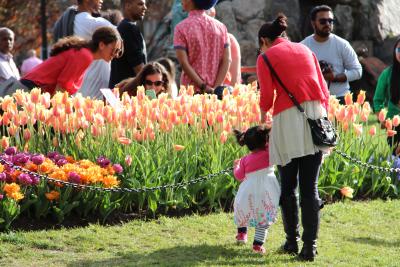 Annual Capital Region Best Mom Award
Tulip Festival is held over Mother's Day weekend and recognizes some of the Capital Region's most magnificent moms with the Annual Capital Region Best Mom Award. Capital Region mothers who have proven a commitment to their family and their community are nominated for the annual award by their friends and family. Five finalists are recognized at Tulip Festival, before one is crowned as the Capital Region Best Mom. This award is a wonderful way to celebrate the community's wonderful moms!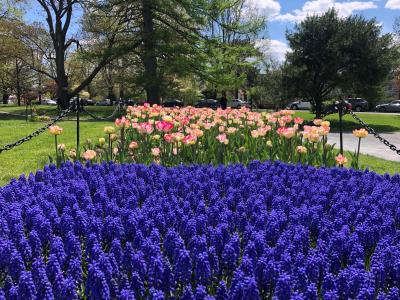 Tulip Bulb Dig & Tulip Bulb Planting Day
After Tulip Festival is over, locals can volunteer to help the City of Albany Department of General Services prepare the park's garden beds for the summer season with the Tulip Dig. The City of Albany Department of General Services provides tools and volunteers dig up bulbs in designated beds. Volunteers can then purchase the bulbs and plant them in their own backyards! The remaining tulip bulbs are sold the following day at the Washington Park Lakehouse on a first-come, first-serve basis. Everyone is invited to participate! 
In the late Fall, the City of Albany Department of General Services works to plant thousands of the city's iconic tulip bulbs. The Washington Park Conservancy organizes a Tulip Bulb Planting Day in Washington Park. Volunteers from the local community assist the city gardeners and City of Albany Department of General Services staff in planting tulip bulbs in beds. This is a wonderful volunteer opportunity for Albany residents to give back to the city they call home!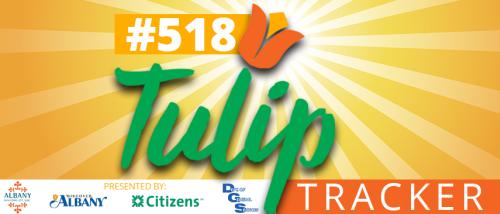 Celebrate tulip season and the 2022 Albany Tulip Festival with The City of Albany's Office of Cultural Affairs, Discover Albany, Citizens and The City of Albany Department of General Services with #518TulipTracker. Follow along on social media and use the hashtag to join the conversation.