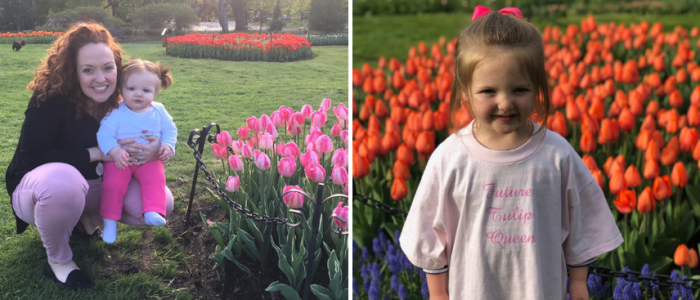 Katie O'Malley Maloney, owner of Katie O' Weddings & Events, runs downtown Albany's newest wedding and event venue The Kenmore Ballroom. Before building her impressive career in the weddings and events industry, Katie was crowned the City of Albany's 50th Anniversary Tulip Queen. Scroll on for a Q&A with Katie O'Malley Maloney about her time as Tulip Queen and how that experience impacted her career. 
1. Tell us about your experience as the City of Albany's 50th Anniversary Tulip Queen.
It was a really exciting experience.  I actually didn't even know I was being nominated (thanks Mom!) and learned so much about the process and what the program meant to Albany.  Once I went through the nomination and interview process I became even more interested in being part of such a long-standing tradition in the City of Albany.  I loved being able to meet so many talented, smart and ambitious young women who were dedicated to their community.  Overall, I was able to build new relationships and valuable friendships, many of which still exist.  The support of other "tulips" really shows what a family this experience creates.
2. What was the most valuable lesson that you learned while serving as Tulip Queen?
I learned how to be a better leader, as Queen I worked hard to make sure that the four court members always knew we were a team.  Even though I wore the crown, we were all in it together and had a responsibility to the program and City to represent and make the biggest impact we could.
3. How did being crowned Tulip Queen impact your life and/or career?
I attribute quite a bit of my current success to being crowned Tulip Queen.  I was exposed to so many opportunities to meet new people, learn about different initiatives and volunteer in a way that I had never before.  I learned the value of giving back to your community, being part of something bigger than yourself.  Thankfully, I was exposed to so many amazing business and civic leaders and made a point to maintain relationships to help me grow as an individual and a professional.  I took a lot of what I learned and the people who impacted me and carried it with me as I started my career.
4. What is your favorite part about Tulip Festival?
Coronation day!  This will always hold a special place in my heart.  The processional of the queen and court, the anticipation of who will be crowned will always spark joy.  I love to hear about the 'new finalists' and learn about their accomplishments and achievements.  There are so many talented and extraordinary women in the City of Albany and love that this tradition shines the spotlight on them!  Hopefully, one day my own daughter will be able to be a part of this tradition- she loves visiting the tulips on festival weekend!
5. Tell us a little bit about your latest venture – The Kenmore Ballroom in downtown Albany.
In 2019 I founded With Grace Management, LLC with my husband Nate.  We now operate a brand new wedding and event space, The Kenmore Ballroom, located in the heart of downtown Albany, NY. We worked together with local developer Redburn to design, create and bring back to life a truly historic venue for today's modern client. It is so amazing to be a part of the energy and resurgence of downtown. Our priority will always be sharing life's celebrations with people, no matter how big or small.
6. What do you love most about Albany? 
I love the history and the vibrancy that the city offers.  I believe we are at a turning point in terms of economic development and so many exciting new projects on the horizon.  To be operating a new business at this time (albeit a bit crazy with a pandemic) also is providing us with such hopefulness for an outstanding and bright future in downtown Albany.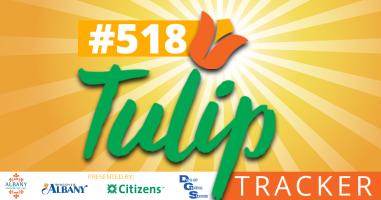 Celebrate the 2021 Albany Tulip Festival virtually with The City of Albany's Office of Cultural Affairs, Discover Albany, Citizens Bank and The City of Albany Department of General Services with #518TulipTracker. Follow along on social media and use the hashtag to join the conversation.