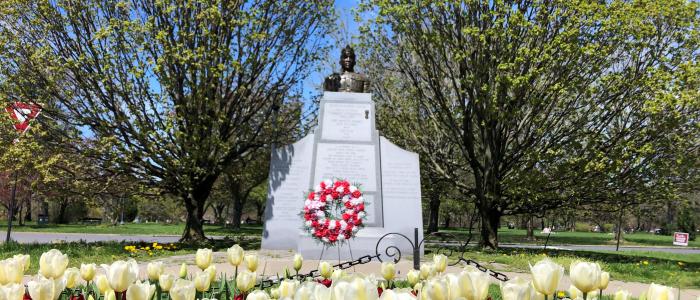 February marks Black History Month in the United States. This year, let Black History Month serve as a reminder to support Black-owned businesses and learn about Black history all year long. Scroll on to learn how to celebrate Black history in Albany during the month of February and beyond. 
Attend Virtual & In-Person Events, Tours & Exhibits with the African American Cultural Center of the Capital Region
Celebrate Black History Month with the African American Cultural Center of the Capital Region (AACCCR) virtually and in-person! On Wednesdays and Fridays in February, guided private tours are offered of the art installations and historic construction of the AACCCR's home at 135 South Pearl Street. Appointments and masks are required. Through February 19, AACCCR is presenting an in-person art installation at the Empire State Plaza concourse featuring an exclusive collection of large-scale sculptures and installations to display the breadth of Black artistry in the Capital Region. On February 23 at 6:00 PM, tune in on Facebook Live for Teaching Black History Through Theater, an educational theatrical performance highlighting the Harlem Renaissance's 100th Anniversary and its long-lasting effects on culture. Don't forget to mark your calendars for the 17th Annual Albany Juneteenth Celebration, with virtual and in-person celebrations, hosted by the AACCCR this June!
Engage with the Underground Railroad Education Center
Operated by the Underground Railroad Education Center, the Stephen & Harriet Myers Residence at 194 Livingston Ave reflects Underground Railroad history from the perspective of Stephen Myers, a man formally enslaved, and from the perspective of Black abolitionists. Stephen & Harriet Myers were the central Underground Railroad activists in the Capital Region during the 1850s and welcomed freedom seekers to their home. While exploring this stop on the Underground Railroad, peruse the exhibit currently on display through June 2021, "Yours for the Oppressed, Harriet Myers". This fascinating exhibit celebrates Black Women Activists including the life and legacy of Harriet Myers. Call (518) 621-7793 before visiting and masks are required. 
The Underground Railroad Education Center's annual public history conference, LibertyCon 2021, is going virtual this year! Kicking off on February 27, the conference's format will feature monthly presentations and conversations with leading scholars and activists on the topic "Freedom Road: the Struggle for Justice Continues."  Held via Zoom, this monthly presentations will continue the conversation through November 2021. Pre-registration is required. 
Support Black-Owned Restaurants & Black-Owned Businesses
Support Black-owned restaurants and businesses in the Capital Region all year long! Many Black-owned restaurants are open for takeout, delivery or limited indoor dining. Currently open for takeout only, Umana Restaurant & Wine Bar specializes in comfort food from around the world and is the only spot in the Capital Region that serves up Ethiopian fare every night.  Allie B's Cozy Kitchen, Albany's go-to spot for soul food and southern-style cuisine, is open for curbside pickup and delivery. Experience the Capital Region's first mobile app-based food hall, The Cloud Food Hall. Get your sweet fix with decadent, handcrafted chocolate covered fruit from TieBerrySweets or booze-infused cakes from GreatExbaketations. 
In addition to restaurants, the Capital Region is home to an array of Black-owned businesses. Located in downtown Albany, Fresh & Fly Clothing sells clothes and accessories for men, women and kids, with in-store and online shopping available. Based in Cohoes, Tech Valley Hospitality Shuttle has all your transportation needs covered, from morning commutes, to weddings and special events, to group travel. Root3d, located at 165 S Pearl Street, is a wellness center, designed to recharge the mind, body and spirit, with a focus on BIPOC communities.
Lists of Local Black-Owned Businesses: 
A Guide to Black-Owned Businesses and Black-Led Organizations (Upstate Alliance for the Creative Economy)
Black-Owned Businesses in Downtown (Downtown Albany BID)
Black-Owned Businesses in the Capital Region (Instagram: @brit_ny)
50+ Black-Owned Capital Region Businesses (Instagram: @yelpalbany)
Enjoy the Work of Black Artists from the Capital Region & New York State
Throughout the month of February, Albany Center Gallery is showcasing the work of Capital Region Black artists on Facebook and Instagram. From photographer Thom Williams, to abstract artist Jenyce, Owner of Evocative Designs LLC, keep an eye out to learn more about talented local Black artists. Albany Center Gallery is committed to featuring the work of Black artists all year long, so stay tuned on social media for updates on new opportunities for Black artists beyond the highlighted artists in February. 
Every February, the Palace Theatre hosts a variety of events in honor of Black History Month such as the annual Step Show and educational performances highlighting African Americans from throughout history. This year, the Palace Theatre's Black History Month Celebration is going virtual! On Wednesday, February 24 at 7:00 PM, a free program will stream on the historic theater's YouTube featuring art, music, dance and spoken work from talented Black artists in the Capital Region. 
The New York State Capitol and Empire State Plaza explored the artwork of the New York State Harlem Art Collection in a new Virtual Visit! The New York State Harlem Art Collection, established in 1976, features over 100 pieces of art from 65 Black and Hispanic artists. The collection features working completed during the last century, highlighting the Harlem Renaissance period. Tune into the Virtual Visit, available all year long, to learn about featured pieces and highlighted artists. 
Dive into Albany's Black History Virtually & In-Person at Historic Sites & Monuments
One of Albany's greatest war heroes, Sgt. Henry Johnson, has a monument in Albany's Henry Johnson Park and Washington Park. Henry Johnson was an African American U.S. Army soldier who fought heroically in the 369th Infantry Regiment, called the Harlem Hellfighters, in World War I. His heroic actions were recognized by the French with a Croix de guerre. Johnson was awarded the Medal of Honor by President Barack Obama posthumously in 2015. Learn more about Sgt. Henry Johnson by downloading a free copy of a "Medal of Honor: Henry Johnson" graphic novel from the Association of the United States Army or by tuning into WMHT's documentary on the local hero. 
Throughout February, Schuyler Mansion State Historic Site is featuring the stories of people of African descent enslaved by the Schuylers on Instagram and Twitter. Click here to view a video about Adam Way, the oldest person enslaved in the Schuyler household to escape enslavement. For more details and stories, visit the historic site's blog and dive into the section dedicated to discussing the lives of the enslaved. You can also visit the Historic African Burial Ground Site at St. Agnes Cemetery. In 2005, the remains of 14 enslaved Africans where found at Schuyler Flatts, the Schuyler family farm located in Menands. After a decade of researchers piecing together information to better understand the lives of those that were enslaved, the remains were honored at a special reburial ceremony in 2017 at St. Agnes Cemetery. 
Albany Rural Cemetery, a National Historic Landmark site, is filled with stories of Albany's African American history. Last year, the long lost headstone of Reverend Nathaniel Paul was rediscovered by Friends of Albany Rural Cemetery Historian Paula Lemire and gravestone restorer Christopher White. Rev. Nathanial Paul was the first African American minister in Albany and was the founding pastor of what would become the First African Baptist Church. Stephen and Harriet Myers are cemetery residents, as well as their descendant William "Beau" Freeman, who fought alongside Sgt. Henry Johnson in the Harlem Hellfighters. Albany Rural is also the final resting place for Kenmore Hotel founder Adam Blake, whose formerly enslaved father was the head of the household at the Van Rensselaer Manor. Follow Albany Rural Cemetery on Facebook for more fascinating stories. 
Historic Cherry Hill has began efforts to digitize stories on historical African American experiences at Cherry Hill, funded by a grant from the National Endowment for the Humanities. The stories include those that were enslaved, as well as a family of African American children that were adopted and raised as wards and servants. Follow Historic Cherry Hill on Facebook for more details and stay tuned for more information on the digitization of the stories. 
Explore the New York State Museum's Collections Virtually
The New York State Museum's Chief Curator of History Dr. Jennifer Lemak showcased some of the artifacts in the Museum's collection that relate to African American history in New York State. While the look at the artifacts was held on Facebook Live, the video is available on YouTube to watch at your leisure. On February 24, New York State Museum archaeologist Michael Lucas will discuss artifacts from the Jessup family's house in Brookhaven, New York on  Facebook Live. The New York State Museum also has a variety of educational resources for teachers and the public available online. 
In celebration of Black History Month, the University at Albany is hosting the New York State Museum's traveling exhibit, "The First Step to Freedom," in the Great Hall of Center Campus West. The exhibit features items such as an audio recording of a 26-minute speech that Martin Luther King gave in 1962 and a copy of a draft of Abraham Lincoln's Emancipation Proclamation with Lincoln's own handwritten editing notes. While the campus is currently closed to visitors, the NYS Writers Institute has photos and a closer look at the exhibit on their website. 
To learn more about the University's upcoming events honoring Black History Month, including the NYS Writers Institute's virtual interviews with prominent Black Authors, click here. 
Attend Online Lectures or an In-Person Exhibit with the Irish American Heritage Museum
The Irish American Heritage Museum, located at 21 Quackenbush Square, has two upcoming online lectures and a new exhibit that explores the history and modern connections between Irish and Black people. The upcoming free online lectures are The History of Black People in Ireland on February 18 and A Conversation with "Black and Irish" Femi Bankole & Boni Odoemene on February 22. The new exhibit, "Daniel O' Connell and Frederick Douglass," explores American abolitionist Frederick Douglass' visit to Ireland and traces his relationship with Daniel O' Connell, the Liberator, who had secured Catholic Emancipation for the Irish at home. Masks are required while visiting the museum.