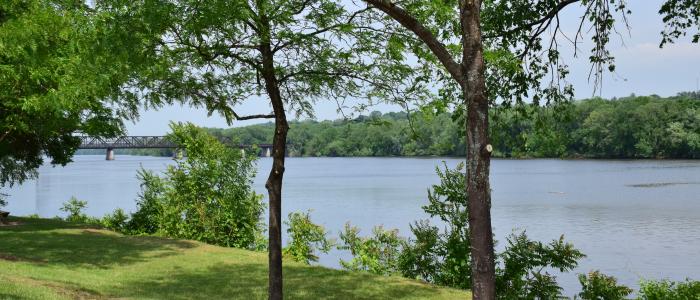 Albany County is rich in beautiful parks and preserves! Whether you're looking to enjoy a peaceful stroll, a scenic get-together with friends, or learn more about history and nature, there are plenty of places to explore in Albany.  
John Boyd Thacher State Park is located atop the Helderberg Escarpment, one of the richest fossil-bearing formations in the world. The Indian Ladder Trail is still closed for the season, but drive up to one of the scenic lookouts for panoramic views of the Hudson-Mohawk Valleys and the Adirondack and Green Mountains.
Adventure to the Huyck Preserve in Rensselaerville. Admire the beauty of the Rensselaerville Falls and hike over 12 miles of trails. The trails will continue to be open dawn to dusk, seven days a week. Please note that motorized vehicles and bicycles are not allowed on the trails. 
Situated around the corner from Wolf Road in Colonie, The Crossings is 130-acre park featuring a pond, acres of meadows, marshy wetlands and woods. There are 6.5 miles of multi-use trails winding throughout the park that are ideal for a leisurely bike ride or stroll.
The Albany Pine Bush Preserve is one of only 20 inland pine barrens left in the entire world with over 20 miles of trails to explore. Most trails are considered easy to moderate and vary from wide open sandy trails to narrow, grassy woodland passages. The 3,200-acre preserve is predominantly defined by gently rolling sand dunes that support an extraordinary fire-dependent habitat.
Nestled in Slingerlands, Pine Hollow Arboretum is a hidden gem in Albany County. Enjoy a tranquil walk across the 22-acres of land to view over 3,300 unique plants, a dozen ponds and breathtaking views of nature. The grounds are open dawn to dusk, 365 days per year. 
Ann Lee Pond Nature & Historic Preserve is an urban oasis located around the corner from Albany International Airport near Shaker Heritage Society in Colonie. Explore over 180-acres featuring a large pond, wetlands, forest and meadows. The preserve is open dawn to dusk, year-round. 
Venture to southern Albany County and explore Lawson Lake County Park! The park is located on the border of the towns of Coeymans and New Scotland. Hike and walk through the 420-acre park featuring a lake, wetlands, forested upland, open fields, waterfalls and streams. The park is open dawn to dusk, year-round. 
Wolf Creek Falls Preserve is one of the Mohawk Hudson Land Conservancy's 18 preserves. The Wolf Creek Falls Preserve is located in the Helderberg Hilltown of Knox and consists of 135 acres. Venture across approximately three miles of trails to admire streams, waterfalls, a wetland, and a few old stone walls. Click here for a full list of the Mohawk Hudson Land Conservancy's preserves open to the public.
Admire scenic views of the historic Hudson River from Albany's Corning Preserve - Jennings Landing. The 15-acre waterfront also boasts unforgettable views of Albany's skyline and prominent landmarks. Take a stroll along the path and enjoy the time spent outdoors!
Find your urban escape with a serene stroll through Albany's Washington Park. Stroll along the park's winding paths or relax on a bench to soak up the scenic views.