Fall is one of the best times of the year for locals and visitors alike to discover Albany. From scenic outdoor attractions boasting vibrant shades of fall foliage, to an abundance of haunted destinations, to plenty of places serving up delicious apple cider doughnuts, Albany is brimming with seasonal fun. Scroll on for a few ideas for a day trip (or even a staycation!) in Albany, New York this autumn.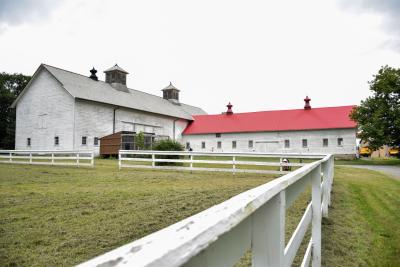 Visit Shaker Heritage Society
Autumn is the perfect time of year to visit the scenic grounds of Shaker Heritage Society, the site of American's first Shaker settlement. From friendly cows, to a rustic barn built in 1915, it is a peaceful escape in Colonie. Interpretive signs featuring facts and information about the Shakers are scattered throughout the grounds, so brush up on the history of this communal religious society while exploring. Footsteps away from the historic Shaker buildings is the 180-acre Ann Lee Pond Nature Preserve. Embark on a tranquil walk along the trails for bold displays of foliage amid the wetlands, forest and meadows.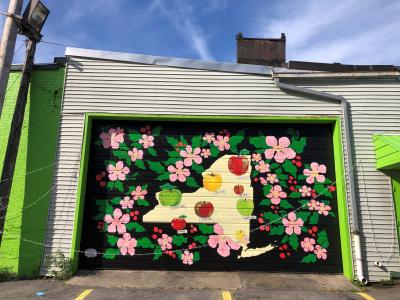 Mural by local artist Phoebe Rotter​ in collaboration with Albany Center Gallery
Savor Cider in the City
The city of Albany is home to two cider-focused favorites: Nine Pin Cider and Cider Belly Doughnuts! Located in the heart of downtown Albany, Cider Belly Doughnuts serves up hot, fresh apple cider-based doughnuts every morning. Savor traditional apple cider doughnuts or new favorites topped off with glazes, drizzles, sprinkles, buttercream or frosting. The "bellys" tend to fly off the shelves, so place an order over the phone in advance if you have your eye on a specific flavor. Next up head to the Warehouse District to swing by Nine Pin Cider's Tasting Room! Open at 11 PM every day for lunch, the tasting room offers a rotating selection of 9 premium and limited small batch hard ciders and a food menu featuring gourmet sourdough personal pizzas and small plates. Order lunch and sip on hard cider, crafted from local fresh pressed apples, from New York's first farm cidery.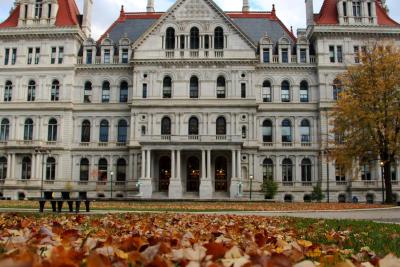 Uncover Haunted Albany 
Embark on a day trip to Albany to uncover the city's haunted past! Albany is a 400-year-old city with a storied past full of eerie tales about haunted happenings and sinister scares. First, venture to Albany Rural Cemetery, where local lore has it that the grounds are haunted with glowing orbs, floating old-fashioned pajamas and a galloping phantom horse. With winding roads, enchanting wooded hills and exquisite burial monuments, the historic cemetery is also a picturesque spot for an autumn stroll. Visit the New York State Capitol to listen for mysterious sounds such as jangling keys and locking doors as the building is said to be haunted by the spirit of the nightwatchman who perished in the 1911 fire. Make sure that a stop at Historic Cherry Hill is in your itinerary! It is not confirmed that the house is haunted, but it was the location of a frightening murder in 1827 that resulted in Albany's last public hanging.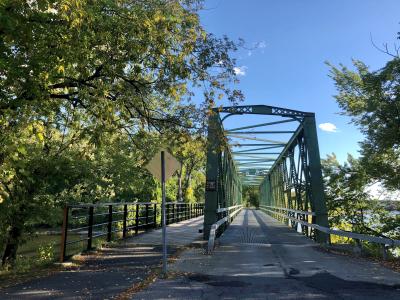 Go On an Autumn Exploration 
Start off your autumn exploration by picking up delicious apple cider doughnuts from the family-owned Schuyler Bakery, a Watervliet landmark and local favorite. Bring the doughnuts with you to enjoy at Falls View Park in Cohoes! The park boasts a 192-foot pedestrian bridge and phenomenal views of Cohoes Falls. The magnificent sight is particularly striking in the autumn months when the rushing falls are surrounded by a tapestry of foliage. Venture to Peebles Island State Park to continue the autumn outdoor adventures! Located at the confluence of the Hudson and Mohawk Rivers, the state park has gorgeous riverside views and a variety of trails. Before heading home for the day, drive by the Van Schaick Mansion. Nestled on the banks of the Hudson River on Van Schaick Island in Cohoes, the historic mansion served as the Continental Army's headquarters in 1777 and is where the plans for the Battle of Saratoga, the turning point in the American Revolution, were formulated.
Explore Albany's Iconic Fall Destinations 
Follow the leaf-covered road up to John Boyd Thacher State Park! Perched atop the Helderberg Escarpment, the park is an iconic spot in Albany County for leaf peepers with panoramic fall foliage views. If you haven't visited WildPlay Thacher yet, then autumn is the perfect time! Fly through the forest, painted in hues of red, orange and yellow, before the outdoor adventure course closes for the season on October 31. After zooming through the trees, head on a short drive to Indian Ladder Farms, a popular must-visit fall destination. The 100-year-old farm and orchard is a one-stop-shop for fall fun with pick-your-own apples, apple cider doughnuts, farm animals, a pumpkin patch and an on-site cidery and brewery.