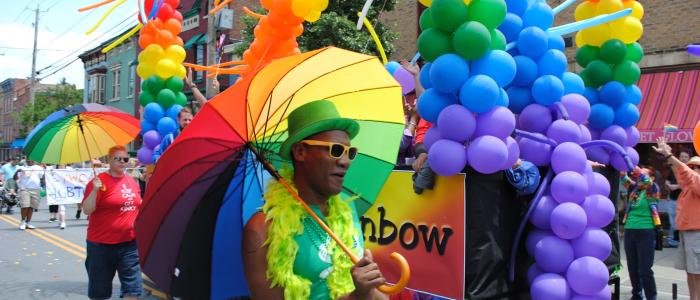 Every year, Albany celebrates Pride throughout the month of June. This year the 2021 Capital Pride Parade is postponed until September 19, but there are still plenty of celebrations, special events and exhibits happening during Pride month. Scroll on for ways to celebrate Pride and the LGBTQ+ community in Albany this June. 
Head to the New York State Museum to view a panel exhibition highlighting the 50-year history of the Pride Center of the Capital Region, the oldest continuously operating LGBTQ+ community center in the United States. Located just outside the Museum's West Gallery, the panel commemorates the Pride Center's 50th anniversary through oral histories and memories from members of the community, as well as images and information from the Pride Center. The exhibit is on display for the month of June. 
Virtual Alive at Five: Pride Night
Alive at Five, hosted by Albany Events, kicks off virtually on Thursday, June 10 with Pride night! Performances by local artists Erin Harkes and Ryan Leddick will stream virtually on Albany Events Facebook, Albany Events YouTube, In Our Own Voices Facebook and Capital Pride Facebook. Join the online watch party, or have a watch party with your friends at home!
Pride Night at Nine Pin Cider
Make plans to stop by Nine Pin Cider for Pride Night on Friday, June 11. Sip on signature cider in Nine Pin's new Pride cans and enjoy specialty Pride doughnuts from Cider Belly Doughnuts! Hang out with friends under the twinkling lights of Nine Pin's Warehouse District patio next to a campfire, weather permitting. A portion of the Pride Can proceeds will be donated to OutHudson and In Our Own Voices. 
Capital PRIDE Rainbow 5K Family Run-Walk
Join the Pride Center of the Capital Region for the annual Pride Rainbow 5K Run-Walk at Jennings Landing! This family friendly event, for runners of all levels, is held entirely on the Mohawk Hudson Bike Trail. Awards are available for the best gear and best use of "Rainbow," so break out your best and funniest rainbow Pride gear. Register online in advance or in-person in Saturday, June 12 at 8:30 AM. The race starts at 10:00 AM. Proceeds benefit the Pride Center of the Capital Region. 
Black & Latin@ Gay Pride: The Celebration
In Our Own Voices, Inc. (IOOV) is celebrating the 15th Annual Black & Latin@ Gay Pride Celebration at the Jericho Drive-In on Saturday, June 12 from 12:00 PM to 5:00 PM. The celebration is an opportunity to highlight the presence and contributions LGBTQ+ people of color in the Capital Region. Enjoy live music, food and free giveaways! IOOV is hosting a variety of events this month, click here for a full schedule. 
Capital Pride BBQ & Block Party
The Pride Center of the Capital Region is closing down Central Avenue, between Waterworks Pub and Rocks, for the inaugural Capital Pride BBQ & Block Party! Held on Sunday, June 13 from 1:00 PM to 5:00 PM, the festivities will include music, food, drinks and dancing. Waterworks Pub and Rocks will be serving up cocktails and Central Avenue restaurants will have food and snacks available. There will be giveaways and prizes for the best Pride gear and spirit! 
This event is limited to 500 people. Once capacity is hit, attendees will only be allowed to enter the area after others leave. Masks are required or provide proof of vaccination to not wear a mask.
Albany Distilling Company's ALB Vodka Pride Bottle is back! Pick up a bottle to mix up your own cocktails this summer and keep an eye out for it in local bars and restaurants throughout Albany. The Pride Bottle is available to order online for pickup or for purchase in-person at ADCo Bar & Bottle Shop. It is also available online for shipping within the state of New York. 
---
Upcoming Events in the Greater Capital Region
Hosted by the Pride Center of the Capital Region
June 16: Pride Night at June Farms
June 19: Pride Day at the Troy Waterfront Farmers Market
June 24: Pride Center Business Mixer at the Troy Beer Garden