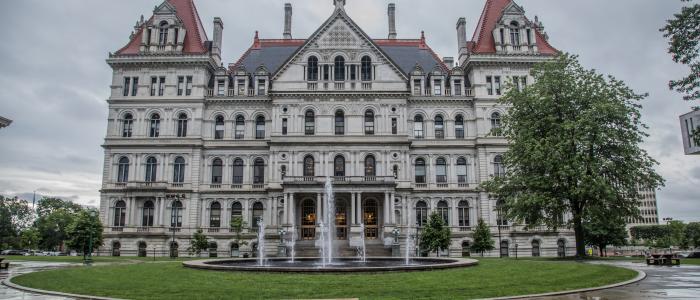 Photo Header Credit: Amityphotos
Beware, October in Albany brews up tales of spooky spirits, historic hauntings and frightening folklore. Whether you desire an immersive walk-through experience or a ghostly guided tour, Albany County offers a variety of spooktacular ways to enjoy the most haunted time of year. Scroll on for the details about how to get in on the hocus pocus. 
Stay tuned for more! Check back throughout spooky season for additional haunted tours and eerie experiences as they are announced.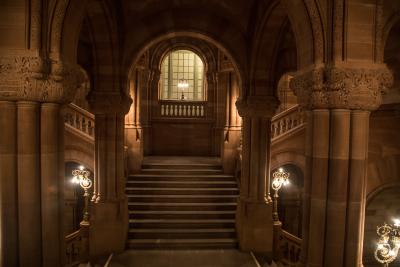 Photo Credit: Amityphotos
Thursdays & Fridays from September 30 to October 22
Daily from October 25 to October 29
October 8 Update: All Capitol Hauntings Tours are sold out for 2021. For visitors interested in a self-guided tour, panels are on display featuring the historic legends and photographs. 
The popular Capitol Hauntings Tour returns for 13 nights only this Halloween season! If you dare, dive into the urban legends and famous hauntings connected to the historic New York State Capitol Building on this eerie guided tour. Tour guides regale brave guests with spine-chilling tales about the "lost" Capitol murals and their eccentric artist, two United States Presidents who visited the Capitol after they died, and a secret demon carved into stone with a Capitol curse. Keep an ear out for jangling keys and locking doors! These mysterious sounds are often attributed to the spirit of the nightwatchman still making his nightly rounds. The tour is free, but registration is required. Masks are currently required indoors regardless of vaccination status.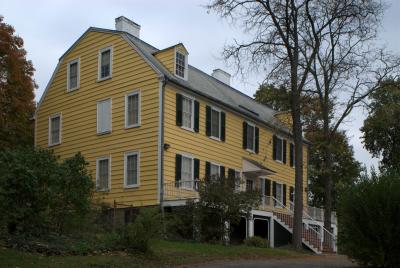 Murder at Cherry Hill
Wednesday to Saturday from October 20 to October 30
Trace the footsteps of a murderer at Historic Cherry Hill this October. Murder at Cherry Hill, a popular historic walk-through experience, returns! Step back in time to May 7, 1827 and relive the night of a frightening murder that resulted in Albany's last public hanging and two sensational trials. Murder at Cherry Hill tends sells out faster than you can say "BOO!", so purchase your tickets today! Please note, all attendees are required to show proof of vaccination. Masks are required indoors regardless of vaccination status.
In early October, there is a new way to experience the harrowing murder! Historic Cherry Hill, in partnership with Siena College, is offering a special virtual reality experience and self-guided tour of the historic house and grounds on October 9 and October 16. Registration is required and space is limited!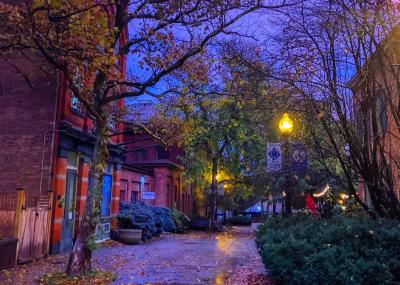 October 10, 17 and 24
If you dare, embark on the Eerie Albany Ghost Tour! This guided walking tour through historic downtown Albany is not made for the faint of heart. Your tour guide will regale you with spooky stories about the mysteries surrounding the enchanting homes lining Ten Broeck Triangle and the ghostly figure lingering past closing time at the historic Olde English Pub. Reservations are required in advance. The guided walking tour offered on October 10, 17 and 24 from 11:30 AM to 12:30 PM. 
Searching for a virtual way to experience haunted Albany? Book a private "Eerie Albany" lecture with Discover Albany! From the comfort of home, unearth the city of Albany's storied past with a virtual storytelling event. Email Discover Albany's Community Engagement Manager Maeve McEneny for a private booking.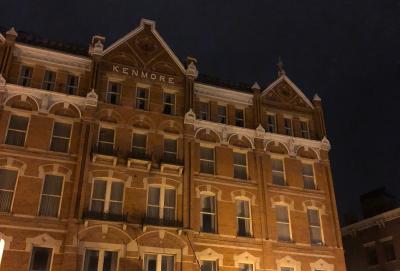 The Dark Side of Downtown Albany
October 20, 21, 26, 28 and 31
Embark on a sinister tour exploring the "Dark Side of Downtown Albany"! This guided tour will delve into the stories behind the buildings you see every day in the downtown area of Albany, peeling back the layers of history to discover tales of true crime, spooky stories, and murderous mysteries. Hear about an elevator accident, a murder at the luxurious Ten Eyck Hotel, attractions at a long-gone curiosity museum, and much more. Tickets are expected to sell out quickly for this guided tour with Historic Albany Foundation and Discover Albany. Tours meet at McGeary's Irish Pub. 
Please note: All tours will stop at a local pub midway through the route, except for the 5:30 PM tours.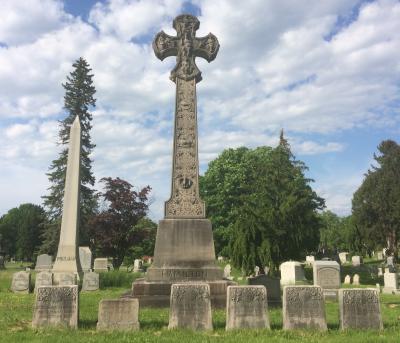 An Evening with a Psychic Medium
October 16
Join local psychic medium and ghost rescuer Michele Lyons Polito in Albany Rural Cemetery's historic Chapel to discuss all things paranormal! During An Evening with a Psychic Medium on October 16, she will share her experiences as a psychic medium, her work with local ghost hunting groups and personal experiences with local spirits.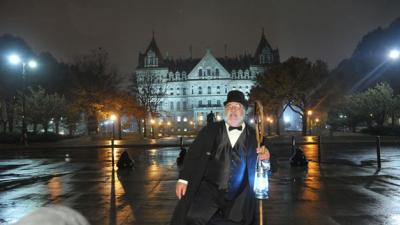 Fridays & Saturdays through October 30 
Creep it real with a guided walking tour from Ghosts of Albany! Departing from the Hilton Albany, the 90-minute guided walking tour explores the ghostly spirits, from gangsters to doomed lovers, rumored to haunt the streets of downtown Albany. Tour guides weave stories of legends and lore of Albany's haunted sites with their own paranormal experiences for a frightfully fascinating tour.