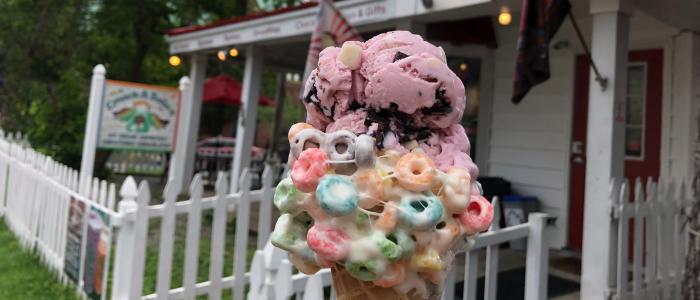 Did you hear the scoop? July is National Ice Cream Month! To end the month on a sweet note, we are rounding up a few places to order ice cream and frozen sweet treats in Albany County. From quaint ice cream stands, to charming ice cream parlors, there are a variety of places to cool off with summer's favorite treat. 
Guptill's Coney Island Express, also known as Guptill's Ice Cream, has been serving ice cream since 1995. Boasting 48 flavors of hard ice cream and 32 flavors of soft ice cream, Guptill's is truly an ice cream lovers paradise. The ice cream shop prides itself on having the "fastest friendliest service" with multiple serving windows to ensure that customers do not have a long wait. Guptill's is the original home of the "Cider Doughnut Sundae," a popular dessert that is offered in the Fall. 
Since 1963, Jim's Tastee Freeze has been a fixture in the community. Located in Delmar, the old-fashioned ice cream stand offers ice cream, Boston shakes, sundaes, milkshakes and more. Need something to balance out all that sugar? Hot dogs are also on the menu! The locally-owned and operated ice cream stand is a summer tradition in the Capital Region.
Sweeten up your day at Emack & Bolio's in Albany's Delaware Avenue neighborhood. The charming ice cream parlor is famous for its ice cream scoops in candy-covered waffle cones! Choose a sugary snack off of the menu (there is even an "Albany Egg Cream"!) and head outside to enjoy it on the garden patio decorated with twinkle lights, paper lanterns and bright red umbrellas. Throughout the year, keep an eye out for Emack & Bolio's cute rainbow-colored ice cream truck that frequents special events and festivals around the Capital Region. 
Kurver Kreme is a Colonie landmark and one of the region's oldest ice cream stands. Located on Central Avenue, Kurver Kreme was established in 1952. For over 60 years the Albany staple has been serving up ice cream. With a rotating selection of soft serve flavors and an extensive frozen treat menu, the ice cream stand offers something for everyone! 
Enjoy a quintessential summer night at the Twist at Jericho! Nestled in Glenmont, the ice cream shoppe is on the same grounds as the Jericho Drive-In movie theater. Soaking up the nostalgia of a movie under the stars is extra sweet when indulging in an ice cream cone! 
Family-owned ice cream shop Scoups Homemade Ice Cream has "scooped" up small batch ice cream since 2007. Located next to The Crossings, the ice cream stand is situated on Constantine Farms. Little ones will love "mooing" at the friendly cows while enjoying an ice cream treat at one of the many picnic tables. The hard ice cream is freshly made on-site, but Scoups also has soft serve ice cream, Dole Whip, Frogurt and Flavor Burst on the menu.
Cool off with a delicious frozen treat! Market Pops is bringing the ice pop craze to Upstate New York. The locally-owned business handcrafts ice pops using the freshest fruit and ingredients (often from local farmers!) available. Flavors range from lemonade, to mango, to watermelon, to key lime pie and more! With a charming cart keeping the ice pops frozen, Market Pops frequents local farmers markets such as the Delmar Farmers Market, Troy Waterfront Farmers Market and the Schenectady Greenmarket.