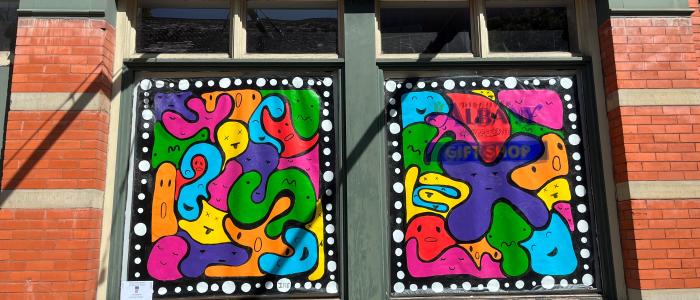 Albany's  All-Hallow E'en Festival comes back to life for the first time in 120 years this weekend! Kickoff the first full, October weekend and the start of the festival with these exciting events. Explore the All-Hallow E'en Art Path, venture along Albany's storied past with haunted tours, and find family-friendly fun! Scroll on to see what's going on in Albany County during this long weekend.
Family Friendly Events 
First Friday & Nippertown's Hoppin' Howl-ween
Friday Oct. 6 | 5 PM to 7:30 PM | Downtown Albany
Time for a Fang-tastic First Friday during Nippertown's Hoppin' Howl-ween. Spend an enchanting evening exploring Albany's inaugural All-Hallow E'en Art Path, with free, live musicians performing outside businesses along the way. Those with older children may enjoy some haunted experiences taking place downtown, check out our Haunted & Eerie Events category for more information!
All-Hallow E'en Art Path
On view 24/7, all October long! | Downtown Albany
Inspired by the original 1904 & 1905 All-Hallow E'en Festival in which local businesses helped support the event with window displays, Albany Center Gallery worked with local artists and businesses to create a range of fall-inspired window art. Explore this colorful art path featuring everything from cats on a trick-or-treat promenade displayed near Albany Center Gallery to cookies celebrating the season in the windows of Nocturnal Cookies. 
Jurassic World Live Tour
Friday, October 6 to Sunday, October 8 | Showtimes vary | MVP Arena
It's a show 65-million years in the making! Head over to MVP Arena to watch life-sized dinosaurs from the iconic Jurassic World franchise and an authentic storyline with exciting twists and turns.
Flip Circus
Runs daily from September 29 to October 9 | Showtimes vary | Crossgates Mall
Swing by this classic big top circus! Trapeze artists, comedic acts, acrobats and more grace the ring at this exciting event.
Cider Sunday
Sunday, October 8 | 11 AM to 5 PM | Samascott Orchards
Venture out to Samascott Orchards to enjoy a family-friendly outdoor event featuring Nine Pin cider, apple-picking, food trucks, and live music. Kids nine and under are free! 
Free Day at the Albany Institute
Sunday, October 8 | 10 AM to 5 PM | Albany Institute of History & Art
Explore the art, culture, and history of the upper Hudson Valley (and some exhibits from around the world) for free this Sunday! The Albany Institute of History & Art is full of fascinating exhibitions and learning opportunities from Ancient Egypt to early Albany.
Discover the All-Hallow E'en Art Path Family Tour
Monday, Oct. 9 | 10:30 AM to 12 PM | Meet at the Discover Albany Visitors Center
For a guided family tour of the Art Path and a fun event on this day off from school, join Discover Albany and the Albany Center Gallery on the morning of October 9. We will lead our explorers through the path, look for clues in the artwork, and learn fun Albany history facts and light local ghost stories. The tour will end at Albany Center Gallery with snacks and coloring.
Haunted & Eerie Events 
New York State Capitol Hauntings Tour
Friday October 6 (Tours run from Oct. 4 to Oct. 31) | Tours at 5 PM & 6 PM | New York State Capitol
The historic New York State Capitol is known for strange or supernatural occurrences, what spirits still roam this state landmark? Find out during a free, Capitol Hauntings tour!
Dark Side of Downtown Tour
Friday, October 6 at 6 PM | Sunday, October 8 at 10 AM | Tours run from Oct. 6 to Oct. 26 | Meet outside McGeary's Irish Pub
Unearth the dark side of Albany during this true crime tour and find out what mysteries, conspiracies, and local lore lay within the unassuming buildings on the streets of downtown.
City Séance Ghost Tour
Saturday, October 8 (Tours run from Oct.4 to Oct. 27) | 7 PM to 9 PM | Meet at Discover Albany Visitors Center
Keep your eyes peeled as you wander downtown on First Friday, you may encounter a few of the famous spirits who appear during the City Seance Ghost Tour. Capital Repertory Theatre has done a special summoning of these specters for Friday night. If you spot one, you may be treated to a preview of the full, theatrical tour which you can venture on this Saturday. Journey through downtown Albany discovering the city's specters and perhaps conjuring them up as you go along.
General Fall Events 
October Yoga
Friday, October 6 at 6:30 PM | Saturday, October 7 at 9:30 AM | Pine Hollow Arboretum
Enjoy a relaxing start to your October with a night of yoga under the stars at the beautiful Pine Hollow Arboretum. Or, have a rejuvenating start to your Saturday with yoga and a hike at the arboretum. Register in advance for one or both sessions. 

Path Through History: Albany County History Tour
Saturday, October 7 | 11 AM to 4 PM | Suggested starting point: Ten Broeck Mansion
Go on an adventure exploring the rich past of Albany County at this event presented by Ten Broeck Mansion. Plan your own walk, driving, or bike route and journey to sites such as Albany Rural Cemetery, Van Schaick Mansion and the American Italian Heritage Museum. Each site will have special free programming. Themes include "A Revolutionary People," "Education," "Women's Lives," and "Immigration, Ethnicity, & Identity."

Fall Foliage Walk
Sunday, October 8 | 10:30 AM to 11:30 AM | Thacher Park
At this family-friendly nature walk, learn about the state's most common trees, the changing color of the leaves, and do some leaf peeping of your own at the breath-taking Thacher Park. 
Hispanic Heritage Month Exhibition
On view Monday to Friday through October 13 | 7 AM to 7 PM | New York State Capitol
Celebrate Hispanic Heritage Month with this exhibit highlighting individuals within the Hispanic and Latino communities of New York with distinct accomplishments in the arts, entertainment, journalism, and academia. The exhibit focuses on how "their originality has helped shape and redefine the cultural mosaic of New York." 

Culture Series: Christopher Columbus
Monday, October 9 | 1 PM | American Italian Heritage Museum
Keynote speaker, Albany County Historian, Jack McEneny presents a historical overview of Columbus Day at the American Italian Heritage Museum. 

Albany Symphony Film Music Festival
Events from Saturday, October 7 to Monday, October 9 | Multiple locations
Watch the soundtracks from your favorite movies, TV series and video games come to life in a weekend of performances by the Albany Symphony Orchestra. Events include:
Symposium: Scoring Work in Show Business | Saturday, October 7 | 10 AM to 2 PM | UAlbany Performing Arts Center
Soundtrack New York | Saturday, October 7 | 7:30 PM to 8:30 PM | The Palace
Video Games Live | Sunday, October 8 | 7:30 PM | The Palace
Movie Music Concert | Monday, October 9 | 3 PM | MVP Arena
*This project is made possible in part by the City of Albany's Albany for All funding program and President Biden's American Rescue Plan.
*This project is being supported, in whole or in part, by federal award number SLFRP1752 awarded to the City of Albany, New York, by the U.S. Department of Treasury.