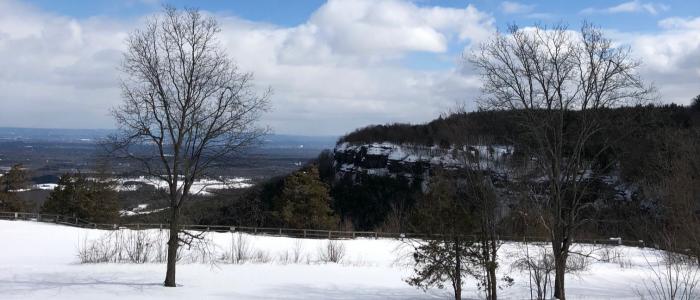 Bundle up and embrace the chill. Capital Region locals searching for outdoor winter day trips have a variety of options in Albany County. From snowshoeing, to outdoor exhibits, to winter hikes, to a self-guided walking tour podcast, Albany County has activities worth facing the cold weather. Scroll on for ideas for your next outdoor winter day trip in Albany, New York! 
Please follow all COVID-19 healthy & safety protocols including wearing a mask and social distancing. The below offerings are subject to change. Head to each attraction's website or social media before visiting for the most updated information. 
Pine Hollow Arboretum Winter Tracking & Activity Guide
Pine Hollow Arboretum, located in Slingerlands, is a winter wonderland. Spend the day exploring the wintery trails with the Winter Tracking & Activity Guide! Learn how to track wildlife such as white tail deer, red foxes, Eastern gray squirrels, coyotes and a variety of birds. The guide also provides details on how to identify trees and plants commonly found in the arboretum. Pick up the guide at the kiosk, along with binoculars and magnifying glasses (and disinfectant wipes!), or download it online at this link. There is a suggested donation of $5 per guide. 
Snowshoe at the Huyck Preserve 
Embark on a day trip to the Helderberg Hilltowns for a snowshoeing adventure at the Huyck Preserve! During the snowy months, snowshoe on over 12 miles of trails meandering through a peaceful wooded forest and along a frozen Lake Myosotis. With advance registration and subject to availability due to COVID-19 restrictions, the Huyck Preserve Visitors' Center offers snowshoe rentals in youth and adult sizes on Monday to Thursday. Interested in cross-country skiing? While rentals are not available and trails are not specifically created for this winter activity, cross-country skiers can use the Race Track, Partridge Path, and Partridge Path Loop 3. If the weather does not cooperate with your plans for a snowy excursion, go on a winter hike! 
Embark on a Winter Adventure at John Boyd Thacher State Park
John Boyd Thacher State Park is a winter day trip destination for adventure seekers. Throughout the frosty months, explorers can cross-country ski, snowshoe, hike, mountain bike and snowmobile on designated trails through snow-covered forests and past icy waterfalls. Thompson's Lake, conveniently nestled within Thacher Park, is a must-visit spot for ice fishing. Nearby, the Emma Treadwell Thacher Nature Center offers snowshoe rentals, subject to availability. 
Explore the Albany Pine Bush Preserve
Brave the cold temperatures for a day trip to the Albany Pine Bush Preserve. Begin your exploration by viewing the outdoor 2020 Pine Bush Perspectives juried photo exhibit. On display until March 1, admire the photos along the outdoor StoryWalk path behind the Discovery Center. If it is a snowy day, the preserve's gently rolling sand-dunes create slopes that are perfect for cross-country skiing and snowshoeing. If your day trip falls on a not-so-snowy day, the preserve has over 20 miles of multi-use trails for a winter hike among the pine barrens. It is a serene spot to connect with nature in the heart of Albany County! 
Tour Downtown Albany with the Artful Albany Podcast
Grab your hat, gloves and mask! Explore the streets of downtown Albany with the Artful Albany podcast. Each podcast episode is a self-guided walking tour that explores Albany's 400 year-old history and the #CapitalWalls mural projects. You'll hear from some of the artists behind the murals and brush up on your historical fun facts about downtown Albany. 
The Artful Albany podcast is presented by Discover Albany, Downtown Albany BID and Albany Center Gallery.