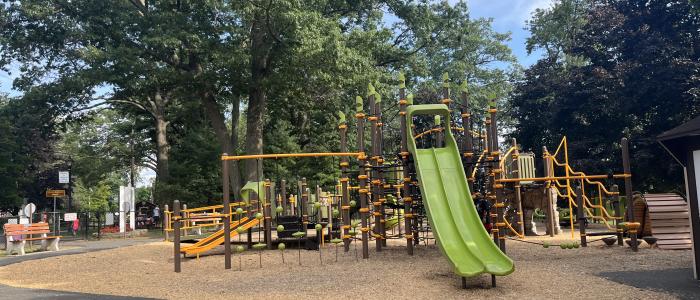 Albany County is full of great playgrounds for kids of all ages! Whether you're looking for a quick place to stop and let the kids get out their energy or a playground at a scenic site you can make a whole day out of, you can find a place for play no matter where you go in the county. Scroll on to learn more about 8 playgrounds from around the Albany area.
Address: Madison Ave & Willett St, Albany, NY 12210
Hours: May to October, Sunrise to 11 PM
          November to April, Sunrise to 10 PM
The playground in Albany's historic Washington Park has been a beloved place to play for generations, featuring all the classic playground equipment from slides, to swing sets, to a rock-climbing wall and more. It's a great place to stop by whether you're at the park for a festival or just a relaxing afternoon.
Plans are currently underway to rebuild the playground. The Washington Park Playground Rebuild Committee hopes to update the playground equipment and work to make the space more engaging and accessible in the coming years. Visit the Washington Park Conservancy's website for updates on the ongoing project.
Address: 228 Eagle St, Albany, NY 12202
Hours: 10 AM to 6 PM
Lincoln Park is the site of Albany's first public playground, dating all the way back to the early 1900's. The historic playground is located right in the heart of the city and features classic slides, swings, and a tire swing. Beyond the playground, you can find multiple tennis courts, basketball courts, handball courts, a splash pad, and a youth fitness center.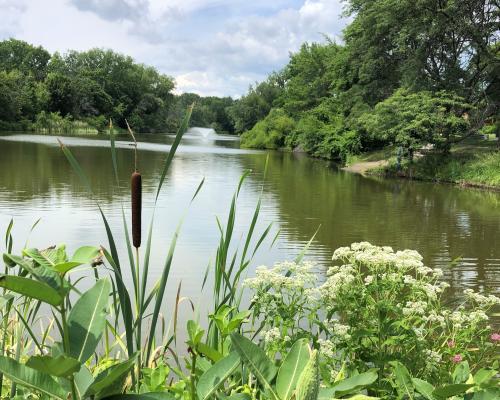 Address: 17 Berkshire Blvd, Albany, NY 12208
Hours: Open year-round from dawn to dusk
This tiny park tucked away within the residential neighborhood of Buckingham Pond is a great place for a family nature walk. Keep your eyes open to spot some of the geese, ducks, and fish residents of the pond. The playground was added to the park in 2018 and makes for a great place for kids to play during a trip to this peaceful pond.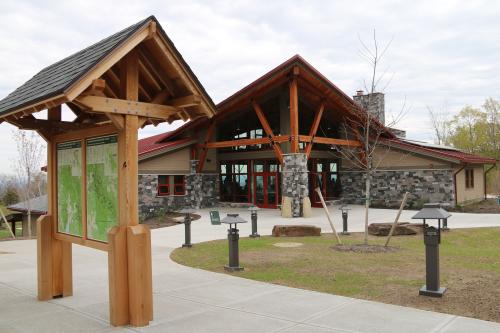 Address: 1 Hailes Cave Rd, Voorheesville, NY 12186
Hours: Open year-round, sunrise to sunset
Thacher is a beautiful state park featuring the popular Indian Ladder Trail and breathtaking views of the Hudson-Mohawk Valleys and the Adirondack and Green Mountains. While exploring the park with family make sure to stop by the playground complete with slides, structures for climbing, and playground equipment suited to toddlers.
Beyond the playground there are plenty of great adventures and learning opportunities for kids. Take the time to explore the Emma Treadwell Thacher Nature Center featuring plenty of hands-on science materials, or head out for a full adventure on one of the obstacle courses at the WildPlay Elements Park. 
Address: 580 Albany Shaker Rd, Loudonville, NY 12211
Hours: 8 AM to Dusk, Outdoor facilities are closed from November to May
The Crossings of Colonie is a popular spot for families in the Albany area. Find everything from slides to swing-sets to balance beams between the two playgrounds at this site. The Crossings also features the Hoffman's Family Maze, a medium-sized, shrubbery maze designed for kids of all ages to explore.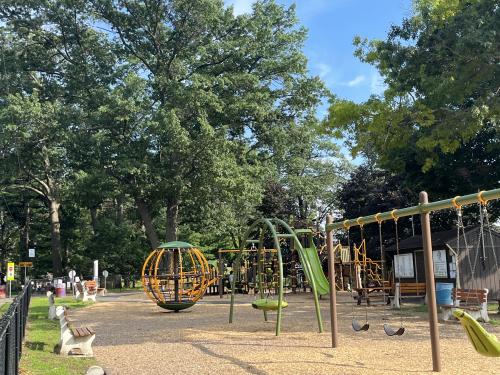 Address: Shambrook Pkwy, Colonie, NY 12205
Hours: Open year-round, sunrise to sunset
The Cook Park playground was recently renovated in 2018 to make the space more accessible for children of all abilities. The renovations include a specialized rollers slide for children who use wheelchairs, an accessible zip-line, all-level transferrable swings and more. The park also features a quiet area for children with sensory issues and an area designed for small children up to the age of five.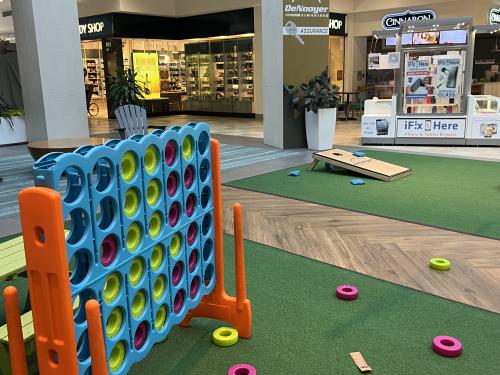 Address: 131 Colonie Center, Albany NY 12205
Hours: 10 AM to 8 PM (Closes at 6 PM on Sundays)
You might not find swing sets or slides in this non-traditional park, but the Play Park in Colonie Center is a great place to stop and have some fun during your shopping spree. Located on the first floor at the very center of the mall, the park features corn hole and multiple giant connect four games. There are kid-sized picnic tables for children to enjoy a snack and seats for parents to take a break and relax.
Address: 1 Crossgates Mall Rd, Albany NY 12203
Hours: Monday to Thursday 11 AM to 6:30 PM, Friday 11 AM to 8 PM, Saturday 10:30 AM to 9 PM, Sunday 10:30 AM to 7 PM
If you're looking for a place to play on a rainy day, spend an afternoon at Billy Beez found on the third floor of Crossgates Mall. Billy Beez is a colorful indoor play park buzzing with activities for kids of all ages. The park features hundreds of feet of slides, a ball pit arena, elevated tunnels, trampolines, arcade games and a toddler area for smaller children to play and explore.