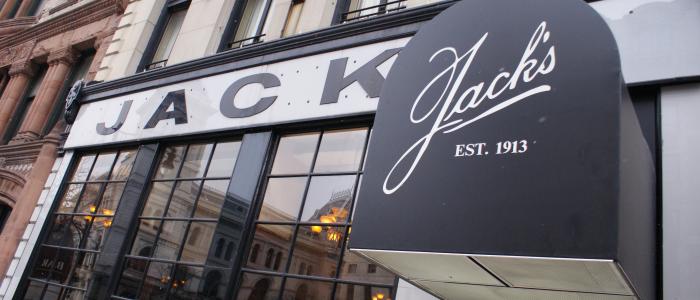 Albany is a 400 year-old city filled to the brim with restaurants housed in historic buildings such as an old watering pumping station and former bank. Diners cannot currently eat inside these restaurants but they can support these local establishments with a takeout order! Revel in the fascinating history of the buildings housing these restaurants while enjoying a takeout meal in the comfort of your own home. Keep reading for curbside bites and historic sites! 
The Albany Pump Station's warmly lit sign is a welcome and familiar greeting in the Albany skyline. The building creates a massive footprint in Quackenbush Square and is home not only to C.H. Evan's Brewery, but also includes the Discover Albany Visitor Center, the Irish American Heritage Museum, and the Albany Distilling Company's distillery.
But before the building was home to breweries and museums, it was an old water pumping station. Erected in 1873, the water pumping station would draw water from the Hudson River to the former Bleeker Reservoir (now known as Bleeker Stadium). The water pumping station closed in 1932, after the Alcove Reservoir was constructed. In 1999, Neil Evans purchased and renovated the building, resurrecting his family's former brewing business. The original C.H. Evans was operational from 1786 and shuttered during Prohibition. While obvious renovations occurred in the restaurant to make the space more hospitable to diners, elements of the old water pumping station remain as a reminder of its original purpose.
C.H. Evans is offering curb side pick-up, delivery and daily dinner specials. Brewer Sam Pagano is delivering crowlers of their famous beer by appointment. View menu here. 
Situated among the Warehouse District's sweeping industrial buildings is a striking 1940s diner car. You won't find bacon and omelets slung here – Tanpopo serves full bowls of Japanese Ramen and hot sake.
The diner car is a Silk City Diner model, a style produced by the Paterson Vehicle Company in Paterson, NJ. It was built in 1941 for Lil's Diner, though locals are more familiar diner car's former moniker, Miss Albany Diner. Miss Albany Diner was a chain popular in the 1920s. But Miss Albany Diner was never originally located in this little prefab diner. We have Hollywood to thank for the legacy!
In 1988, William Kennedy's Pulitzer Prize winning novel Ironweed was turned into a movie starring Meryl Strep and Jack Nicholson. Filming was done in the Capital Region, and Hollywood producers restored the diner car and named it the Miss Albany Diner. After production was completed, Cliff and Jane Brown bought the diner and operated it until 2012. It was added to the National Register of Historic Places in 2000.
In 2015, David Zheng opened Tanpopo, a Japanese Ramen and Sake Bar. Tanpopo offers authentic Japanese meals, but the diner car still holds the Art Deco charm of the original diner cars that came before.
Tanpopo is offering both take out and curbside pick up – including hot sake!  View the menu here.
The venerable Jack's Restaurant opened in 1913 and boasts the title of Albany's oldest family run restaurant. Originally located on Beaver and Green Street by family patriarch Jack Rosenstein, the restaurant moved to its current location on 42 State Street in 1937. The current building dates back to 1875 and was originally built for Stephen Van Rensselaer Gray, a proprietor of books and stationary.
Jack's Oyster House has witnessed the evolution of State Street for more than a generation, including its resilience in weathering The Great Depression. But Jack's remained steadfast fixture, and its loyalty was commemorated in an honorary renaming of State Street in 2013 as Jack's Oyster House Way.
Jack's blends hometown Albany hospitality with universal elegance. No matter who you are, or where you're from, a member of the Rosenstein family will welcome you home when you enter.
Jack's is offering take out service Monday through Saturday with pick up times at 5:00 PM and 6:00 PM. View the daily to-go menu here.
The Renaissance Hotel is located in the former famed DeWitt Clinton hotel. Operating in the shadow of the New York State Capitol, the DeWitt Clinton was popular hotspot for politicos and travelling celebrities alike.  The hotel operated from 1927-1975, and welcomed personalities such as Governor Al Smith, Elizabeth Taylor and John F. Kennedy. Today, the luxury hotel continues to court politicians, travelers and is available for stunning wedding receptions. 
Wellington's is named for a former neighboring hotel to the aforementioned DeWitt Clinton. Wellington's has embraced their ties to local history in imaginative, quirky imagery that blends original features and modern surprises. The entrance from the Renaissance Hotel lobby is framed by original murals by Victor White, depicting Albany history. Within the Wellington Bar, red tulips are hidden throughout the décor for guests to seek out. There's even a few secret images of Governor DeWitt Clinton to find!
Wellington's is taking to-go breakfast orders from 6:30 AM to 11:00 AM, Monday - Friday and 8:00 AM - 11:00 AM, Saturday & Sunday. From 11:00 AM to 8:00 PM, Wellington's is taking to-go lunch/dinner orders. View menu here.
Albany's Warehouse District features industrial buildings that have been converted by locals into quirky bars, restaurants and craft beverage taprooms. The Warehouse District building that is home to Lost and Found was built in 1920 as a bank. Today, Lost and Found is known for their innovative plates, robust drink selection and cozy back patio. Eagle-eyed diners can spot elements of the former financial institution throughout the restaurant. If you stand across the street, you can see the original signage for "The National Commercial Bank and Trust Company" carved on the outside of the building. Inside, the old bank vault protects the drinks behind the bar.  
Lost & Found is offering a limited menu with curbside pickup and delivery (5 mile radius) on Friday and Saturday from 3:00 PM - 8:00 PM and Sunday from 11:00 AM - 3:00 PM. View menu here.