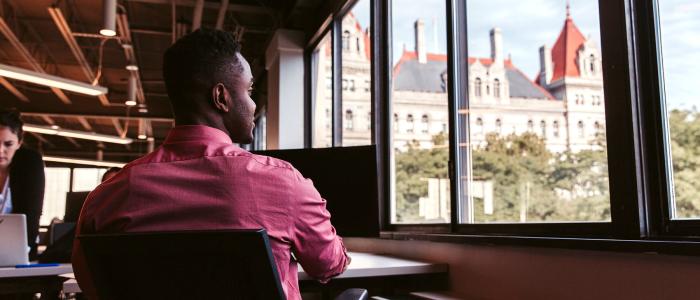 Photo by Jessica Merrill Photography courtesy of Bull Moose Club
Celebrate National Coworking Day (August 9) with a productive day spent at one of Albany's coworking spaces. Whether you are visiting from out-of-town and need a place to plug-in for the afternoon, or a local looking to switch up your "work from home" space, a coworking spot is the ideal place to get down to business. Keep reading for details on 7 coworking spaces in Albany. 
The Blake Annex, housed in Redburn Development's The Kenmore, is a brand new coworking community for Capital Region nonprofits. Led by the United Way of the Greater Capital Region, the flexible workspace is dedicated to advancing the Capital Region's nonprofit community with shared office space, educational programming, shared amenities and connectivity. Vibrant murals by local artist Elizabeth Zunon, in partnership with Albany Center Gallery, honor the legacy and tell the impactful story of Adam Blake Jr. and his wife, Catherine, throughout the space. The Blake Annex offers dedicated desks, open coworking space, conference rooms, private meeting areas and much more. 
Located in Guilderland, Hone Coworks is a flexible workspace offering "everything plus the kitchen sink". Membership is all-inclusive, so coworkers enjoy a variety of amenities including free printing and shredding, coffee and snacks, a cafe, meeting rooms with conference tech, a kitchen, secure internet and more. Hone Coworks is housed in a green office building boasting abundant free parking, outdoor picnic areas, showers, free EV charging stations and a walking trail. Move-in ready, fully furnished offices, open coworking space and dedicated desks are available with month-to-month plans. 
Work, create and connect at Bull Moose Club! The hyper-charged coworking space, owned by Aurelius Coworks, features common workspaces, private office suites and group meeting rooms. From abstract murals, to inspirational phrases, to murals of Teddy Roosevelt, the walls and rooms are decorated with art to provoke thought and conversation. With sweeping windows overlooking the magnificent New York State Capitol Building and downtown streets, the spot boasts one of the most inspirational views in Albany. Bull Moose Club's location in the heart of downtown Albany allows you to be in the center of it all with a convenient, flexible workspace. 
Conveniently located off of I-787 in Cohoes, Harmony CoWorks is a flexible workspace offering daily, weekly and monthly rentals. From private offices, to dedicated desks, to private meeting rooms, to conference rooms, there are a variety of spaces available depending upon your workspace needs. Harmony CoWorks amenities include printer service, high speed WiFi, private parking, secure lockers, a kitchen and more. Nestled around the corner from the bustling Remsen Street, Harmony Coworks is a quick walk away from Spindle City's emerging culinary and craft beverage scene. 
Beahive, the first coworking space in the Capital Region, opened in 2012 across the street from the SUNY System Administration Building. Partially housed in a former architect's studio, the coworking space has eleven private studio offices, four meeting rooms, open coworking space and three kitchenettes. Last year, Beahive upgraded the space with a new coffee bar, new second floor lounge and new high-speed wireless internet. Coworkers can take advantage of the weekly farmers market at the SUNY Plaza and abundance of restaurants within walking distance. 
Expansive Workspace, located at 69 State Street, is a new coworking space in the heart of downtown Albany. Occupying four floors of a historic 16-story building, Expansive Workspace features private offices, daily offices, office suites, conference rooms, coworking space and much more. With a membership, amenities include an espresso bar, communal lounges and community events. 
Operated by the Central Avenue Business Improvement District, the innovative S.T.E.A.M. Garden offers a state-of-the-art incubator space for small startups, coworking space, classrooms and makerspace. Located in the former St. Patrick's School on Central Avenue, the space focuses on the fields of science, technology, engineering, arts and mathematics.