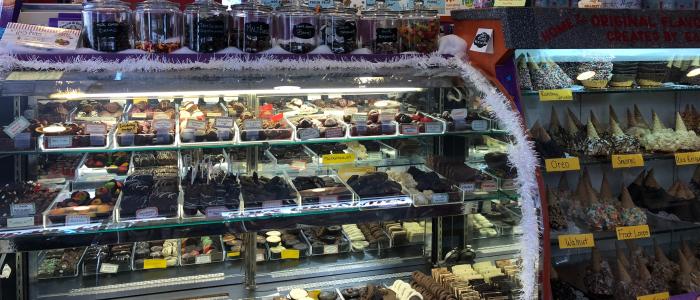 Shop local for chocolate this Valentine's Day and beyond! From family-owned candy shops that have sweetened up the Capital Region for generations, to newcomers changing the chocolate game, these locally-owned businesses have your chocolate cravings covered. Scroll on for six chocolate makers in Albany County and the greater Capital Region. 
Krause's Homemade Candy has been a Capital Region staple since 1986. Nestled on Central Avenue in Colonie, the family-owned business specializes in homemade candies such as chocolate covered almond butter toffee and dark chocolate fudge. The shop offers an extensive assortment of chocolates from creams, to fruits, to truffles, to cherry cordials. 
Valentine's Day chocolates are available for purchase online with in-store pickup or shipping. Also available for purchase in-store. 
TieBerry Sweets takes chocolate-covered strawberries to a whole new level. Described as the "Upstate Strawberry Concierge," TieBerry Sweets specializes in decadent, handcrafted chocolate covered fruit. The sweet shop also has indulgent hot chocolate bombs, chocolate "breakables" (pictured above), chocolate covered pretzels and more. TieBerry Sweets even offers vegan chocolate! 
TieBerry Sweets, including a Valentine's Day specials, are available to order online. 
While famous for ice cream scoops served in candy covered waffle cones, Emack & Bolio's has hand-dipped chocolates available year-round. From chocolate covered graham crackers and pretzels, to homemade hot chocolate to-go made with real hot fudge sauce, to chocolate dipped strawberries, the Delaware Avenue neighborhood favorite is a must-visit spot for chocolate fans. 
Order Valentine's Day Chocolate Boxes & Gifts online at Nipper Toys & Gifts Online Shop for local pickup or delivery. Also available for purchase in-store. 
Uncle Sam's All American Chocolate Factory has been a go-to chocolate spot in the Capital Region for over 80 years. Now with two locations in Latham and Schenectady, the shop's number one seller is handcrafted almond butter crunch - slathered in chocolate, of course. Uncle Sam's offers hand-dipped chocolates, chocolate bark, chocolate covered espresso beans, chocolate bars, chocolate covered fruit and much more. 
Order Valentine's Day items online for shipping, which is available nationwide. Call to place an order for curbside pickup. Limited in-store shopping is also available. 
Candy Kraft has been making the Capital Region sweeter since 1935! Located on Western Avenue in Guilderland, the candy shop sells plenty of sweet treats for chocolate lovers. Boxes of chocolate are filled with a wide variety of chocolates from hazelnut truffles, to chocolate butter creams, to sea salt caramels, to cherry creams. Candy Kraft also has espresso bark, dark chocolate peppermint creams, clusters, pecan bark and more.  
Valentine's Day candy is available for purchase online. Nationwide shipping is available. Limited in-store shopping is available. 
Based in Troy, Primo Botanica is the Capital Region's first craft chocolate company. Handcrafted from bean to bar, Primo Botanica sources cacao directly from Latin American farmers and turns it into chocolate right here in the Capital Region. The botanical chocolate is gluten free, soy free, dairy free and with zero refined sugar. Primo Botanica's products include a variety of chocolate bars, drinking chocolate, bon bons, chocolate coated figs and much more. 
Primo Botanica can be found at the 518 Craft Tasting Room in downtown Troy, a space shared with Alias Coffee and Shmaltz Brewing. The chocolate is available at both Albany Stacks Espresso Bar locations (Lark Street and Broadway) and Honest Weight Food Co-op. Also available for purchase online.