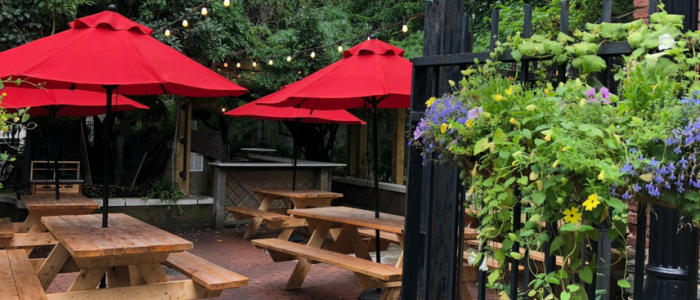 A patio can mean a number of things. Sure, they're all outdoors. But beyond that, they can be about getting more shade, sun, views or even space. That's what separates the comfy courtyards from the picturesque gardens from the trendy patios in Albany. So, get ready to break out your sunglasses and soak up summer at some of the area's best al fresco dining spots.
We're rounding up these eateries, cafes and restaurants by neighborhood, so keep reading for some of the best outdoor patios in Albany's emerging Warehouse District. 
683 Broadway
The Olde English Pub is the gateway to Albany's Warehouse District. The must-visit pub's famous red umbrellas decorating the front and back dining areas truly signal the start of summer in Albany. While dining on picnic tables around front of the 300-year-old Quackenbush House, enjoy mouthwatering pub food next to a festive British telephone booth and watch the traffic drive by. Or, peak around back at the garden patio overflowing with beautiful greenery and indulge in some of the best fish and chips in town. The cozy pub serves up a strong seasonal menu and this summer the garden features an Ice Cream Bar - so you can shake up a cocktail with vanilla ice cream! 
75 Livingston Ave.
The Warehouse District's newest patio is an Instagram-lovers dream featuring twinkle lights and exposed brick walls with blue accents. The massive outdoor patio at ADCO's Bar & Bottle Shop is situated in the beautiful remains of an 18th century stable. While sipping on a hand-crafted cocktail on a summer night, you can play a game of tic-tac-toe or chess with your best friends. And, if it's a little bit chilly, the patio heater lamps will warm you right up. Plus, ADCO's Bar & Bottle Shop often brings in food vendors serving up delicious bites from gourmet hot pockets, to acai bowls, so you'll often get a unique bite-to-eat, too!  
942 Broadway
Lost & Found Bar & Kitchen has swiftly transformed into a Warehouse District staple. Tucked away on the corner of Broadway and Pleasant St., this cozy bar features an extensive craft beer selection and savory menu. Wander around back for a welcoming outdoor seating area that gives off a cool backyard barbecue vibe. Grab a group of friends and play a fun game of corn hole, or sip on a delicious bubbly beverage while basking in the glow of twinkle lights. Perched above the outdoor bar is a smaller version of the Warehouse District icon, Nipper, to greet al fresco diners. This pet-friendly patio will quickly turn into a go-to hangout spot for you and your friends! 
895 Broadway
The patio at this Warehouse District classic is admittedly quite small - a couple of thick picnic tables. Wolff's is known as a sports bar where large-screen TVs often showcase international soccer games inside. Peanut shells are strewn all around. But it merits mention because this is one of the most communal spots in town. It's a perfect spot to try a German-style beer and make a new friend. (One warning here: It's a rare Albany place that is cash-only).
929 Broadway
Nine Pin Cider's tasting room in the heart of the Warehouse District includes a seasonal outdoor cafe that is perfect for enjoying a crisp pint of hard cider.  While the tasting room has a rotating menu of locally sourced and house made bites, the cidery often brings in local eats. You might find yourself digging into your favorite sliders from a food truck, or the daily catch from a seafood pop-up. If you are searching for the quintessential Albany summer afternoon then pull up a chair, grab a bite to eat and sip on a pint of Nine Pin's cider on the patio.