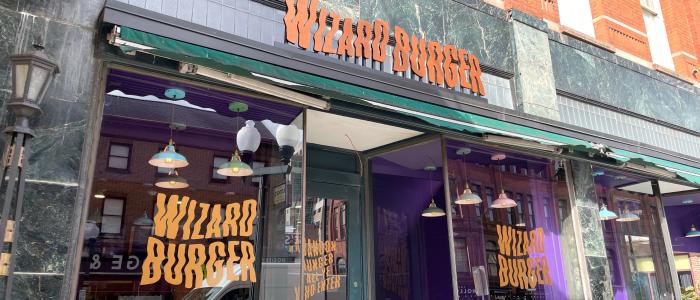 Albany's vegan and vegetarian culinary scene is booming! Over the past year, several brand-new vegan eateries have opened and more restaurants are adding plant-based dishes to their menus. Keep reading to discover an array of restaurants in Albany County serving up vegan and vegetarian cuisine. 
Searching for more restaurants offering vegan and vegetarian cuisine? Check out our previous blog post for more places to dine. 
Check out the Capital Region Vegan Network for special events, community programming and more. 
Recently opened Wizard Burger is adding a touch of magic to the heart of downtown Albany. Housed at the base of the Kenmore, Wizard Burger specializes in self-described "magically meatless meats". The menu features a variety of hearty burgers crafted with high quality, clean, vegan ingredients. Go for the Sorcerer Supreme featuring an Impossible Patty or the Cluckerella made with "grilled chick'n." 
Bar Vegan is one of the latest additions to Lark Street's culinary scene. The brand-new vegan tapas and cocktails bar boasts an entirely plant-based menu using locally-sourced ingredients. From sushi, to pot stickers, this must-try spot brings vegan dishes to a whole new level. Enjoy handcrafted cocktails and creative vegan small plates beneath cascading lush greenery and twinkle lights. 
Little Anthony's, an Albany staple since 1982, recently went entirely meat-free! The family-owned and -operated pizzeria transformed the menu to feature all vegan options from wings, to pasta, to pizza, to subs, to calzones. Top your pizza with an assortment of vegetables, vegan pepperoni, vegan meatball, vegan bacon bits and more. 
Subculture, nestled on Lark Street, is a vegan deli with a scratch kitchen serving up reinvented classics and innovative specials. The menu features Reubens created with pastrami-style seitan, Jackfruit Tuna Salad sandwiches, Popcorn Mushroom Po' Boys, Sunflower Burgers, vegan wings and much more. A handful of sandwiches and burgers on the menu can be modified to be made entirely gluten free as well. 
Tara Kitchen's newest Capital Region location is on Western Avenue in Guilderland! Award-winning Chef Aneesa Waheed specializes in Moroccan comfort food that is packed with flavor. The lunch menu features several vegan dishes including a vegan pita pizza, brown lentils with artichoke, preserved lemons and green olives as well as a spinach with chickpeas, fresh oranges & cherry tomatoes plate. For dinner, look at the tagines (stews cooked in traditional pots) section of the menu for vegan options crafted with chickpeas, mixed vegetables and brown lentils. 
Yono's, the longest tenured Four Star restaurant in the Capital Region, is one of Albany's top spots for world-class fine dining. For decades, the acclaimed restaurant has created custom menus to accommodate food allergies and dietary restrictions. Earlier this year, the landmark restaurant introduced a permanent vegan, dairy-free and gluten-free 3-course prix fixe menu. Featuring beetroot tartare, cast iron roasted parsnip and coconut crème brûlée, this new offering should top every vegan foodie's dining bucket list. 
Son of Egg, tucked on the corner of Madison Ave and Lark Street, is a new Korean-American eatery. The menu includes vegan and vegetarian options such as a Vegan Chicken (Fried Tofu) sandwich, Vegan Kimbap (Rice Roll),  Vegan Chicken (Fried Tofu) Bowl and Veggie Dumplings. Pop into this friendly spot for a quick bite to eat for lunch or dinner. 
Savor Afro and Asian Caribbean-inspired cuisine at Umana Yana Restaurant. The welcoming eatery serves up Ethiopian fare every night with vegan and vegetarian dishes available for dine in or takeout. Enjoy global flavors with the vegan Ethiopian Injera Plate (made with tofu), turmeric tofu tacos, red curry tofu satay and more with dine in! The takeout menu features small boxes with vegan offerings including coconut curried chickpeas, yucca scallion puffs, jollof rice and more. The restaurant is also open for Sunday brunch with vegan fare including a Southwest tofu scramble, Brazilian breakfast and more.