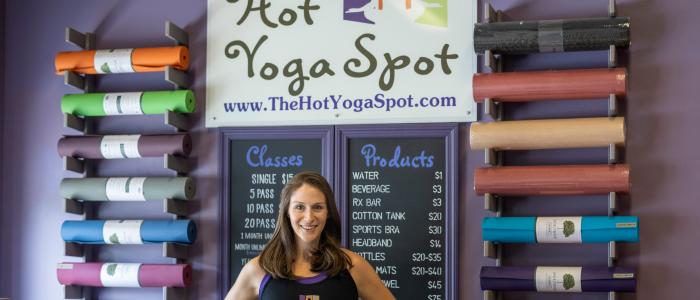 Photo courtesy of The Host Yoga Spot
Things are heating up! With five Capital Region locations, including Albany and Latham, The Hot Yoga Spot is a fixture in the local health and wellness community. The hot yoga studio and barre fitness facility has offerings for both beginnings and advanced students. We connected with some of Albany County's health and wellness experts to provide tips on how to overcome "Zoom Fatigue", how to start the year in a positive mindset, how to remain motivated and more! Keep reading for tips from The Hot Yoga Spot CEO Jessica Fuller.
Do you have any tips for starting off the New Year in a positive mindset?
Last year was challenging for everyone and it can be hard to find the positivity to move forward. Our advice at The Hot Yoga Spot would be to focus on the things that bring you joy and find gratitude in the good parts of your life. It is easy to get caught up in what went wrong or what you lost but instead try to focus on the silver linings. These look different for everyone but we know that anyone who spends more time being thankful and focusing on the good things will start to find more good things to be thankful for on a regular basis.
For those who are interested in learning more about virtual wellness, where do you suggest they start?
Anyone interested in virtual wellness with The Hot Yoga Spot can start by visiting our website. We have a flow from home section that includes information about live virtual classes, previously recorded streaming services, private digital training and more. We have worked hard to create an assortment of options that meet the needs of all our members and we are always happy to answer questions by phone or email.
What are some of the most common challenges you see people facing and how do you recommend they overcome this?
A big physical challenge people face right now is finding ways to stay active and healthy from home. Being active and prioritizing wellness is always challenging and COVID related obstacles like being stuck at home, restricted from visiting gyms and working out with a mask have made it even more challenging. Finding ways to be active from home is crucial and can be as easy as going for a walk, being more active around the house, returning to a gym or studio setting that is following the safety guidelines or joining in virtual workout options from home. How has the health and wellness community adapted during the pandemic?
How has the health and wellness community adapted during the pandemic?
The health and wellness industry has adapted beautifully and tried to make the best out of a really bad situation. At The Hot Yoga Spot, we shifted to virtual classes the day we closed last March and we still have many virtual live classes every day. We also took advantage of outdoor classes for the entirety of the spring, summer and autumn and have been building a streaming database all year that includes hundreds of previously recorded classes with our talented team. Many studios, gyms, health clubs anymore have found ways to keep people moving and active, despite the challenges we currently face.
What workshops and classes are you currently offering?
The Hot Yoga Spot is currently offering great events and opportunities for growth across our Capital Region locations. All of our classes and workshops adhere strictly to state mandated COVID-19 protocols.