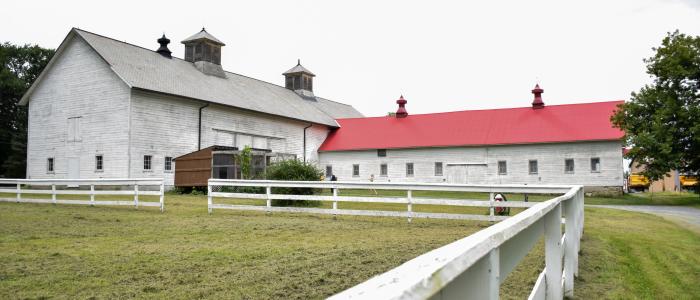 Despite the circumstances, intimate wedding celebrations are still possible for engaged couples. We spoke with Deanna Wunsch of 2Shea Catering, the exclusive caterer of Shaker Heritage Barn, about how they have helped couples host weddings during this challenging year. Keep reading for her insights and a few pieces of advice for planning an #AlbanyEverAfter! 
1. How has your venue adapted to hosting smaller weddings under the current health and safety regulations? 
The most important tool for adaptation has been communication. Each client, and couple, has planned their wedding with a vision in mind that did not account for the current situation. Communicating with couples to address their specific ideas and wants to a more intimate wedding has been the best tool in retaining events. We have all learned to pivot a bit more, which includes changes to the styles of services that can be offered. Making sure our clients are aware of these new restrictions and helping to explain how these changes will look in advance have helped us to all work together to create beautiful events within the regulations.
2. What is the biggest concern (or hesitation) you've received from couples currently planning a wedding and how do you overcome this? 
"Will my wedding be any fun with out dancing"… and the answer is yes! While we all love a wild party, we have learned that beautiful dinners, and intimate shared meals with family can be just as rewarding.
We have created some beautiful events that have focused on longer ceremonies and menus that can really impress your guests.
3. Do you have a success story on a recent minimony or microwedding that you can share with us? 
One couple we have been working with was planning a beautiful ceremony in the gardens, followed by a cocktail hour outdoors and great plated dinner with dancing and dessert for 150 guests. Instead of downsizing their guest count, we encouraged them to spread the event over 3 days to help allow for all 50 guests to celebrate with them in the best way! Friday consisted of a great ceremony followed by an elegant dinner for immediate family and older relatives. Day 2 consisted of a 2 hour cocktail party with table side wine service, and individual appetizers for seated guests (we had fun with this and offered sliders, and all of their favorites). Day 3 was a beautiful brunch for some friend and family that weren't able to attend due to guest count restrictions. Each event created an opportunity to celebrate their new marriage, and chance to share with the friends and family they love.
4. How do you think the COVID-19 pandemic has changed the future of the wedding industry? 
Wedding receptions may take a while to get back to the large party we all envision when we think of a wedding. I think Covid -19 has helped to put the focus back into couples and professionals to work together to create an out of the box experience. While we are happy to help each couple through the planning process, ultimately the choice on how they celebrate is a collaboration of their ideas brought to life by our knowledge and experience.
5. What is your biggest piece of advice for couples planning a wedding in 2020? 
Don't give up! Talk with the right vendors and get some feedback on ways to still celebrate your love! Explore your options and plan for a safe experience for all of your guests and loved ones.
Just remember that we all want to see weddings taking place, we just ask for your cooperation and understanding as we pivot to plan safely and within the guidelines placed.
6. What is your biggest piece of advice for recently engaged couples starting the wedding planning process?  
It's ok to start planning now. Talk to the professionals you are working with to create plan B options, know their intentions moving ahead and work through the conversations together with your venue and hired professionals.