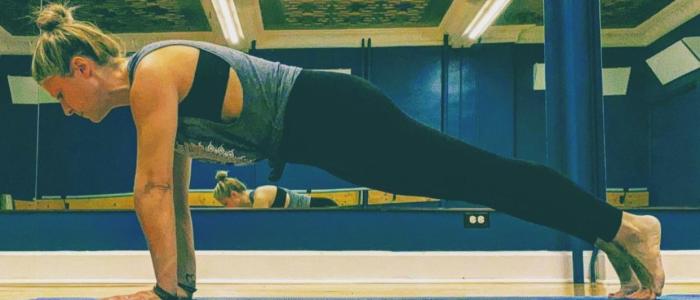 Photo header courtesy of Lark Street Yoga (@SamanthaJO)
We connected with some of Albany County's health and wellness experts for their best tips and tricks on boosting health and wellness in 2021. Lark Street Yoga, a yoga and wellness studio in the heart of Center Square, offers a welcoming space (in-person and virtually!) for students of all levels. Keep reading to hear from Lark Street Yoga Owner Jenn Miller about how to overcome Zoom fatigue, keeping a positive mindset and virtual wellness opportunities. 
Do you have any tips for starting off the New Year in a positive mindset?
I feel like making resolutions sets individuals up for failure so I try to stay away from supporting that mindset at our studio and instead focus on doing small attainable goals that help with your overall outlook. Some ideas include journals/gratitude journals, volunteering time to help others, daily movement (whether that is yoga or a walk).
Do you have any tips for overcoming "Zoom Fatigue" or any other wellness-related challenges that come with working from home?
I feel it important to get away from your screens as often as possible. One simple thing that can be done anywhere is meditation. Simple mediation consists of closing your eyes and just focusing on your breath. The key to meditation is to have no expectations and realize that your mind is going to wander. mindfulness comes when you recognize the chatter and come back to focus on the breath 5 minutes/day. One of my favorite activities to clear my mind is walking/getting fresh air.
For those who are interested in learning more about virtual wellness, where do you suggest they start?
If you are interested in virtual wellness most studios and gyms are offering virtual classes. Our studio has daily virtual yoga classes, as well as a video on demand library. Our studio offers each new client a free class (either virtually or in studio) so they can try it out. And offer a FREE mediation every Sunday evening. To get more information about what Lark Street Yoga is offering visit our website and follow us on Facebook and Instagram for updates. Registration for all classes and workshops on our website or on MindBody. 
How has the health and wellness community adapted during the pandemic?
Our community has been so supportive during the last year and has adapted to the virtual platform. In the beginning the newness of the experience affected all of us and we worked through learning the platforms, working closely with our clients on the nuances while we navigated this new way of life. Our classes moved to the park in May and it was such a great way to reconnect with clients, new and old, and safely practice yoga; we can't wait to get back to this!
What workshops and classes are you currently offering?
We offer yoga classes daily both virtually and in person, we have a community donation class twice a week; and a free meditation on Sundays. Our schedule is updated weekly and can be found on our website; and we share weekly and daily class schedules on our social media pages.

Upcoming Workshop: Grasp at the Root: Uprooting White Supremacy in Healing Spaces (February 5 - 7 via Zoom) 

Description: Relationship is the foundation of our practice. To build mutually beneficial healing spaces, trust must be cultivated in our communities. Created and led by Black queer facilitators, this 3-day training is designed to cultivate empathy as the ground from which we can collectively rise towards equity. Ending cycles of harm on a personal, collective, and systemic level requires us all to release the ties that we have to white supremacy, capitalism and hetero-patriarchy. Through the science of yoga, evidence-based somatic practice, sociopolitical education, energetic healing and more, we commit to unlearning the perceptions that lie at the root of our most harmful actions. In this work we ask: How do you uphold white-supremacy in your daily life? How do you respond to situations of injustice? Who do you prioritize? What steps can you take to make spaces of healing more accessible? These questions are deeply personal, as a way to uncover internalized political and social systems that keep us alienated from one another. Together we aim to upend these systems to create a better world for us all. Our work centers the experiences of Black and Indigenous people, people of color, disabled, queer and trans people.

This training is intended for: Yoga instructors, practitioners, & studio owners; Therapists, social workers, & trauma healing practitioners; Movement teachers (dance, fitness, self-defense); Healthcare practitioners & clinicians; Intentional communities seeking shared language; Activists