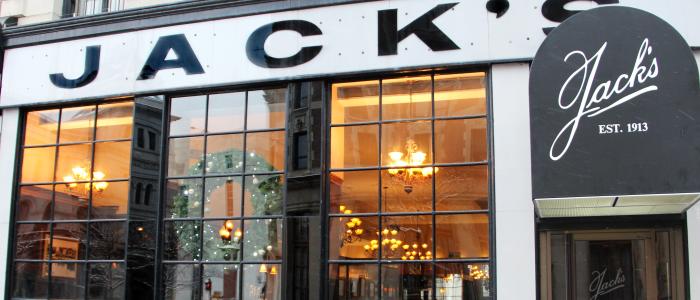 Enjoy a festive holiday meal at home without the hassle of preparing it yourself! Several Albany restaurants are offering holiday dinners (and even breakfasts!) to-go this holiday season. Not only will the entire family rave about the meal, but you will be supporting our local restaurant scene during this difficult time.  
The Desmond, a go-to dining spot for holidays and special occasions, is offering a Christmas Dinner To-Go. The star of this 3-course to-go meal is a spiral glazed ham with fruit sauce. The meal feeds 6 to 8 guests and also includes apple cranberry cornbread stuffing, rosemary & garlic roasted fingerling potatoes, whipped sweet potatoes and carrots with dill butter. For dessert? The Desmond's famous bread pudding with English custard and gingerbread cookies. 
Call 518-640-6182 to place an order by December 18. Orders will be available for pick up on December 23 from 11:00 AM to 4:00 PM. All items will be fully cooked and will be packaged cold with reheating instructions.
Bring a taste of Innovo Kitchen home for the holidays. The cozy gastropub in Latham is offering Christmas Eve and Day Meal Boxes. Brunch around with the "Brunch Box" featuring sticky buns, scones, French toast casserole, mimosa supplies and more tasty brunch items. Indulge in the "Snack Box" for a charcuterie board, mini crab cakes, veal ricotta meatballs, chilled shrimp cocktail and more. Choose between beef tenderloin, short ribs, roasted chicken, salmon or pork loin as the main for the "Dinner Box" accompanied by butternut pear bisque, scalloped potatoes, harvest salad, triple chocolate crunch cake and more. There is even a "Kids Box" with kid-friendly bites to eat and a special treat from the Innovo Santa. 
All packages can be picked up at anytime on December 23 or from 10:00 AM to 1:00 PM on December 24. All food comes in pans to reheat in the oven with instructions.
Savor authentic southern soul food with Allie B's Holiday Meals & Desserts menu this holiday season. Full turkey dinners to-go and full roasted duck dinners to-go include candied yams, homemade cornbread dressing, collard greens, cranberry sauce and sweet potato pie. Create your own comfort food meal with options such as grilled barbecue pork ribs, fried fish, baked turkey wings, macaroni & cheese, southern rice & beans. Don't forget dessert! The cozy eatery is offering apple pie, sweet potato pie, coconut cake, double chocolate cake or peach cobbler. 
Call 518-729-3472 to place an order.  
Leave the cooking to the experts at Mazzone Hospitality this holiday season! The catering company's Holidays at Home packages feature roast beef tenderloin, prime rib of beef roast, roast turkey or pork loin roast. These full dinners serve 8 to 10 guests and include sides such as roasted root vegetables, broccoli & mushroom casserole, leek & Vermont white cheddar gratin potatoes, Parker House rolls with butter, chocolate flourless cake and apple current strudel. Completely eliminate the fuss and add a festive centerpiece to your order! Offered in two sizes, the beautiful holiday display has green and white hydrangea, red roses, white spray roses, cedar and white pine sprays, and an ornament cluster in a glass bowl. 
Place your order online by December 19. Available for pickup December 23 between 10:00 AM and 7:00 PM or December 24 between 9:00 AM and 12:00 PM. 
Enjoy a legendary three course meal at home from one of Albany's most iconic restaurants, Jack's Oyster House. The to-go packages serve 4 or 8 people with offerings such as beef tenderloin, roasted yukon potatoes, sauteed vegetable melange, brown butter brussels and toasted hazelnuts, maple glazed yams, apple crisp, and more. Chef Elliot has you covered with reheating instructions and the items come in reheatable packaging. 
Order online for curbside pick up on December 25 from 9:00 AM to 11:00 AM. 
Celebrate the season with Holiday Take-Out from The Century House! The historic hotel in Latham can eliminate the stress of preparing breakfast, lunch AND dinner with the "All Day Package." Enjoy house made corned beef hash and donut bites for breakfast; cream of turkey soup, bread boules & gourmet cookies for lunch; and short ribs, potato gratin, root vegetables & apple Normandy tarts for dinner. The Century House is also offering a complete holiday dinner for the family with a main entree such as prime rib,  stuffed pork loin or beef short ribs with a variety of sides. 
Holiday Packages are available December 20 to January 6 (not available on December 25.) Please specify hot or cold when placing order. 
The holidays may look different this year, but the experts at Nicole's can guarantee that they will still taste good! The Holiday Menu To-Go features over a dozen platters (available in large and small) from baked brie, to holiday grand characuterie, to spicy crab dip. There are a wide variety of entrees to pick from, so whether you desire a classic meat lasagna or filet mignon for your holiday meal, Nicole's has you covered! 
Call 518-436-4952 or email info@nicolescatering.com to place an order. 
If you are searching for vegan and vegetarian options for Christmas dinner, The Hollow Bar + Kitchen has you covered. The eatery's Christmas Take-Out Dinner allows you to customize your menu with a variety of mains and accompaniments to choose from. Options for mains include vegan meatloaf, mushroom wellington, vegan lasagna, braised roast beef and options for accompaniments include garlicky mashed potatoes, crispy brussel sprouts, creamed corn, kimchi fried cauliflower rice and more! All dinners include spring greens salad, maple lace cookie, peppermint bark and bakery rolls. 
Order by calling 518-426-8550 or order online at this link. Pre-orders must be submitted by December 21 at midnight for pickup on December 24 by 2:00 PM.