Throughout 2020, Discover Albany is highlighting Artful Albany by showcasing the many ways art is featured throughout the community in restaurants, meeting spaces, historic sites, rural areas, craft beverage facilities and more.
"Meet The Murals" is a Q&A feature in our 2020 Discover Albany Visitors Guide highlighting several of the #CapitalWalls artists. Local artist Rachel Baxter (@rachelabaxter) painted "The River That Flows in Two Directions" on the I-87 wall between Columbia Street and Water Street in 2017. 
The #CapitalWalls mural project is spearheaded by Albany Center Gallery, Albany Barn and Albany Parking Authority.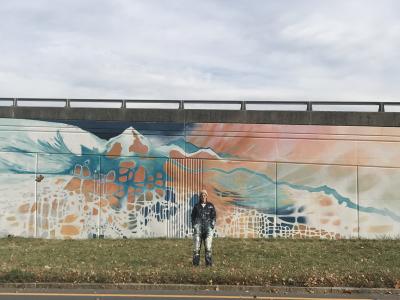 Photo courtesy of Albany Center Gallery
Q: What inspired your mural?
A: I was definitely inspired by the proximity to the Hudson River. I wanted the mural to have a sense of place and bring attention to the wonderful riverfront that we have here in Albany. I really wanted it to have a sense of movement, beauty and reference the geographical location that it inhabits. 
Q. We all see the finished product, but how much planning goes into a mural?
A: An immense amount of planning goes into it. I think the conversation started at least a year before the actual painting of the mural happened. There are a lot of meetings, a lot of paperwork, many conversations about the potential for the mural, and that all happens before and during the design and editing phase. Then, after all that, you get to start planning how to physically take this digital mockup, or hand drawing, and make it come to life. And that's when the true adventure begins… There are so many moving parts, and it requires so much help from so many different people, and it is so worth it. These murals are transforming our city and bringing people together in really wonderful ways. 
Q: Why did you get involved with the #CapitalWalls project and what have you gotten out of it?
A: I first got involved after having a conversation with Tony Iadicicco about the need for more public art in Albany. He and the other partners of #CapitalWalls (Albany Barn and Albany Parking Authority) were excited about the possibilities and the potential it held for the region. I was fortunate enough to be given the opportunity to create my very first mural because of this project and have done a handful more since then. I have met so many incredible people because of this opportunity and have been able to see this city grow and change, and learn about new artists living in the area.