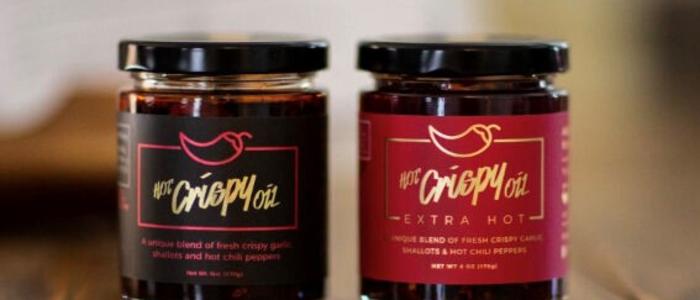 'Tis the season for holiday shopping! On the hunt for thoughtful and unique gifts? Albany County is lucky to be filled with innovative small business owners and talented makers creating items that everyone on your holiday shopping list will love. Plus, it is more important now than ever before to support local. Scroll on for holiday gift ideas from Albany small businesses and makers! 
A unique holiday gift for your "butter half"? Popcorn from What's Poppin! The locally-owned gourmet popcorn shop in Colonie offers a variety of popcorn flavors such as cheddar hot, caramel, kettle, Albany Mix (cheddar and caramel mixed), and "moo-vee" theater butter. Choose an assortment of flavors packaged in a keepsake tin for a one-of-a-kind gift. Pre-order in advance and pick up the gift during the week of Christmas for the freshest popcorn possible. 
Hot Crispy Oil is quite literally the hottest locally-made product this holiday season. After closing his family's downtown Albany restaurant, John Trimble shifted the space to launch this new business. Hot Crispy Oil is small-batch, handmade jarred olive oil with garlic, shallots and chili peppers. Available in original or extra hot, drizzle it on eggs, pasta, bread and more to add some extra pizzazz. Hot Crispy Oil is offering wholesale case prices and a 15% discount for all personal orders until December 15. 
Foodies and cocktail connoisseurs will love the gift of Hedonic Tonic this holiday season! The locally-made artisan tonic is handcrafted using lemongrass grown at Nine Miles Farm in Delmar. Described as a "tangy, citrusy and vibrant concoction," the tonic can be used on top of ice cream, in a Gin & Tonic, as a salad dressing or mixed with seltzer water. Celebrity Chef Ric Orlando even as a recipe for Hedonic Crème Brûlée. Hedonic Tonic can be purchased at Fort Orange General Store and Honest Weight Food Co-op. 
Local designer Paul Hergenrother specializes in products featuring historic architecture that are perfect for the Capital Region cheerleader on your holiday shopping list! His canvas totes, ornaments, coasters, holiday cards, bookmarks, magnets and posters highlight local landmarks such as the New York State Capitol, Nipper and Empire State Plaza. Pick up one of his designed items at Lark Street Mercantile or the Shaker Holiday Market. 
Sweeten up the holidays with maple treats from Mountain Winds Farm. Support the local maple farm in Berne by purchasing a variety of handmade maple products from the farm's online shop. In addition to classic maple syrup and maple candies, the online shop is stocked with unique items such as maple mustard, maple spice rub, maple hot sauce and maple BBQ sauce. 
Nine Pin Cider offers a variety of items perfect to give to the cider lover in your life. Have friends or family out of state? Ship hard cider directly to their door this holiday season. For New Yorkers, Albany's favorite farm cidery has an online shop stocked with a variety of hard cider flavors as well as cider-scented candles, branded sweatshirts, pint glasses, artisanal soaps, tote bags, t-shirts and more. Swing by the tasting room in-person to pick up two bottle and three bottle gift boxes available for purchase. 

Taste of Troy Food Tours is back with a fifth Box of Local Love just in time for the holiday season. The festive December Box of Local Love features curated items from small, local businesses such as Wells Maple Farm, Collar City Candle, What's Poppin, Stacks Espresso Bar and more. Taste of Troy Food Tours will donate $2 per box sold to the South End Children's Cafe. Purchase by December 5 for delivery in time for Christmas.
Boozy Moo! is the ultimate cocktail and dessert crossover. It is small-batch, handcrafted ice cream flavored with premium alcohol created weekly at The Yard - Hatchet House & Bar. This unique spin on ice cream is a great way to sweeten up a loved one's holiday season. Available by the pint, the rotating ice cream flavors include options such as Mint Chip Julep, Dublin Double Chocolate, Kentucky Butter Pecan and Spike Apple Cider Sorbet. Boozy Moo! also has vegan flavors available. Place an order online or over the phone for delivery within 5 miles of downtown Albany or for pickup. 
Have a gluten-free or dairy-free friend or family member? Send them a thoughtful gift from Sweet Eats! The bakery specializes in handcrafted snacks created for those with food allergies, sensitivities and digestive issues. Order baking mixes, cookies, granola and bars off of the online shop for shipping or curbside pickup. 
A bottle of a handcrafted, small-batch spirit from Albany Distilling is the perfect gift for cocktail and craft beverage enthusiasts. Gift a bottle of Quackenbush Rum or Ironweed Whiskey for a classic spirit with a fun tie to Albany. Have a coffee lover on your list? Death Wish Vodka is a caffeinated craft spirit that creates unique cocktails. Order online for shipping to New York addresses only or stop by the ADCo Bar & Bottle Shop to pick up a bottle.  
Gift Cards
Gift cards can be the perfect solution for that hard-to-buy person on your holiday shopping list. Support our local community by purchasing a gift card to a local business or restaurant this holiday season. Below are some local businesses and restaurants offering gift cards available for online purchase: 
The City Beer Hall Holiday Gift Card Special