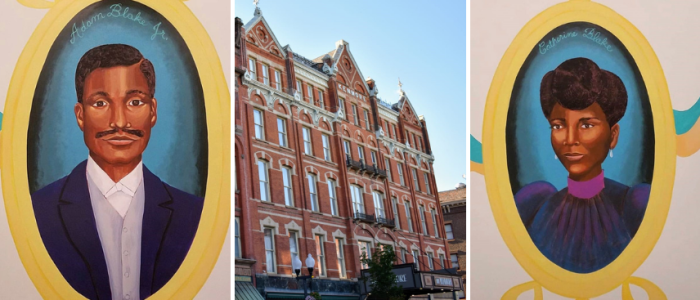 Guest Blog provided by Historic Albany Foundation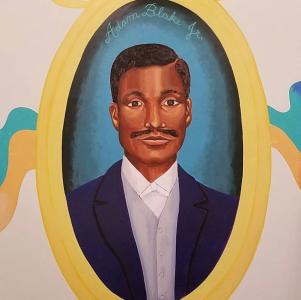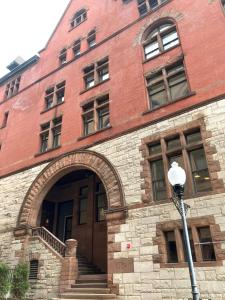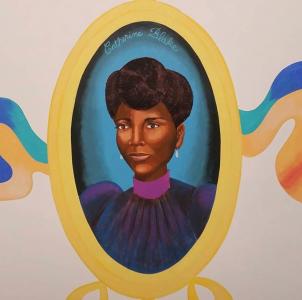 Photos of The Blake Annex provided by Historic Albany Foundation
Mural painted by local artist Elizabeth Zunon
Adam & Catherine Blake
Next time you stroll down North Pearl Street, pause for a moment and admire the recently renovated Kenmore Hotel. Standing proudly in its robust red brick, this stunning Queen Anne structure is a local landmark, saved and restored to its former glory. Look to its left and you'll see another quintessential Albany building – the former Steuben Club, now the Blake Annex. If you ever get a chance to explore inside the Blake (and I recommend you do – it's a vibrant and beautifully finished space) you'll find a large hand-painted mural featuring an African American couple encircled by ornate gold frames. This piece, and the Annex's eponymous name, pays homage to both Adam & Catherine Blake: creators of the Kenmore, respected business owners, entrepreneurs, and leaders in the community. Without them, there would have been no Kenmore to save.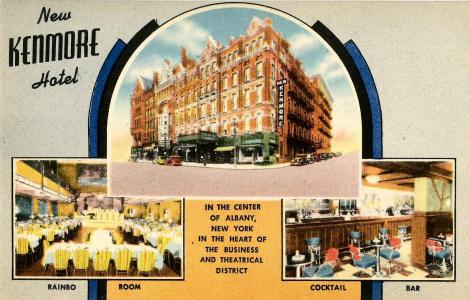 Provided by Historic Albany Foundation
Adam Blake Jr.
Born in 1830, Adam Blake Jr's adopted father was enslaved to Van Rensselaer Manor* before being freed in 1811.  After receiving his education among the Van Rensselaer children, Blake Jr. began working in hospitality at the well-known restaurant Delavan House (replaced by Union Station on Broadway after a fire in later years). This restaurant was also the former employer of abolitionist Stephen Myers, the head of the Underground Railroad in Albany. 
Blake excelled in his role, charming customers, creating relationships, and learning the skills necessary to flourish in a society that was not set up for him to succeed. He was promptly promoted to head waiter, before taking the daring plunge and opening his own restaurant in 1851 located on Beaver and Green Street. This location was the first of three successful restaurants he opened over the next 15 years.
"He was elegant and sophisticated, and knew how to wheel and deal. When opportunity knocked, he took advantage."
– Donald Hyman, star of a one-man show about Blake's life
Blake continued his trailblazing path by purchasing a lease for the Congress Hall Hotel in 1865. Once Albany's "most famous hotel" Blake invested his creative energy and capital into bringing the venue back to life, and it soon became a favorite for politicians and the 'who's who' of society. The hotel became "known as a training ground for other young Black men who went on to work in some of the finest hotels across America" (Source: Albany Institute of History & Art). Blake was actively involved in working to promote equality and create real changes in society – he was the treasurer for the New York State Equal Rights League (founded in Syracuse in 1864 to advocate for the abolition of slavery), was a strong vocalist for the desegregation of Albany's public schools, and fundraised to help African-American colleges. 
By this point, Blake was already renowned as one of the most successful businessmen in the region. Then came the shining jewel in his crown: The Kenmore. The building of the new State Capital was the catalyst for the creation of Blake's most ambitious project yet. The State needed the land Congress Hall sat on for its new building, and this savvy businessman wasn't going to sell it for a penny less than it was worth. Settling on the handsome sum of $190,000, Blake had a vision to create an elegant, modern hotel that would eclipse all others. By 1878, he had achieved that dream when he opened the doors to the spectacular Kenmore Hotel.
Designed by respected local architects, Ogden and Wright, the hotel catered to the wealthy elite. It was celebrated as having some of the most cutting edge, mod-cons of the time (including hot water and the recently invented telephone), and was the final word in opulence. One source even went so far as to say: "Albany is favored with the benefits and advantages of having one of the finest modern hotels in existence located in her midst". The success of this hotel speaks not only to Blake's tenacity and acumen but also to the wealth and economic growth of the time. The Kenmore truly exemplified what a luxury hotel in the Gilded Age was, and Blake was at the helm of it.
Sadly Blake would not be able to see the immense success that Kenmore would have, as he passed away in 1881 at the age of 51. He left behind a substantial estate of over $100,000, or the equivalent of $2.6 million today, was one of the wealthiest entrepreneurs in Albany, and one of the most "successful black businessmen of his era". To commemorate Blake's life, a stained-glass window in Albany's first Israel African Methodist Episcopal Church was dedicated to him, located on Hamilton Street.
*You can learn more about Adam Blake Senior's life here in a blog from Friends of Albany History

Photo of The Blake Annex & The Kenmore provided by Historic Albany Foundation
Catherine Benjamin Blake & Her Legacy
When Adam Blake Jr. passed he left behind his wife, Catherine Benjamin Blake, as well as 4 children. Most expected his widow to simply sell the business and retire. However, they were in for a surprise. Catherine kept running the Kenmore for over 7 years, during which time she expanded the business (and its footprint!) before selling it for a huge profit. She was one of the richest women in Albany and, just like her husband, still made time to support causes in the community – including her involvement in the Woman's Exchange, a business model where Civil War widows could sell their handmade belongings. The family continued to live in Albany for several years before moving to Brooklyn, where she passed away in 1933. Despite Catherine's resilience and smart business ventures, there is little information on her career as a businesswoman and single mother. Both Adam and Catherine Blake's graves can be found in the Albany Rural Cemetery in Menands, Albany, New York.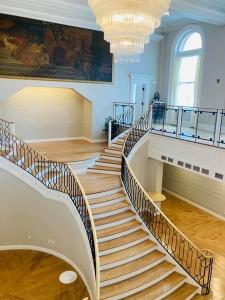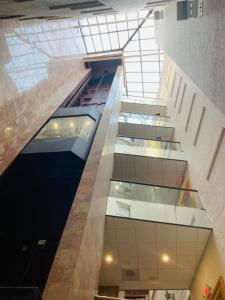 Photos provided by Historic Albany Foundation
The Kenmore Changes
Over the following years, the Kenmore was sold twice more, and was renovated at the beginning of the century. Then, in 1922, came another famous chapter in the building's story –  the creation of the Rain-Bo Room. A  sparkling, fashionable nightclub, it brought an array of eclectic celebrities to the hotel, including Frank Sinatra, Cab Calloway, Sophie Tucker, Duke Ellington, and gangster Jack "Legs" Diamond—who was featured in American novelist William Kennedy's book, Legs.  The interior was inspired by the Rainbow Room in the GE Building of Rockefeller Center in New York City. Popular music (Jazz, Blues, Swing) played from one of the nation's first radio stations, WGY, which is owned and still used today by iHeartRadio. The nightclub closed in 1947.
By 1986 most of the glamor and glitz that Blake had imbued in the Kenmore was gone; the building remodeled to accommodate offices, the iconic Rain-Bo Room cut in half to create additional floor space. Then, came Redburn Development in 2019. The company purchased the building and reconstructed it into 93 luxurious apartments with commercial space on the ground floor. The Rain-Bo Room was transformed into the Kenmore Ballroom: an event space with a grand staircase, restored mosaic tiles, floor-to-ceiling windows, and home to Katie O' Weddings & Events. The successful project was also a recipient of one of our Preservation Merit Awards in 2021. It is our organization's hope that preservation projects like this not only help to save buildings but also highlight, celebrate and recognize the stories of the people who made them what they are. People like Adam and Catherine Blake.