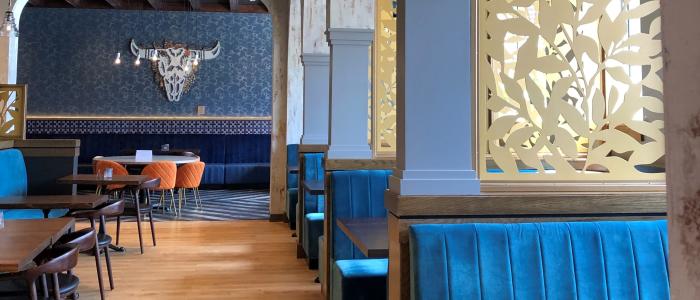 Albany's evolving culinary scene offers something for everyone including gluten-free foodies! From to classic pub fare, to Mexican cuisine to upscale dining, there are a variety of Albany County restaurants with gluten-free eats and entire gluten-free menus. Scroll on to discover 7 restaurants in Albany County that will satisfy your dietary requirements while still being packed with flavor. 
111 Wolf Rd, Albany, NY 12205 
Located on Wolf Road in Colonie, TORO Cantina has quickly turned into one of the top spots in the Capital Region for Mexican cuisine. Between the top notch fare and vibrant atmosphere, dining at the restaurant feels like a mini-vacation. Best of all for gluten-free diners? TORO has you covered with a dedicated gluten-free menu featuring a variety of Mexican dishes. Order tacos, served with blue corn tortillas, chicken enchiladas, plancha fired steaks and more. 
79 North Pearl St, Albany, NY 12207 
Situated in the heart of downtown Albany, The Hollow Bar + Kitchen is a go-to spot for gluten-free fare. Kick off your meal with gluten-free appetizers such as the Italian Wedding Soup, Caponata, Risotto-Of-The-Day, Brussel Sprouts or Hummus Board. Dine on mouthwatering gluten-free mains featuring farm fresh ingredients such as the Ribeye, Maple Salmon and Paella. From starters, to sides, to mains, The Hollow's menu has plenty of options for gluten-free diners. 
540 Delaware Ave, Albany, NY 12209 
Locally-owned small business Sweet Eats specializes in handmade gluten-free and dairy free snacks. The handcrafted snacks, created for those with food allergies, sensitivities and digestive issues, are packed full of flavor. Satisfy your sweet tooth with gluten-free breakfast cookies ranging in flavors from blueberry lemon, to PB&J, to lemon coconut. Or try the oatmeal cups, bars, or granola, all offered in a variety of flavors. Order the fresh gluten-free treats for curbside pickup from the Delaware Ave production facility or order online and ship straight to your home! 
25 Chapel St, Albany, NY 12210
Yono's, a downtown Albany landmark, is the longest tenured Four Star restaurant in the Capital Region. For decades, the acclaimed upscale restaurant has created custom menus to accommodate food allergies and dietary restrictions. Earlier this year, Yono's launched a permanent vegan, dairy-free and gluten-free 3-course prix fixe menu. Featuring beetroot tartare, cast iron roasted parsnip and coconut crème brûlée, your next date night is officially handled. 
300 Delaware Avenue, Albany NY
New World Bistro Bar, located in Albany's Delaware Avenue neighborhood, is a farm-to-table gastro pub. The innovative restaurant recently welcomed Ian Brower as the new Executive Chef. The menu features plenty of gluten-free dishes comprised of fresh ingredients from local farms. Many of the plates can be made to accommodate gluten-free dietary needs, so don't be afraid to ask your server to explore your options if you have your eye on a specific dish that is not marked "gluten-free". 
1814 Central Ave, Albany, NY 12205 
O'Toole's Restaurant Pub, an Irish pub nestled on Central Avenue in Colonie, prides itself on its extensive gluten-free menu offering meals, appetizers, and even gluten-free beer. Favorite appetizers such as mozzarella sticks (pictured above), chicken tenders, chili nachos and chicken wings are all available for gluten-free diners. Enjoy gluten-free pub fare including burgers, fries, Reubens and turkey clubs, or gluten-free dinners including chicken parmesan or sizzling fajitas. 
1 Crossgates Mall Rd Albany, NY 1223 
110 Grill, located in Crossgates, serves up seasonally-inspired American cuisine and signature cocktails with a commitment to allergy awareness. The restaurant boasts an extensive gluten-free menu and all of the dishes are made to order in scratch kitchens utilizing allergen picks. Plus, only management delivers allergy-safe dishes to your table to ensure guest safety. From buffalo chicken mac and cheese made with gluten-free pasta, to a selection of mouthwatering burgers served on a gluten-free bun, there are tons of gluten-free dishes on the menu.