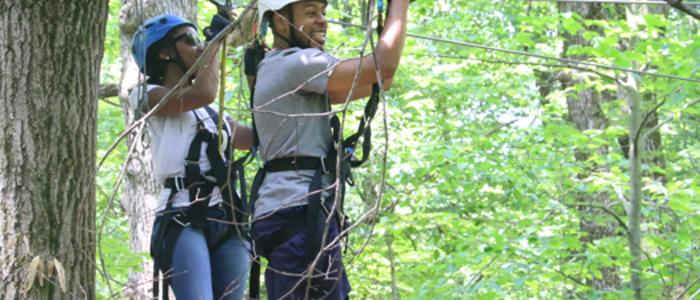 Yes, I know what you are thinking. "I'm from the Capital District. I've seen it all. I've done it all. There's nothing left for me here." Well, I beg to differ. I was just like you, content with my "extensive" knowledge of the Albany area, but this summer my eyes have been opened to a simple truth: there are hidden gems all around this area. You just have to be willing to look.
  I detoured from my usual morning route to the office, instead taking the scenic route down State Street to Broadway and over the pedestrian bridge to Jennings Landing. By the time I had made it to the Corning Preserve Ramp, the sweat on my shirt had already began to pool in all the wrong places. We met up with Donna Larkin of Upstate Kayak Rentals on a muggy Wednesday morning for a mini adventure on the Hudson River. As I maneuvered into my green kayak and began making my way downstream, I became better acquainted with the rhythm of rowing. The circular rotation of my shoulders moved my paddle and allowed my vessel to cut through the water with relative ease. There's something peaceful and liberating about taking the time to just bob on the water and look out at the Albany skyline in the distance, without a care in the world. 
  The flowing fields of golden grain and lush foliage on either side of the road captured my attention as I made my way to Schenectady's very own Mountain Ridge Adventure. My anticipation to zoom through the treetops was ever mounting as Michael Cellini got us suited up in our safety gear and walked us through a practice course. Although the process of transferring between safety rings and lines was daunting at first, it becomes second nature as you progress further along through the courses. Nothing feels better than stepping off an elevated platform and rushing across a vegetation-rich gorge at high speeds. Tarzan would be proud.
  Ever since reading about this impressive building in my 4th grade history textbook, I have wanted to explore it. About 12 years later, I finally did! Our tour began in the jaw-dropping Senate Chamber, viewing walls made from 14k gold, arches made with marble from Italy, and a beautiful mahogany ceiling. We then made our way over to the Million Dollar Staircase, filled with magnificent carvings of faces and other designs. After our tour guide, Matt, demonstrated his knowledge on the history of the Hall of New York, the Assembly Room, the Executive Chamber, and the Hall of Governors, we ended our tour by gazing up at the beautifully painted ceiling murals in the War Room. Even if you're not a history geek, touring the Capitol Building and experiencing these grand rooms and halls for yourself is well worth the time.
  I boarded the river bound vessel via the starboard side on a warm Tuesday afternoon. The beautiful summer weather went perfectly with Dutch Apple's Hudson River Sightseeing Cruise. An extremely knowledgeable host walked me through the extensive history and present realities of the historic riverside homes and industrial facilities that we passed on route. The majestic bald eagles that made an appearance and refreshments on board were an added bonus to an already fantastic outing.
Written with contributions from Megan Alix