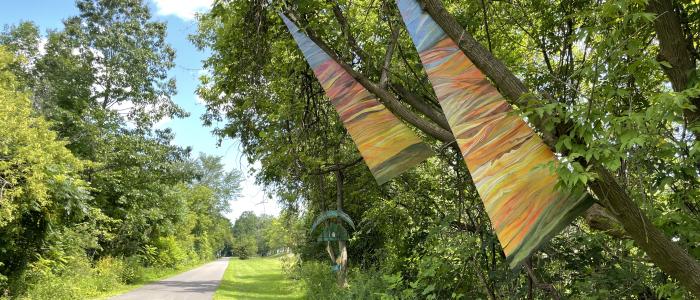 Hike, bike, and zipline into an outdoor family adventure in Albany County! Throughout the area there are plenty of breathtaking nature spots, fascinating ecosystems, and interactive ways for children and families to learn about the environment around them. So put on your comfiest hiking shoes, grab your best binoculars, and head out into the great outdoors for an adventure at one of these six spots in Albany County.
Soar on a zip line, encounter breathtaking waterfall views, watch a real honeybee hive at work, and interact with real animal bones.
Thacher Park is full of exciting adventures for even the youngest of explorers. The park features a challenging, safe, and fun Kid's Adventure Course at WildPlay Elements Park, beautiful kid-friendly hiking trails, a playground, and picnic tables. Venture over to the Emma Treadwell Thacher Nature Center to find a variety of hands-on science materials and installations for children to explore. Thacher Park even has a campground at Thompson's Lake meaning you can turn your adventure into a multi-day family vacation!
Thacher Park hosts family-friendly public programming year-round, so be sure to check out our events calendar while planning your trip to see if there's any exciting events happening at Thacher! 
You'll need some comfy walking shoes and a desire for adventure to read this story! The Pine Bush preserve is full of ways for children and families to learn and explore. One quest you can set out on is a StoryWalk® through a Pine Bush trail. Travel from page to page of a children's book spread along the trail and discover an entertaining story while journeying through fascinating flora and fauna.
The Pine Bush Preserve is home to a large variety of rare plants and animals including the Karner Blue butterfly. Children may be surprised to learn that the Pine Bush is actually dependent on fire for its survival! Learn about all the plants and animals of the preserve and how the unique ecosystem functions at The Discovery Center. The Pine Bush also hosts year-round events and programs for adventurers of all ages.
A great choice for a biking adventure, set out on the Helderberg-Hudson Rail Trail and marvel at the art displayed along the way! Through the end of 2023, the rail trail features "Dark Days in the Delmarian Kingdom" created by graphic novelist Ira Marks. Bring the family on a trip akin to Alice and Wonderland and discover these fairytale-like creatures (pictured above) inhabiting the trail. The Helderberg-Hudson Rail Trail features vibrant permanent exhibitions and murals making for a whimsical journey any time you go.
A walk around Buckingham Pond makes for a simple and serene outdoor adventure in the city of Albany. While exploring the pond, look out for the ducks and geese who often pay a visit and the fish who call the pond their home. Buckingham Pond features a new playground making for a great place to play after a short nature walk.
This living museum is full of ways for families to get up close with nature. Adventure along one of the interpretative trails such as the Nature's Accessible Backyard Trail showcasing the flora and fauna common in your own backyard and outdoor projects you can do at home. Or wander along the Woodlot Trail where you're more than likely to encounter small mammals and songbirds. Stop into the Visitors Center before your trek to learn about the wildlife who call Five Rivers their home, the history of the organization, and view exhibits such as a live observation beehive and a bird-feeding area.