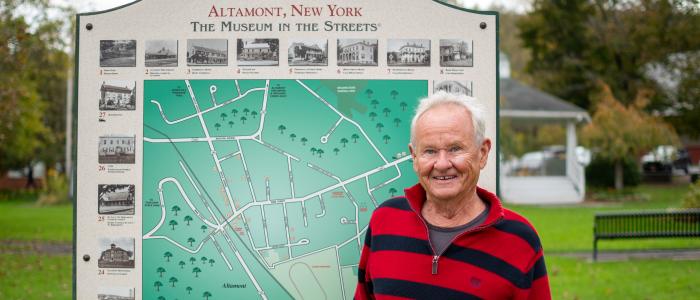 James Gaughan and his spouse have lived in Altamont since 1984. After retiring from his career in Albany, James served as Altamont Mayor for 12 years. Throughout his time as mayor, he worked with his Village neighbors to create initiatives highlighting the community's best facets: its historic origins, parks, cultural events, and businesses. 
Maple Ave, Altamont, NY 12009
"It has the beautiful plants and a labyrinth- which is a six-circuit uni-dimensional labyrinth. Which means in layman's terms-going once to the center and back the same way."
186 Main Street, Altamont, NY 12009
"The menu here is wide and diverse. They have a great selection of craft beers. Be sure to try the mac and cheese, it's fantastic!"
175 Main St, Altamont, NY 12009
"This is the start of the famous Museum in the Streets, one of only three in New York State. 26 sites of photos and texts about the history of our village and what those businesses were back in the late 1800's."
129 Grand St, Altamont, NY 12009
"It's a place that's full of many things: rides, food- my favorite is cotton candy. And it's not the only thing that happens here. Among others you can come and see the Capital District Scottish Games every year during the fall."
1475 Western Ave, Albany, NY 12203
"My entire family comes here to buy gifts, books, and coffee. There's plenty of food options for lunch or dinner. You can even mail your mail from its own post office!"
1814 Western Ave, Albany, NY 12203
"It's one of my most favorite restaurants, the finest of Greek cuisine, which I love. In fact, this restaurant has been voted as one of the top 50 restaurants in the entire United States! And don't forget to try the Greek wine!"