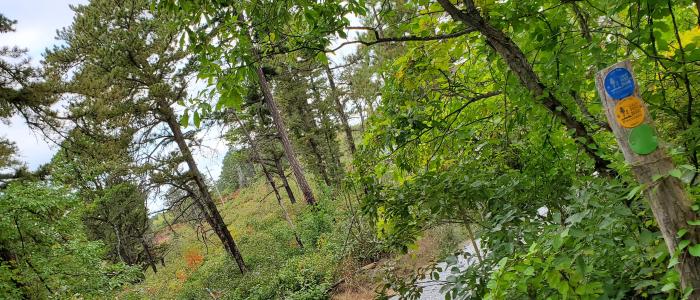 For over 50 years, Earth Day has served as an opportunity to demonstrate support for environmental protection. Earth Day falls on Thursday, April 22, but organizations throughout Albany County are hosting socially-distanced clean ups and special events all month long. Scroll on for the details about 7 upcoming clean ups and special events celebrating Mother Nature this April in Albany, New York. 
Albany Pine Bush Preserve
The Albany Pine Bush Preserve is encouraging locals to channel the spirit of Earth Day at home this year. Take action to support environmental protection demonstrating "how you do Earth Day" and share it on social media! Install an energy efficient light bulb in your home or use a reusable water bottle instead of a disposable one. Create a habitat on your property, start a recycling system at home or pick up a piece of litter in your neighborhood. Throughout the month of April, share a photo of "How You Do Earth Day" on social media with #APBEarthDay and #EarthDay. 
This event is virtual. 
Washington Park Clean Up 
Help the Washington Park Conservancy keep the urban park beautiful with the Washington Park Clean Up on April 17. Volunteers will rake, weed, prune and clean up the area around the Moses Foundation. Dress for the weather, bring a friend and don't forget your gloves! Tools and supplies will be provided. The Washington Park Conservancy hosts these clean-up sessions throughout the year, so keep an eye out for more opportunities to sign up. 
RSVP to help the Washington Park Conservancy plan for equipment needs. 
Hands To Work Day
Get outside during Hands To Work Day with Shaker Heritage Society! On April 17, roll up your sleeves and volunteer to help prepare the site of America's first Shaker settlement for spring. Rake leaves, clear branches, clean the historic cemetery's headstones and much more. 
Masks and social distancing will be enforced.
Mohawk Hudson Land Conservancy 
Safely celebrate Earth Day with the Mohawk Hudson Land Conservancy! Bring your kids to the Phillipin Kill Preserve in Delmar for "Earth Day Storytime, Hike, and a Craft" with the Bethlehem Public Library on April 22. This family-friendly celebration will include Earth Day stories, a nature-inspired craft and short hike through the woods. 
Masks and social distancing are required. Registration is limited. 
South End Earth Day 
Celebrate spring and lend a hand at the South End Earth Day on April 24. Albany's South End is home to several gardens that increase food security and outdoor recreation in the neighborhood. Organized by the Radix Ecological Sustainability Center, this volunteer event helps give these important gardens a strong start to the growing season. 
Masks and social distancing is required.
The South End Earth Day is hosted in partnership with and supports gardens for Radix Ecological Sustainability Center, Trinity Alliance of the Capital Region, Giffen Memorial Elementary School, Our Art Class, AVillage, The Free School, Historic Cherry Hill and Albany Housing Authority. 
Downtown Earth Day Neighborhood Clean Ups
Live in downtown Albany? Meet your neighbors and join the Downtown Albany BID on April 24 for two Earth Day Neighborhood Clean Ups. Starting at the Olde English Downtown Dog Park, help tidy up this area of downtown Albany from 10:00 AM to 12:00 PM. Then from 12:00 PM to 2:00 PM, the clean up moves to the African American Cultural Center of the Capital Region at 135 S. Pearl Street. Rakes, shovels, and leaf and garbage bags will be provided . 
All attendees are required to practice social distancing, wear masks and appropriate PPE, and must sign-in either in advance via Eventbrite or at the event for contact tracing purposes.
Warehouse District Clean Up
Nine Pin Cider's annual Warehouse District Clean Up returns on April 25. The day kicks off in front of the tasting room at 10:00 AM. Pick up gear, provided by the City of Albany Department of General Services, and break into teams to clean up North Albany's Warehouse District. At 1:00 PM, volunteers are invited back to Nine Pin's tasting room for complimentary cider until 3:00 PM. 
Are you a Capital Region neighborhood association or group hosting your own clean up this April? Email Lori@ninepincider.com for up to 20 complimentary cider vouchers.