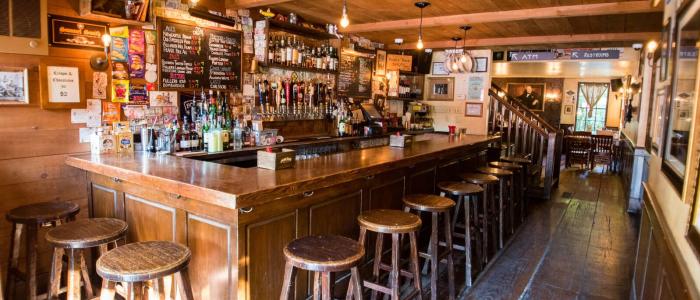 Weekends call for brunch! Restaurants across Albany County, from downtown Albany to Cohoes, are serving up delicious morning eats. Scroll on to discover some of the best spots for breakfast and brunch in Albany County. 
Brunch is back at Nicole's! Nestled on Delaware Avenue, the family-owned restaurant is a go-to spot for brunch. The menu features a variety of brunch dishes including lemon ricotta pancakes, eggs benedict, early bird poutine and more. Indulge in a cannoli boozy coffee or apple cider mimosa to cap off the meal. For an unforgettable brunch experience, order the fan favorite "Bloody Mary Charcuterie for 2". Make brunch reservations on Saturdays and Sundays from 10:00 AM to 2:00 PM.
Housed in the second oldest building in Albany, the Olde English Pub is a cozy restaurant for brunch. The must-visit pub has a seasonal menu with fresh, made-from-scratch items. The winter brunch menu has steak and eggs, salmon cake benedict, eggs in purgatory, and more. Or, dine on classic lunch items such as fish & chips, a pub burger or a chicken sandwich. Brunch is available on Sundays from 11:00 AM to 3:00 PM. 
Neighborhood favorite Excelsior Pub serves up delicious breakfast on the weekends. Savor the "pancake of the month" for a unique and often seasonal eat. This January, enjoy Banana Cinnamon pancakes served with a brown butter maple glaze. Stopping in to watch the big game on Sunday? Take advantage of All Day Breakfast on Sundays. Breakfast is available on Saturdays from 11:00 AM to 2:00 PM and all day on Sundays.
O'Toole's Restaurant Pub, an Irish pub nestled on Central Avenue, is a top brunch spot in Colonie. Enjoy savory brunch offerings such as a bacon benedict, breakfast charcuterie board or ranchero steak & eggs. If you prefer your brunch on the sweeter side, try the Belgian waffle, chocolate brownies crepes, or chef's choice French toast. Brunch is available on Saturdays and Sundays from 10:00 AM to 2:00 PM. 
Mr. Bumbles Cafe, located in Albany's New Scotland neighborhood, serves up breakfast all day. The welcoming cafe is a great spot to grab a quick bite to eat. Breakfast options include smoothies, bagels, parfaits, oatmeal and more. Breakfast served all day on Mondays to Sundays from 6:00 AM to 4:00 PM. 
Tucked on the edge of Albany's Center Square neighborhood, Iron Gate Cafe is a local favorite. The family-owned restaurant serves up mouthwatering brunch fare and classic brunch cocktails. The extensive menu has something for everyone including a variety of vegan offerings. Plus, TripAdvisor recently ranked Iron Gate Cafe as the top breakfast spot in Albany! Breakfast and brunch are available Wednesdays to Mondays from 9:00 AM to 3:00 PM. 
Cafe Monocle, nestled on Remsen Street in Cohoes, is a charming restaurant for brunch on the weekends. The eatery adds a modern twist to classic dishes crafted with locally-sourced ingredients. The brunch menu features beignets, omelettes, French toasts, pancakes, waffles and much more. Amp up your brunch with a mimosa flight or Bloody Mary flight! Brunch is available on Saturdays and Sundays from 10:00 AM to 3:00 PM. 
Vermont-based creperie The Skinny Pancake recently opened in downtown Albany! The menu has a wide selection of sweet and savory crepes made with local ingredients. For a savory option, try the "Everything But The Bagel" or "Johnny Crepe" (made with local maple BBQ pulled pork). "SugarShack" or "Hot Apple Crumble" will satisfy your sweet tooth. Reservations encouraged for all day breakfast served Mondays to Sundays from 8:00 AM to 3:00 PM.
The Cuckoo's Nest is a go-to spot for Southern-style cuisine in Albany. Brunch goers will devour comfort food such as chicken & waffles, shrimp & grits, and biscuits & gravy. Brunch is available on Saturdays from 10:30 AM to 2:00 PM and Sundays from 10:30 AM to 3:00 PM. Reservations are recommended. 
Cafe Madison is a popular eatery that takes breakfast and brunch to the next level. The menu boasts a massive selection of brunch fare including ample vegan/vegetarian options. Not sure what to order? The signature raspberry oatmeal pancakes will not disappoint. Breakfast and brunch are available Mondays to Sundays from 7:30 AM to 2:00 PM.