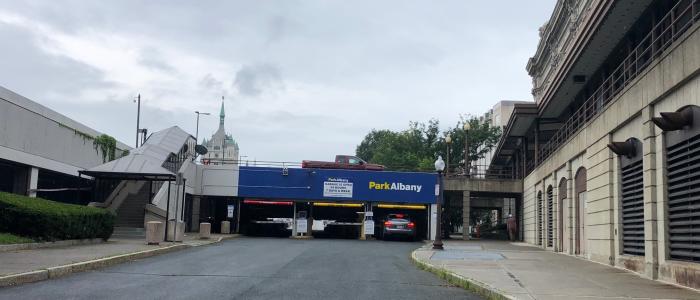 ParkAlbany makes parking easy! Their Riverfront Garage located at 2 Columbia St between Broadway & Water St is in a prime location. Connecting you to spots along the Hudson River and unique locations around downtown Albany, parking in the Riverfront Garage is a quick, affordable, and worry-free way to enjoy a day in the Capital city.
The parking garage is a 24/7 parking location, with hourly parking available from 12:00 AM to 5:00 PM Monday through Friday, reduced $5 flat rate fees on weeknights from 5:00 PM to 11:59 PM and 24 hours on weekends, plus special event pricing on select dates. Scroll on for 9 attractions within walking distance of the Riverfront Garage.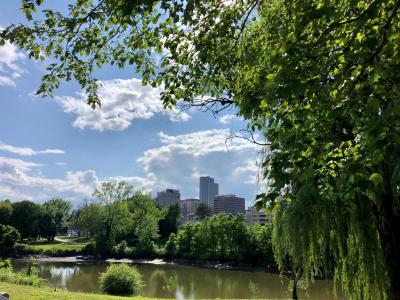 1 Quay St
6 minute walk
Park your car at Riverfront Garage and enjoy a scenic day at Albany's Corning Preserve. The expansive Hudson riverfront park covers 15-acres, featuring a playground, picnic areas, a hiking trail, boat launch, and a thousand seat amphitheater that hosts events from Spring to Fall. Access the park from a pedestrian bridge located right next to the garage on Maiden Lane.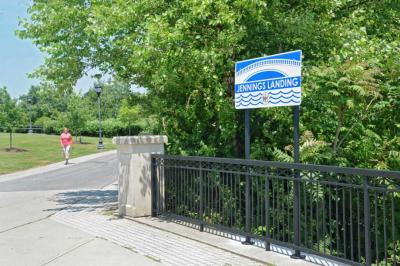 1 Quay St
8 minute walk
The Riverfront Garage is a great place to park when attending an event at Jennings Landing in Albany's Corning Preserve. Whether you're running in a 5K or rocking out at a concert at the amphitheater, the Riverfront Garage is the closest parking location you can find – just a few minutes' walk away over the Maiden Lane pedestrian bridge.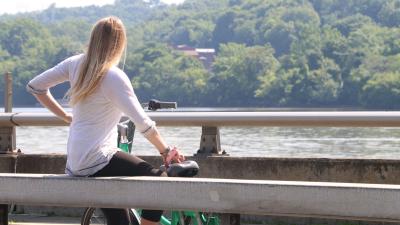 1 Quay St
6 minute walk
Take a trip along the Mohawk-Hudson Bike-Hike Trail starting in Corning Preserve. Parking your car in the Riverfront Garage gives you easy access to the Maiden Lane pedestrian bridge to enter the park. From there, enjoy an outdoor adventure along this impressive 97-mile trail. Fun fact: This trail connects multiple Capital Region communities and even connects to the Erie Canalway Trail which extends all the way to Buffalo!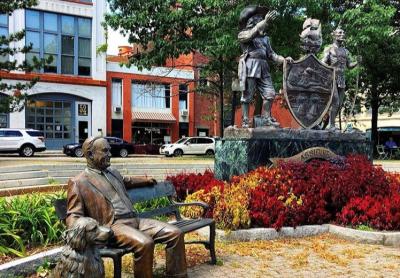 Tricentennial Park
560 Broadway
2 minute walk
Located right across from Riverfront Garage is the charming Tricentennial Park. As you may have guessed from the name, the park was created to celebrate the 300th anniversary of Albany's incorporation as a city and was built in 1986. Within the park, which spans an entire block, find several monuments, statues, and shady spots to enjoy lunch or a peaceful afternoon.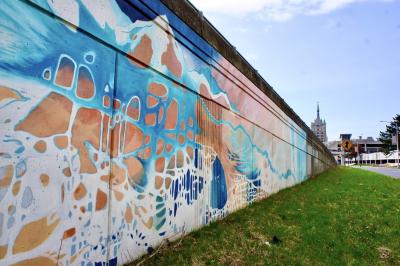 #CapitalWalls Murals
Columbia Street, Multiple Locations
2-3 minute walk
The Riverfront Garage is right within walking distance of a few of Albany's #CapitalWalls murals! Spearheaded by the  Albany Center Gallery, Albany Barn and Albany Parking Authority, these eye-catching murals were created to uplift, educate, and inspire the community. View "The River That Flows In Two Directions" located on the I-87 wall between Columbia St. and Water St., "Sawubona" at 45 Columbia Street, and "Escape to Nature: Where Peace Awaits" at 39 Columbia Street.
For a full guide to exploring #CapitalWalls murals click here!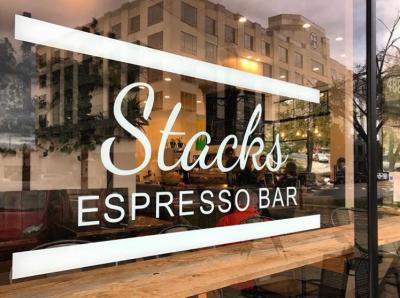 488 Broadway
4 minute walk
Make sure to stop for a pick-me-up while exploring Albany sites near the Riverfront Garage. Stacks is a cozy, community coffee shop where you can find a variety of espresso drinks, breakfast and lunch items, and coffee grounds to buy and brew at home.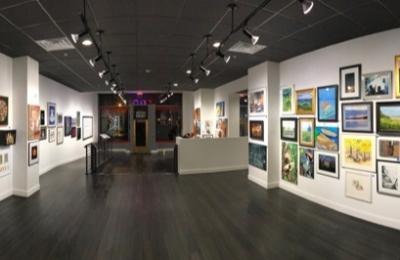 39 Columbia Street
3 minute walk
Explore this lovely gallery of contemporary art produced by regional artists both emerging and established, just a short walk away from the Riverfront Garage. The gallery also hosts events such as artist talks and panel discussions so make sure to check ahead to see if there's any exciting events happening soon!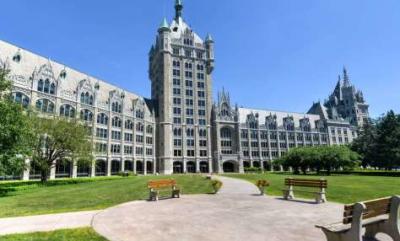 355 Broadway
6 minute walk
This beautiful and historic building resembling a castle is just a short walk away from the Riverfront Garage. Atop the eye-catching headquarters for the State University of New York sits a massive 8 foot-tall working weathervane which is a replica of Henry Hudson's ship, Half Moon. During the Summer of 2023, you can enjoy a view of the SUNY building right on the lawn by attending Bites, Camera, Action and State Street Yoga hosted by the Downtown Albany BID. Both events are free and reoccuring throughout the Summer!
                    
412 Broadway
5 minute walk
While exploring downtown Albany near the Riverfront Garage, make sure to stop into Fort Orange General Store. Fort Orange is a lovely shop for handmade quality home goods and gifts, featuring the work of small artists and businesses. The shop often hosts community events, creative workshops, and special offerings so be sure to check ahead of time to see what's going on.
BONUS:
Parking at Riverfront Garage may help you beat the crowds when attending an event at the Palace Theatre! Though the Quackenbush Garage is a great option nearby (4 minute walk), the Riverfront Garage only adds two extra minutes and is usually less crowded. Just a 6 minute walk away!