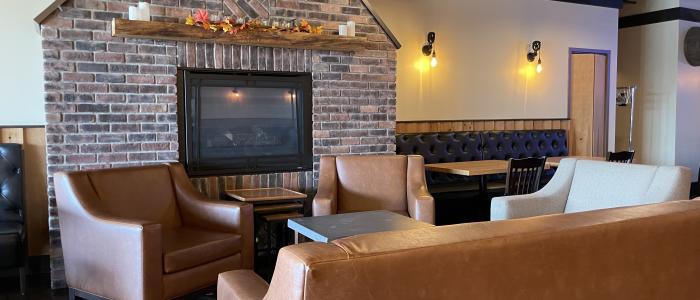 'Tis the season for holiday parties! Host your special event at a festive hotel, cozy restaurant or merry event space in Albany County. Spots are booking up fast, so be sure to reach out ASAP to secure your date for this year. Or, use this list as inspiration for next year's holiday gathering! Keep reading for the details. 
The Back Room Lounge, operated by O'Toole's Restaurant Pub, is nestled on Central Avenue in Colonie. Guests can relax on comfortable sofas next to the cozy fireplace, mingle throughout the 2,100 square foot event space or enjoy a drink at the full service bar. Choose from a variety of event packages with delicious breakfast, lunch, dinner and appetizer options. During the holiday season, the space is decorated with festive garlands and sparkling trees. Limited availability remains for the 2021 holiday season. Call (518) 464-1200 to book your spot today! 
Celebrate the season at one of downtown Albany's newest event venues, The Kenmore Ballroom. Housed in the historic Rain-Bo Room, a nightclub where Frank Sinatra, Cab Calloway, and Duke Ellington played, The Kenmore Ballroom fuses modern elegance with historic charm. Rent the entire ballroom for a large holiday celebration. Hosting a more intimate gathering? Reserve the cocktail lounge for your holiday party. Call (518) 469-6102 to start planning your event today! 
Earlier this year The Crowne Plaza Albany - The Desmond Hotel completed a $16 million renovation. Experience the stunning upgrades by booking your holiday party at the landmark hotel! The halls and event spaces will be decked out for the season ensuring that the atmosphere for your party is merry and bright. Guests will love the holiday food and beverage packages featuring the beloved Desmond Bread Pudding with English Custard. Plus, the new air purification system provides peace of mind for your attendees. Call (518) 640-6171 to reserve your space today.
Host a holiday party at CH Evans Brewing at the Albany Pump Station, a downtown Albany staple. The brewery is a popular location for holiday luncheons, cocktail parties and gatherings. Enjoy a delicious menu and craft beer in a cozy industrial atmosphere decorated for the season. Call (518) 447-9000 for more information on menu options and available space.
The Century House, tucked in Latham, is a festive place to host your holiday party. The historic hotel has a variety of rooms available, perfect for the size of any holiday party from small to large. The Century House serves up award-winning cuisine that party goers will rave about. Plus, the cozy hotel and restaurant are dressed in holiday style with glistening decorations around every corner! Call (518) 541-7290 for more information. 
Plan your party at the Olde English Pub for an extra dose of holiday cheer. The cozy pub transforms into a festive wonderland with twinkling ornaments hanging over the bar, brightly lit garlands and glittering holiday trees. Enjoy seasonal cocktails and delicious eats in the merry and bright atmosphere. Call (518) 434-6533 for information on private parties. 
Host your holiday party at The Hollow Bar + Kitchen. Located in the heart of downtown Albany on North Pearl Street, the eatery is a festive spot for a holiday gathering. Well-known for serving up delicious dishes comprised of farm-fresh ingredients,  The Hollow can work with you to create custom menus for your event. Plus, The Hollow has dietary restrictions covered with plenty of vegan, vegetarian and gluten-free options. Call (917) 279-8817 to speak with Dora about options for your special event. 
The large, brightly lit wreath embellishing the red garage door on Wolff's Biergarten is a sign of the season in the Warehouse District! Host your private (or semi-private!) holiday gathering at the authentic German biergarten. Options include drink specials, catering from Licksworthy BBQ and more! Your guests will be dazzled by the glittering garlands, wreaths and trees throughout the beer garden. Call Sam at (518) 852-4303 to book.