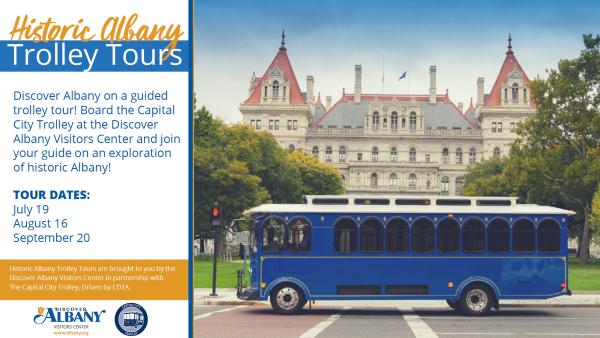 CONTACT:
Kathryn Holland, Marketing Director
Discover Albany
Phone: 518-434-1217 x 203
Email: kholland@albany.org

FOR IMMEDIATE RELEASE
June 27, 2019
Discover the City of Albany on a Guided Trolley Tour
Discover Albany Visitors Center partners with CDTA to launch Historic Albany Trolley Tours
Albany, NY — The Discover Albany Visitors Center is excited to partner with Capital District Transportation Authority (CDTA) to launch Historic Albany Trolley Tours this summer. Visitors will hop onboard the Capital City Trolley, driven by CDTA, for a guided tour of Albany showcasing the city's rich 400-year old history.
"The Capital City Trolley is the perfect vessel for visitors, conference attendees, and residents to experience Albany's fascinating history and architecture firsthand," says Jill Delaney, President and CEO of Discover Albany. "We are so excited to partner with CDTA to bring trolley tours back to the city of Albany."
Visitors will board the Capital City Trolley at the Discover Albany Visitors Center and embark on a guided exploration of historic Albany. The trolley will travel through the Warehouse District, Ten Broeck Triangle, Downtown Albany, Capitol Hill, Center Square and Washington Park. A tour guide will regale visitors with tales of Albany's storied past and point out important landmarks throughout the city.
"We are thrilled to partner with Discover Albany on this unique opportunity for residents and visitors," said CDTA Board Chairman Jayme Lahut. "Our trolleys provide the region another mobility option to connect them to dining, entertainment and shopping in our four major cities. We hope people will take advantage of this free service and explore the rich history of Albany."
Historic Albany Trolley Tour Schedule:
Friday, July 19 at 11:00 am
Friday, August 16 at 11:00 am
Friday, September 20 at 11:00 am
Tickets are $20 and may be purchased in advance through Eventbrite.com. Public parking is available behind the Discover Albany Visitors Center (25 Quackenbush Square) via Spencer Street off Broadway.
Historic Albany Trolley Tours are brought to you by the Discover Albany Visitors Center in partnership with The Capital City Trolley, Driven by CDTA.  The Capital City Trolley also provides a FREE SERVICE every 20 minutes on Thursday, Friday and Saturday nights from 5:00 pm – 12:30 am.  Trolley stops are near venues, restaurants, hotels and parking garages in Downtown Albany and Lark Street.  Trolley stops and real time arrivals are easy to locate with the free Cityfinder App.  Download and ride at your convenience!
ABOUT Discover Albany
The Albany County Convention & Visitors Bureau, Inc. was established in 1976 to promote the civic and commercial progress of the community through increased development of conventions and tourism. Today, the organization is known as Discover Albany. Discover Albany currently represents more than 300 member businesses and assists each year in hundreds of regional meetings. Discover Albany also operates the Discover Albany Visitors Center, Henry Hudson Planetarium, and the Albany International Airport Information Center.  The Albany County Convention and Visitors Bureau Foundation was established in 1993 to provide educational opportunities and work with other organizations to secure grants and funding to advance regional travel and tourism projects.  For more information, call 518-434-1217 or 800-258-3582 or visit www.albany.org.
###