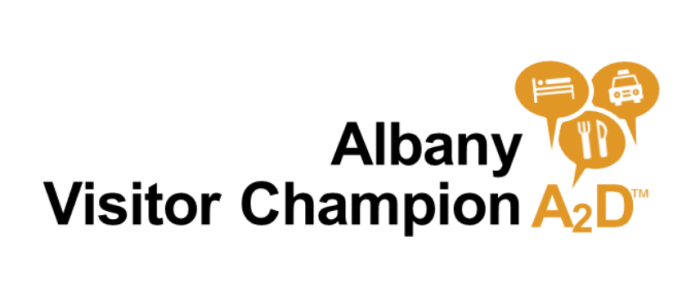 CONTACT:
Molly Belmont, Director of Marketing
Discover Albany
Phone: 518-434-1217 x 203
Email: mbelmont@albany.org

FOR IMMEDIATE RELEASE
March 4, 2019
Discover Albany Partners with Interfaith Partnership for the Homeless
Discover Albany teaches Albany Ambassadors how to welcome and interact with visitors
Albany, NY – Discover Albany's Visitor Journey A2D Program is excited to establish an ongoing partnership with the Interfaith Partnership for the Homeless' Albany Ambassadors Program. The A2D Program will teach Albany Ambassadors how to make visitors feel welcome, and how to introduce them to the very best Albany has to offer.
"We are so excited about this partnership with Interfaith Partnership for the Homeless," said Jill Delaney, President and CEO of Discover Albany. "We are thrilled to give back to the community by providing free tourism training for the Albany Ambassadors to help create positive visitor experiences."
IPH's Albany Ambassadors Program employs homeless or formerly homeless individuals as greeters at Capital Repertory Theatre, the Palace Theatre, and Park Playhouse events.
"We value the Ambassador program as a great way to welcome our guests to the Palace Theatre and to Downtown Albany," says Susan Fogarty, Executive Director for the Palace Theatre. "Since starting the program, we have received wonderful feedback from our customers about the warm welcome they receive from the Ambassadors and how helpful they are. This is a terrific program and we would highly encourage other downtown businesses to participate and hire these terrific individuals."
Participants go through a formal application and interview process and develop critical skills while earning income and strengthening their resumes. Keybank is the proud sponsor of the Albany Ambassador Program.
"Being an Ambassador has opened up doors for individuals who have never had a job or haven't worked in years," said Erin Coufal, Marketing Communications Director of Interfaith Partnership for the Homeless. "They are full of pride in their accomplishment and an example of hope, determination, and hard work for their peers."
Discover Albany established the Albany Visitor Journey A2D Program in 2017 and has 212 graduates to date. The tourism awareness training program, which is a mix of online teaching and live experiences, helps everyone in our destination create positive visitor experiences from their Arrival to Departure, or from A2D. The program is sponsored by SEFCU.
"Visitor Journey A2D is about creating positive visitor experiences in Albany. We want to empower Albany Ambassadors to welcome visitors and help them get the most out of their time in Albany. We want to make sure visitors speak about Albany positively, and most of all, we want to encourage them to come back," said Jill Delaney, President and CEO of Discover Albany.
"Albany Ambassadors provide a warm hospitality to event patrons. In order to increase their depth of knowledge about the City of Albany and provide a greater resource for our community partners, IPH decided to have the Albany Ambassadors complete the A2D training," said Erin Coufal, Marketing Communications Director of Interfaith Partnership for the Homeless. "This training will provide even more knowledge and skills for the Ambassadors to share with patrons and prepare them for other employment opportunities."
The first live A2D class for the Albany Ambassadors will be held on Tuesday, March 5, at 3:00pm at the Discover Albany Visitors Center at 25 Quackenbush Square.                                                        
About Discover Albany:
The Albany County Convention & Visitors Bureau, Inc. was established in 1976 to promote the civic and commercial progress of the community through increased development of conventions and tourism. Today, we're known as Discover Albany and represent more than 300 member-businesses. Each year, we assist with hundreds of regional meetings. Discover Albany also operates the Discover Albany Visitors Center, Henry Hudson Planetarium, and the Albany International Airport Information Center. For more information, call 518-434-1217 or 800-258-3582 or visit www.albany.org.
###