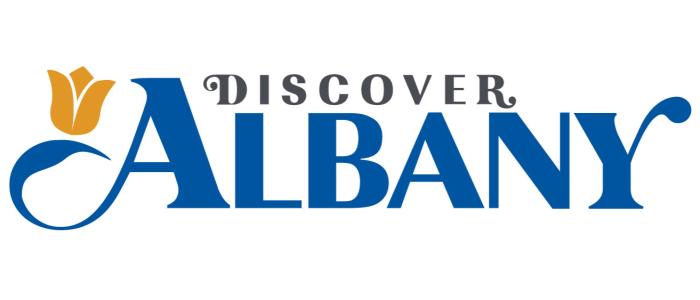 'Discover Albany' invites people to explore, discover, and celebrate Albany
Albany, NY – This week, the Albany County Convention & Visitors Bureau unveils a new brand and website. The new website will launch Friday, October 20, and will offer visitors more information about this growing destination.
The bureau is adopting the new brand and identity, 'Discover Albany' to keep up with changing markets and put the destination front-and-center.
"With the Albany Capital Center open, and so much development happening in Albany, it's a great time to discover Albany," says Michele Vennard, President and CEO of the Albany County Convention & Visitors Bureau. "Our new brand, 'Discover Albany' embraces this message, and inspires residents and visitors alike to explore, discover, and celebrate."
The new brand comes at a time when more convention and visitors' bureaus are moving away from agency names, often unrecognizable to their customers, and instead choosing names that evoke the experience of visiting that destination. These names provide a clear call-to-action for today's consumers. The bureau already uses "Discover Albany" for social media, where it is growing an active and engaged audience.
To keep up with changing markets, the agency is also launching a new Albany.org website. The new website is more visual, with big beautiful images and advertisements. It's also easier to navigate, organizing information more readily around the subject areas visitors are most interested in.
Most importantly, the new website is responsive, so that customers get an optimal experience across platforms. "Previously, we had two sites, a desktop version, and a slimmed down mobile site, and that's just not the way people want to access information," says Vennard.
The bureau worked with Simpleview, Inc., an award-winning international agency that specializes in destination marketing.
About the ACCVB
The Albany County Convention & Visitors Bureau, Inc. was established in 1976 to promote the civic and commercial progress of the community through increased development of conventions and tourism. ACCVB currently represents more than 300 member businesses and assists each year in hundreds of regional meetings. ACCVB also operates the Albany Heritage Area Visitors Center, Henry Hudson Planetarium, and the Albany International Airport Information Center. For more information, call 518-434-1217 or 800-258-3582 or visit www.albany.org.
###