CONTACT:
Michelle Santos, Marketing Coordinator & Social Media Strategist
Discover Albany
Phone: 518-434-1217 x 110
Email: msantos@albany.org

FOR IMMEDIATE RELEASE
September 5, 2018
Albany Art Room Exhibit opens at Visitors Center
Albany, NY – The Discover Albany Visitors Center is proud to host a new exhibit showcasing community artists from the Albany Art Room unleashing their creativity.
The Albany Art Room provides the space, materials and guidance to help artists of varying skill levels to create all forms of art including painting, print making, pottery, collage, and more. During open studio hours, aspiring and accomplished artists are welcome to create in this friendly space. The Albany Art Room also offers class, camps and art parties.
"By viewing the artwork and reading the biographical information about each artist, you will see that the community of artists creating work at the Albany Art Room is diverse and talented," says Albany Art Room Owner Karen Schupack, "We hope that viewers will be inspired by the pieces to visit the Albany Art Room themselves and to unleash their own creativity."
The artists featured in the Albany Art Room exhibit are Koorosh Ghanbari, Lynne Bunnell, Megan Ingalls Stasi, William O. Pettit, III, Amy Howansky, Beth Joslin, Karen Schupack, Paula Frazell and Ed Ticson. Pieces on display include paintings, pottery, collages, sculptures, drawings and more. From brightly colored mixed media collages to whimsical pottery creations, this collection of art will inspire the artist inside everyone!
The Albany Art Room exhibit will be on display at the Discover Albany Visitors Center, located at 25 Quackenbush Square, Albany, from September 6 – October 31. Opening reception will be held on Friday, October 12 from 5:30-7:30pm. Items from the exhibit will be for sale in the Discover Albany Gift Shop.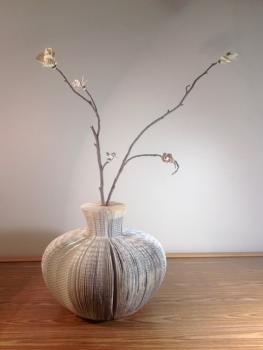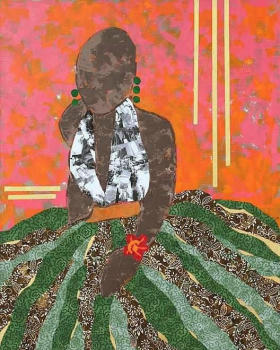 Book Vase by Megan Ingalls Stasi, $150            Joyce by Paul Frazzel, $3,000
ABOUT Discover Albany
The Albany County Convention & Visitors Bureau, Inc. was established in 1976 to promote the civic and commercial progress of the community through increased development of conventions and tourism. Today, the organization is known as Discover Albany. Discover Albany currently represents more than 300 member businesses and assists each year in hundreds of regional meetings. Discover Albany also operates the Albany Heritage Area Visitors Center, Henry Hudson Planetarium, and the Albany International Airport Information Center.  The Albany County Convention and Visitors Bureau Foundation was established in 1993 to provide educational opportunities and work with other organizations to secure grants and funding to advance regional travel and tourism projects.  For more information, call 518-434-1217 or 800-258-3582 or visit www.albany.org.
###