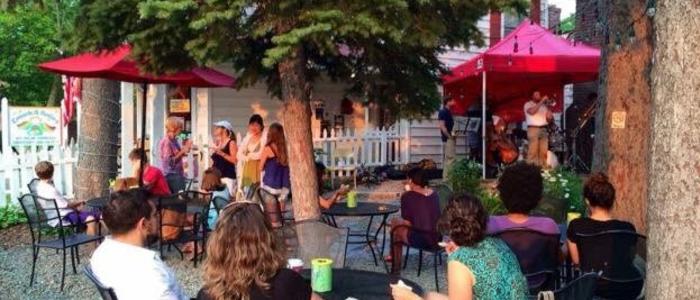 A patio can mean a number of things. Sure, they're all outdoors. But beyond that, they can be about getting more shade, sun, views or even space. That's what separates the comfy courtyards from the picturesque gardens from the trendy patios in Albany. So, get ready to break out your sunglasses and soak up summer at some of the area's best al fresco dining spots.
We've been rounding up the best outdoor patios in Albany by neighborhood all summer long! We featured eateries, cafes and restaurants on Wolf Road, Downtown Albany and the Warehouse District. Keep reading for the final installment in our "Summer on the Patio" blog series, featuring al fresco dining spots in the Delaware Avenue neighborhood. 
556 Delaware Avenue
Nicole's is a Delaware Avenue neighborhood gem serving upscale Italian and contemporary American cuisine. In the warm weather months, the best spot to enjoy the Chef's Specials and cool off with a fruity cocktail is outside on the back deck. The bright patio furniture and succulent centerpieces create a secluded oasis from the hustle and bustle of the streets. This restaurant is perfect for a romantic evening, so switch up your next date night and dine al fresco at Nicole's! 
366 Delaware Avenue
Beat the summer heat at Emack & Bolio's, a charming ice cream parlor located in the Delaware Avenue neighborhood. Grab a sweet treat (ice cream, hand-dipped chocolate, smoothies, pastries, and more!) inside and then enjoy the sugary snack outside on the garden patio. Twinkle lights, paper lanterns and bright red umbrellas create a welcoming atmosphere for indulging in the sweets. Stop by on a Friday or Saturday night and you'll even catch live music outside. It's the perfect place to relax with friends and enjoy a delicious dessert. 
289 Hamilton Street
El Mariachi is located on Hamilton Street, just around the corner from the Delaware Avenue neighborhood. The cantina's patio is a great spot to enjoy tacos, margaritas, burritos, and other traditional Mexican dishes with a group of friends. Papel picados (a traditional Mexican decoration) wave slightly in the wind above diners, while brightly patterned tablecloths add a festive touch to the tables. It's a great neighborhood spot to soak up a ray of sunshine, while dining on delicious eats.