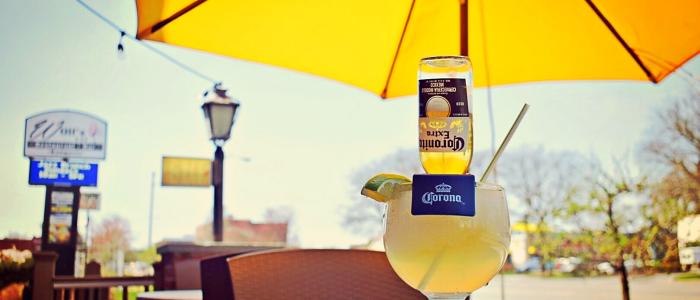 A patio can mean a number of things. Sure, they're all outdoors. But beyond that, they can be about getting more shade, sun, views or even space. That's what separates the comfy courtyards from the picturesque gardens from the trendy patios in Albany. So, get ready to break out your sunglasses and soak up summer at some of the area's best al fresco dining spots.
We're rounding up these eateries, cafes and restaurants by neighborhood, so keep reading for some of the best outdoor patios on Wolf Road. 
Reel Seafood
195 Wolf Road
Colored umbrellas, bright blooms and fresh seafood will transport you to a seaside oasis, right in the middle of Wolf Road at the Reel Seafood patio! This fine dining establishment serves up true ocean-to-table fare with fresh seafood delivered to the restaurant daily. Choose from an extensive offering of seafood including stuffed haddock, Maine lobster, fresh oysters, fish-n-chips, and more! Take a bite out of the daily catch or sip on a bubbly tropical drink while dining al fresco. It is a great nautical escape, without the hassle of driving to the beach or getting sand in between your toes! 
219 Wolf Road
Warehouse BBQ & Grill's industrial warehouse vibe spills over onto the patio deck tucked off of Wolf Road in Colonie. The massive patio is the perfect spot to sample the restaurant's low and slow, apple wood smoked BBQ while enjoying the sights and sounds of Wolf Road. Cool off from the sizzling summer heat with a nice cool beer (or flight!) with the barbecue joint's impressive craft beer selection. On Friday nights in the summer, jam to live music on the deck and take advantage of the late night happy hour prices! 
131 Colonie Center
If you are searching for action-packed patios, Colonie Center Mall boasts two spots that are perfect for people-watching. P.F. Chang's China Bistro and the Cheesecake Factory are situated right in the middle of Wolf Road's shopping mecca. Hit up the Cheesecake Factory for a menu with endless options, or P.F. Chang's for some delicious Asian cuisine. Make it a whole night affair and after dining al fresco, catch the newest summer blockbuster at the Regal Cinemas, or shop 'til you drop in mall's over 100 stores.