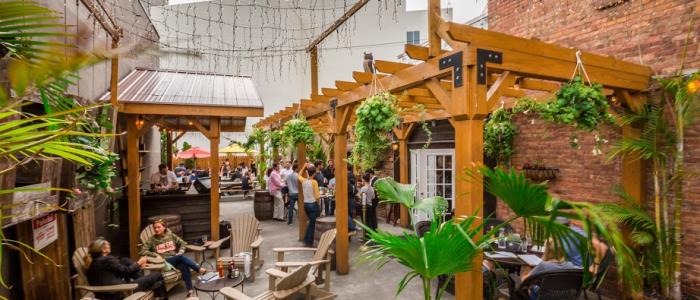 A patio can mean a number of things. Sure, they're all outdoors. But beyond that, they can be about getting more shade, sun, views or even space. That's what separates the comfy courtyards from the picturesque gardens from the trendy patios in Albany. So, get ready to break out your sunglasses and soak up summer at some of the area's best al fresco dining spots.

We're rounding up these eateries, cafes and restaurants by neighborhood, so keep reading for some of the best outdoor patios in downtown Albany. 
Ama Cocina
4 Sheridan Ave.
Tacos and tequila are even better when enjoyed from Ama cocina's sidewalk patio in downtown Albany. Embrace the buzz of summer excitement in the city, while tasting delicious modern Mexican street food from a nacho pie, to Mexican pizza, to jalapeno-goat cheese cornbread muffins. 
If you don't feel like sitting on the sidewalk, on warm weather days the funky establishment opens its garage doors and the warm breeze travels into the bright and colorful bar. It's the best of both worlds!
42 Howard Street
City Beer Hall draws what might be the most diverse crowds in Albany, everyone from millennial hipsters to long-time politicians going there for a fun post-work atmosphere that includes getting free pizza with most beer purchases. If pizza isn't your jam, the gastropub offers locally-sourced, seasonal food menus featuring unique dishes such as oxtail ravioli or Argentinian grilled short rib.  

But the patio, called the Beer Garden, is the place to be on a summer night. Strung with lights and offering more than enough umbrellas, there are views of some of the high rises that let you know you're still in the city - but you've found an oasis where the beer is cold and the conversation is lively.
La Serre Restaurant
14 Green St.
La Serre is a downtown beacon is more often considered a winter restaurant. The interior, covering the designs of swanky and cozy, even boasts a beautiful vintage fireplace. But don't let that fool you. Before entering, look to the left and notice the courtyard that provides a more-current look to complement a building that dates to 1829. Located just a block from the Times Union Center, Palace and Capital Repertory Theatre, it's comfortably tucked between downtown high rises. Now go there, sit outside, and bask in some vintage Italian dishes al fresco. 
54 Phillip St.
Our list is full of tucked-away spots and shade, and those are awesome. But to get some city sizzle, and and some final local products, it's worth heading over to the Mansion Neighborhood and checking out Excelsior Pub. Jay Bowers has made a name for himself in Albany by using only New York-made products for all of his beers and other drinks. There's even an Empire State-themed menu of food. All good to enjoy on the small array of tables in front of the establishment, which is inviting to state government workers on their lunch breaks or those headed out to a downtown show in the evening. You'll get some sun out on the pavement, but a view up the hill to a little park and some glorious old houses is well worth not necessarily being made in the shade.