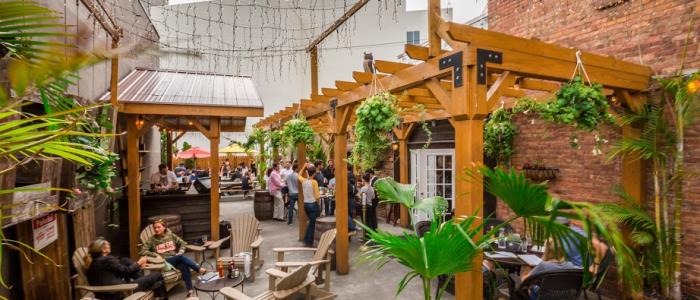 A patio can mean a number of things. Sure, they're all outdoors. But beyond that, they can be about getting more shade, sun, views or even space. That's what separates the comfy courtyards from the picturesque gardens from the trendy patios in Albany. So, get ready to break out your sunglasses and soak up summer at some of the area's best al fresco dining spots.

We're rounding up these eateries, cafes and restaurants by neighborhood, so keep reading for some of the best outdoor patios in downtown Albany. 
42 Howard Street
City Beer Hall draws what might be the most diverse crowds in Albany, everyone from millennial hipsters to long-time politicians going there for a fun post-work atmosphere that includes getting free pizza with most beer purchases. If pizza isn't your jam, the gastropub offers locally-sourced, seasonal food menus featuring unique dishes such as oxtail ravioli or Argentinian grilled short rib.  

But the patio, called the Beer Garden, is the place to be on a summer night. Strung with lights and offering more than enough umbrellas, there are views of some of the high rises that let you know you're still in the city - but you've found an oasis where the beer is cold and the conversation is lively.
54 Phillip St.
Our list is full of tucked-away spots and shade, and those are awesome. But to get some city sizzle, and and some final local products, it's worth heading over to the Mansion Neighborhood and checking out Excelsior Pub. Jay Bowers has made a name for himself in Albany by using only New York-made products for all of his beers and other drinks. There's even an Empire State-themed menu of food. All good to enjoy on the small array of tables in front of the establishment, which is inviting to state government workers on their lunch breaks or those headed out to a downtown show in the evening. You'll get some sun out on the pavement, but a view up the hill to a little park and some glorious old houses is well worth not necessarily being made in the shade.