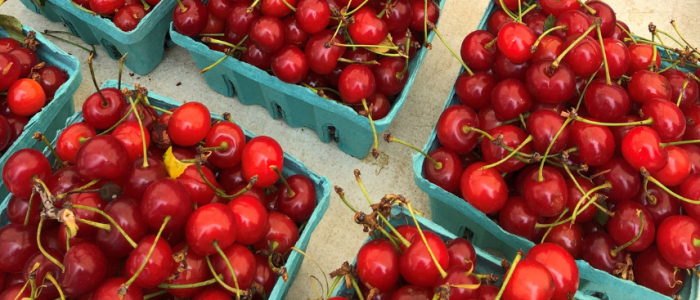 Farmer's markets are the perfect place to experience (and even taste!) the local flair of a destination. Albany has a variety of farmer's markets located across the entire county. Attend a weekday market to grab lunch or swing by a weekend market to search for vintage treasures. Keep scrolling to get the details on 6 farmer's markets in Albany County to shop this summer. 
Location: 6147 State Farm Rd., (Behind Star Plaza), Guilderland, NY 12084
Dates: Sundays, now until October 6
Time: 10:00 AM to 2:00 PM
The Guilderland Farmer's Market offers more than just farm fresh veggies and produce. Spend a Sunday morning perusing local makers, wood builders, antique and vintage item collectors, craft beverage producers and more. The weekly market features live music and often has special events including how-to tutorials and artist competitions.
Empire State Plaza Farmer's Market
Location: Empire State Plaza
Dates: Wednesdays and Fridays (outdoors, May - October; concourse, November - April)
Time: 10:00 AM to 2:00 PM
Twice a week in the warmer months, the Empire State Plaza fills with vendors displaying the season's freshest produce, plants, meats, cheese, baked goods, craft beverages and more. Additionally, food trucks descend upon the Plaza, making the Empire State Plaza Farmer's Market the go-to lunch spot on Wednesdays and Fridays. During the winter, the market moves indoors beneath the Plaza in the concourse. This year-round farmer's market is a must-visit in Albany! 
Downtown Albany Farmer's Market
Location: SUNY System Plaza, 353 Broadway, Albany, NY 12246
Date: Thursdays (outdoors in the Summer, indoors in the Winter)
Times: 11:00 AM to 1:30 PM
Every Thursday, the Plaza outside the SUNY System Admin Building (Albany's castle) hosts a small farmer's market. Browse vendors such as maple syrup producer Mountain Winds Farm or sample locally-made Hedonic Tonic. This farmer's market moves indoors during the cold weather months, so you can peruse the vendors all year long!
Colonie Farmer's Market
Location: The Crossings, 580 Albany Shaker Rd, Loudonville, NY 12211
Dates: Saturdays, now until September 28
Time: 9:00 AM to 1:00 PM
Now in its 11th season, the Colonie Farmer's Market at the Crossings is a summer staple. The market has over 50 vendors showcasing organic products, craft beverages and more. This family-friendly market is the perfect way to kick start a summer weekend adventure. After perusing the market, walk the trails throughout the park or watch your little ones swing across the playground.
South End Market
Location: Capital South Campus Center, 20 Warren St., Albany, NY 12202​
Dates: July 27, August 31, September 28 & October 26
Time: 10:00 AM to 3:00 PM
The South End Market is a once-a-month market coordinated by AVillage, Trinity Alliance, and the Radix Center. In addition to the farm fresh market and other local vendors, there are typically a variety of activities occurring at the same time. These activities range from health and wellness classes such as yoga or zumba, to arts and crafts, to live music. This monthly market offers entertainment for the whole family. 
Location: Washington Park, Albany, NY 12208
Dates: Saturdays, August 3 - September 28
Time: 10:00 AM to 2:00 PM
The brand-new Washington Park Farmer's Market will launch in August 2019! The market will kick off with Yoga in the Park by Lark Street Yoga at 9:00 AM, followed by the farmer's market at 10:00 AM. The weekly farmer's market will be located at the Knox Street Mall, underneath a beautiful canopy of trees, in Washington Park. Swing by the inaugural year of this farmer's market to check out the vendors, local business from the surrounding neighborhoods, and more!