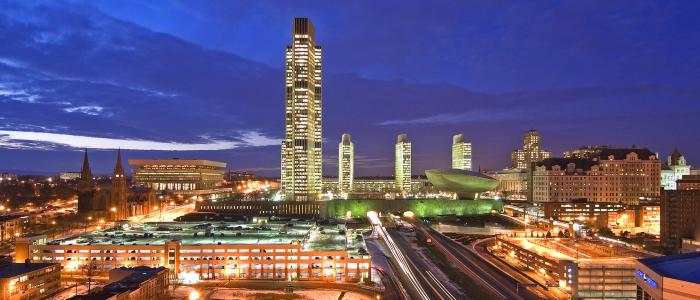 Add Albany to your 2020 travel bucket list! With dynamic experiences, special events and new developments, 2020 is shaping up to be an exciting year for visitors to explore everything Albany County as to offer. Keep reading for our top 20 Reasons to discover Albany in 2020.
1. #ArtfulAlbany
The 2020 Discover Albany Visitors Guide showcases all the opportunities for visitors and residents to engage with art in traditional settings and in unexpected places. The "Artful Albany" theme, in collaboration with Albany Center Gallery, includes an illustrated cover and map rendering by local artist Cara Hanley and art-focused content featured throughout the visitors guide. Stay tuned for more #ArtfulAlbany events and information on the Discover Albany website, blog and social media in 2020. 
2. Albany Chefs' Food & Wine Festival: Wine & Dine for the Arts
From January 16 - 18, this annual three-day food & wine festival will celebrate all things "international" at the Albany Capital Center. It is the 11th year that this festival has celebrated the region's evolving culinary scene with all net income directly benefiting local arts organizations. This year the festival launched a redesigned website and a mobile app to enhance the experience for festival goers. 
3. 2020 Eastern Synchronized Skating Sectional Championship
From January 16 - 18, the Times Union Center is hosting the 2020 Eastern Synchronized Skating Sectional Championship! This regional qualifying event brings together synchronized skating teams from the Eastern region, including New York, New Jersey, and Connecticut, as well as New England, the mid-Atlantic states and the Southeastern United States. 
4. NYS Writers Institute's Albany Film Festival 
This March the New York State Writers Institute is hosting the first-ever Albany Film Festival at the University at Albany! The festival will be a "celebration of storytelling on screen" with a local short film contest, feature films, panel discussions, writers and critics workshops, and more. Film fans will not want to miss this exciting inaugural year! 
5. NCAA Men's Basketball 1st & 2nd Rounds
NCAA March Madness returns to the Times Union Center on March 19 and 21! While tickets to the two games are already sold out, the city will be buzzing with excitement that weekend. 
6. Women's Suffrage Centennial
2020 marks the 100th anniversary of the 19th amendment. There will  be a variety of special events hosted across New York State to celebrate the centennial of women's suffrage. View a model of statue honoring Elizabeth Cady Stanton and Susan B. Anthony at the New York State Museum on display through April. Later this year, the statue will be unveiled in New York City's Central Park as the first statue in the park to honor a woman. Stay tuned for more events in Albany County celebrating the women's suffrage centennial.  
7. Kenmore Ballroom, Albany Kitchen and More Redburn Development Properties
Redburn Development's significant investment to downtown Albany will result in the Kenmore Ballroom, Albany Kitchen, The Yard Hatchet House & Bar and more opening in 2020! The historic Rain-Bo Room, a place where Frank Sinatra, Cab Calloway, & Duke Ellington played, will soon start telling new stories as the Kenmore Ballroom, managed by Katie O' Weddings & Events. The Albany Kitchen, a food hall and restaurant incubator with a location in Troy, will be opening soon on Columbia Street. The Yard Hatchet House & Bar brings ax-throwing, yard games and more to downtown. Stay tuned for more exciting news and announcements from Redburn Development. 
8. Historic Downtown Albany Food Tour
The Historic Downtown Albany Food Tour by Taste of Troy Food Tours is returning in May for its third year in Albany! The walking tour provides a fantastic historical overview of Albany punctuated by tastes and sips from a handful of downtown eateries. 
9. 72nd Annual Albany Tulip Festival
Albany's signature festival, the Tulip Festival, returns to Washington Park over Mother's Day weekend. The festival celebrates the city's Dutch roots with a traditional Dutch street scrubbing ceremony. The festivities also include live music, the crowning of the Tulip Queen, a fine arts show, food vendors, Mother of the Year Award and more all set against a sea of more than 140,000 vibrant tulips. 
10. Cider Belly Doughnuts Second Location
Albany favorite Cider Belly Doughnuts is expanding with a second shop in Colonie! The new space has a large commercial kitchen perfect for the doughnut shop's expanding wedding and events catering business. While there will not be indoor seating for doughnut fans, there will be an outdoor patio and ample parking to pick up the sweet treats. The new shop is projected to open this Spring!
11. Park Playhouse's 32nd Summer Season
Park Playhouse returns to the Washington Park Lakehouse for its 32nd Summer Season of free musicals this June! This is a "must-do" for all visiting during the summer months. Enjoy performances of Evita, Alice in Wonderland, Roald Dahl's Matilda: The Musical and Disney's Aristocats Kids outdoors, under the stars. 
12. 150th Anniversary of Cohoes
Cohoes is celebrating its 150th anniversary in 2020! Spindle City Historic Society and local Cohoes organizations such as the Van Schaick Mansion are planning a special celebration in June. The celebrations will include a day of festivities to highlight the city of Cohoes and Van Schaick Island. Stay tuned for more details!
13. Capital Repertory Theatre's New Location
Capital Repertory Theatre's (theREP) new location is expected to open during Summer 2020! theREP is converting a late 1800s bakery into a modern performing arts venue in the Clinton Square neighborhood. This new location is next door to Albany Distilling's Bar & Bottle Shop and a few blocks away from Ten Broeck Mansion. This neighborhood is full of exciting developments (such as Death Wish Coffee's first stand-alone, branded cafe) that have received funding from the state's Downtown Revitalization Initiative. 
14. Albany Institute of History & Art
Albany boasts the second oldest museum in the country, the Albany Institute of History & Art. The museum has a treasure trove of historical objects documenting life and culture of New York's Upper Hudson Valley from late 17th-century to present. Marvel at the museum's impressive collection of Hudson River School paintings or browse the latest exhibit on display. 
15. WTA's Albany Open
Pro tennis is coming to Albany! The Women's Tennis Association is hosting the "Albany Open" from August 24 - 30, a week before the U.S. Open in Flushing Meadows. Mark your calendars for this exciting sporting event!
16. Empire State Trail
The Empire State Trail, a continuous path connecting New York City to Canada and Buffalo to Albany, is projected to be completed by the end of 2020. Visitors can walk or bicycle while exploring historic areas such as the Erie Canalway National Heritage Corridor. Once complete, this will be the longest multi-use state trail in the nation. 
17. Hyatt Place at Quackenbush Square
A new 132-room hotel is slated to open in 2020! The Hyatt Place at Quackenbush Square will be the first Hyatt property in Albany County. The hotel is situated halfway between the vibrant downtown scene and the eclectic, emerging Warehouse District. Hotel rooms will feature fantastic views of the historic Hudson River!
18. Haunted Albany
October in Albany conjures up supernatural spirits, sinister scares and spooky stories. Every October, visitors embrace the city's historic haunts and ghoulish tales on eerie walking tours, special events such as Murder at Cherry Hill, paranormal pub crawls and more. Albany's haunted events guarantee to get visitors and locals in the Halloween spirit!
19. Crossgates 
Crossgates goes beyond shopping. It is the largest dining, entertainment and shopping destination in the Capital Region. There is always something new for visitors to explore, such as the recently opened Apex Entertainment. Plus, visitors can stay at the conveniently located dual-branded Tru and Homewood Suites by Hilton hotel and take advantage of the "Shop & Drop" delivery service that brings your bags straight to your hotel room. 
20. New York State Capitol & Empire State Plaza
Marvel at the architectural splendor and learn about the building's history during a tour of the New York State Capitol. Glide across the ice at Empire Skate Plaza during the winter months, or jam to live music during a concert on the Plaza during the summer. Dive into the remarkable modern art collection at the Empire State Plaza. There is such much for visitors to uncover at the New York State Capitol and the Empire State Plaza!